Multicultural Affairs presents poetry reading for Black History Month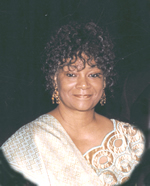 A poetry reading by Jaki Shelton Green will be the first in a series of events sponsored by the Bates College Office of Multicultural Affairs in observance of Black History Month. Green, a poet in residence at Bates from Feb. 10 through 14, will read from her most recently published work, Breath of Song: New and Selected Poems (Carolina Wren Press, 2005), at 7 p.m. Monday, Feb. 13, in Chase Hall Lounge, 53 Campus Ave. The reading is open to the public free of charge. For more information, please call 207-786-8376.
A native of North Carolina, Green's work is rooted in the culture, cadences and folkways of the U.S. South. She received the 2003 North Carolina Award for Literature, awarded by the state Department of Culture, which recognized her as "an inveterate champion of the underdog. Just as she always has been a writer, she has also been a fierce activist for marginalized populations — abused women, the elderly, the incarcerated and especially children."
Author of several books of poetry, including Conjure Blues: Poems (1996), Singing a Tree into Dance (2004) and Dead on Arrival (1984), Green wrote the play Blue Opal and was a contributing writer to Pete and Shirley: The Great Tar Heel Novel (Down Home Press, 1995). Her poetry has appeared in several journals and such anthologies as The Crucible, The African-American Review, Ms. and Obsidian. Her works have been choreographed by the Chuck Davis African American Dance Ensemble, Miami City Ballet and the Naropa Dance Institute of Colorado.
The Multicultural Center celebrates and promotes the diverse cultural experiences that each member of Bates College brings to the community.
View Comments