The frivolous, heavily sweet smell of icing was thick in the air of the George and Helen Ladd Library, somewhat in opposition to the usual essence of wood, books, and accumulated wisdom.
The reason? The Edible Books Festival had arrived. Atop tables scattered around the library lobby was an edible spread of tome-inspired treats, everything from a kale salad to a fruit creation to the old standby confection, cookies.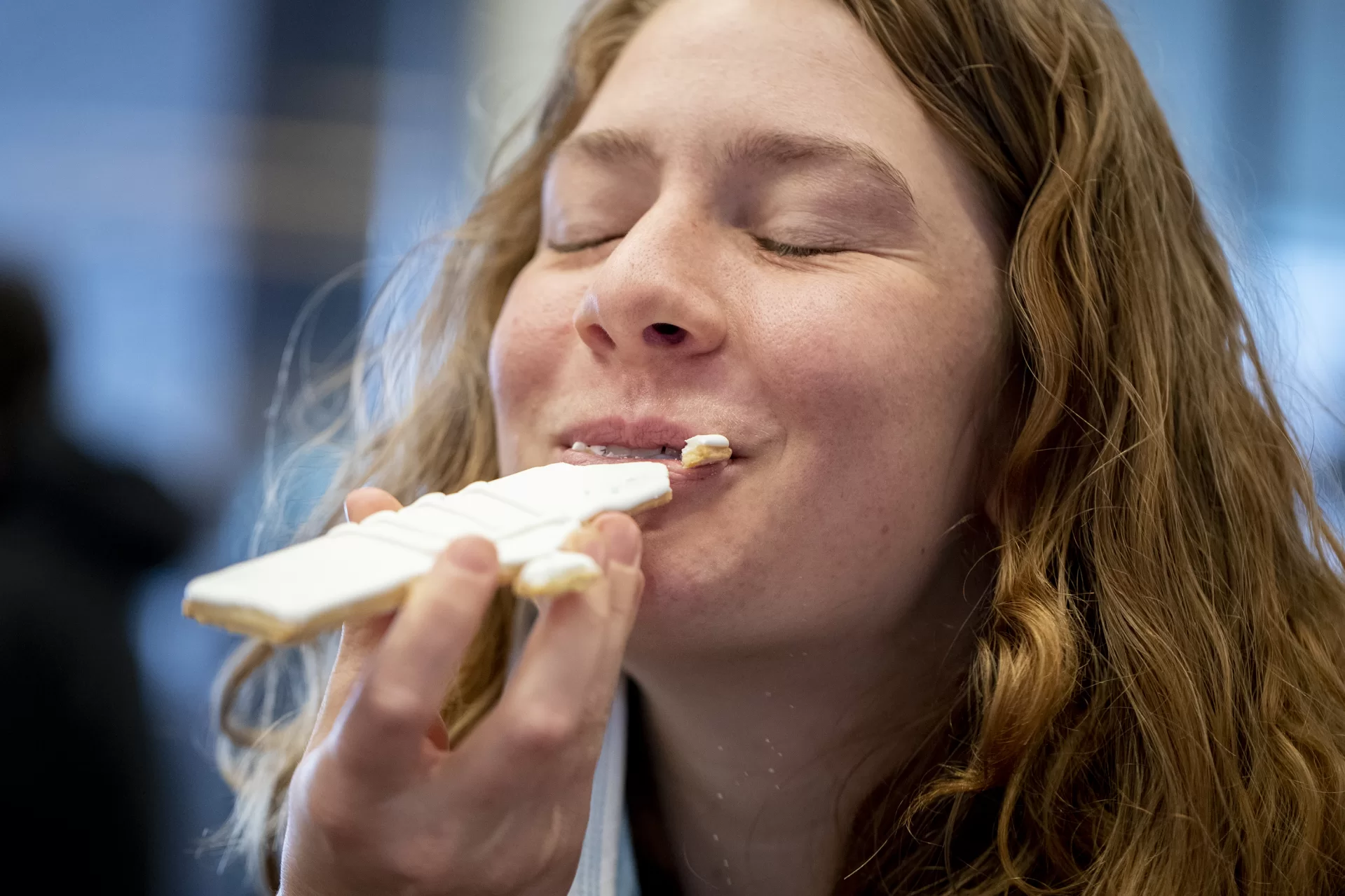 Grey McGloon '21, a library assistant for access services, planned the festival, which included a recipe contest, to coincide with Edible Book Day, held each year on April 1.
The only rules were that contestants needed to submit an edible creation inspired by a book. With that, all the ingredients were in place for what McGloon hopes will be an annual event.
Creativity abounded, as participants not only brought in a feast of different foods, but also approached their themes differently. Some went for something punny, others created a dish that literally evoked the subject material, Others created a treat with a high-minded theme to provide food for thought.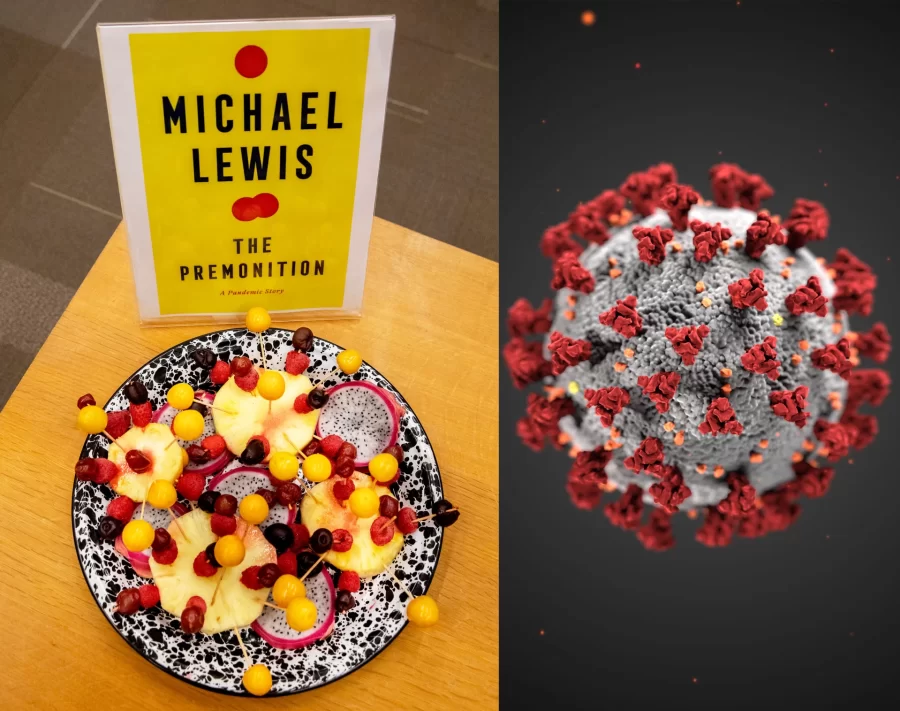 In addition to the entries themselves, coffee, tea, and chair was provided by Dining Services, and a cake, emblazoned with "Edible Books," was baked and presented to guests by the college librarian, Pat Schoknecht.
Caitlin Lampman, reference and outreach archivist at Muskie Archives and Special Collection Library, showed her talent at "confictionery" with her display of gingerbread men (and mice) to celebrate John Steinbeck's Of Mice and Men.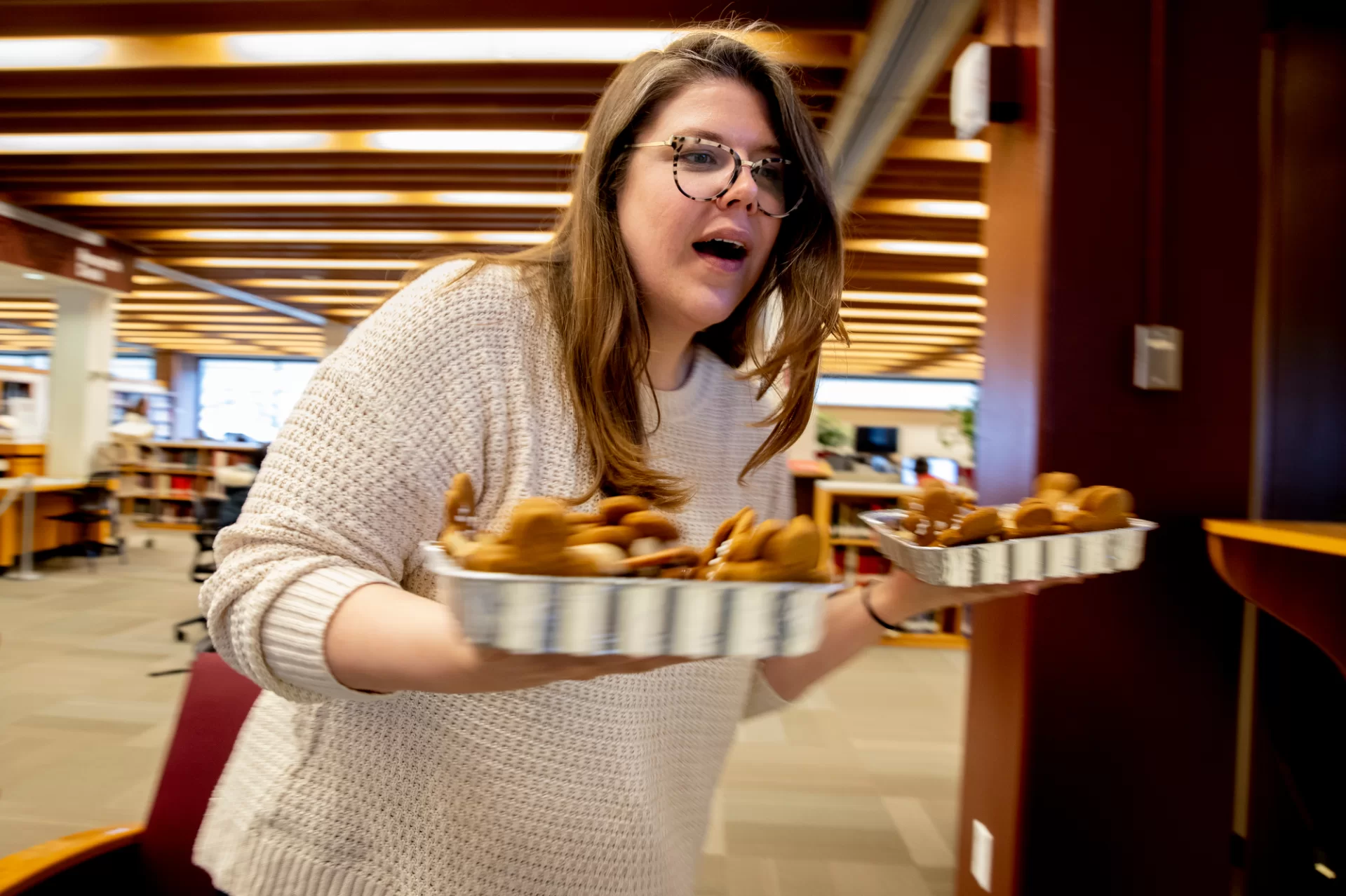 Lampman chose Steinbeck's 1937 novella because it gave her "an opportunity to have some literal translation into a food item." She used a cookie cutter to create the men, and hand-made the mice.
Her cookies won the culinary prowess award, but where there's one mouse, there's probably another — and a bigger one.
Inspired by the classic children's book If You Give a Mouse a Cookie, Krystie Wilfong, the assistant college librarian for collections and scholarly communications, created a gigantic cookie shaped like a mouse's head.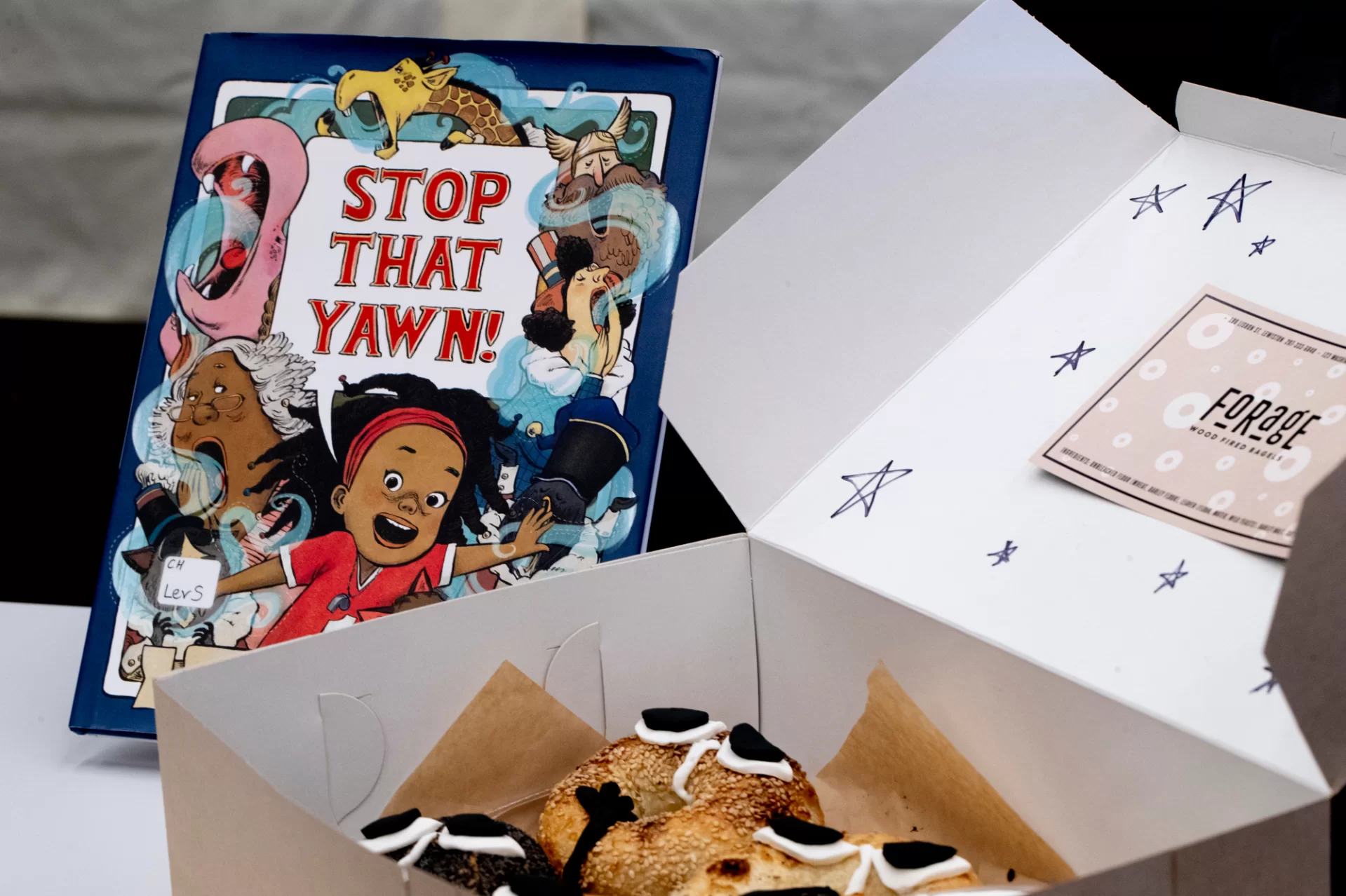 That was one of McGloon's favorites. "I like the idea of a very large cookie. There's something novel about it to me."
Theresa Bishop, assistant director of sponsored programs and research compliance, took bagels from the popular Lisbon Street eatery Forage Market and decorated each with yawning faces; they sat to their inspiration, a copy of Caron Levis and LeUyen Pham's children's book, Stop That Yawn, which is part of Ladd Library's Diverse BookFinder collection.
The simple gathering was "very nice," said McGloon, particularly after "having to kind of stifle interactions between people" during pandemic restrictions. It felt good "to be able to encourage folks to gather and spend time with each other in this space."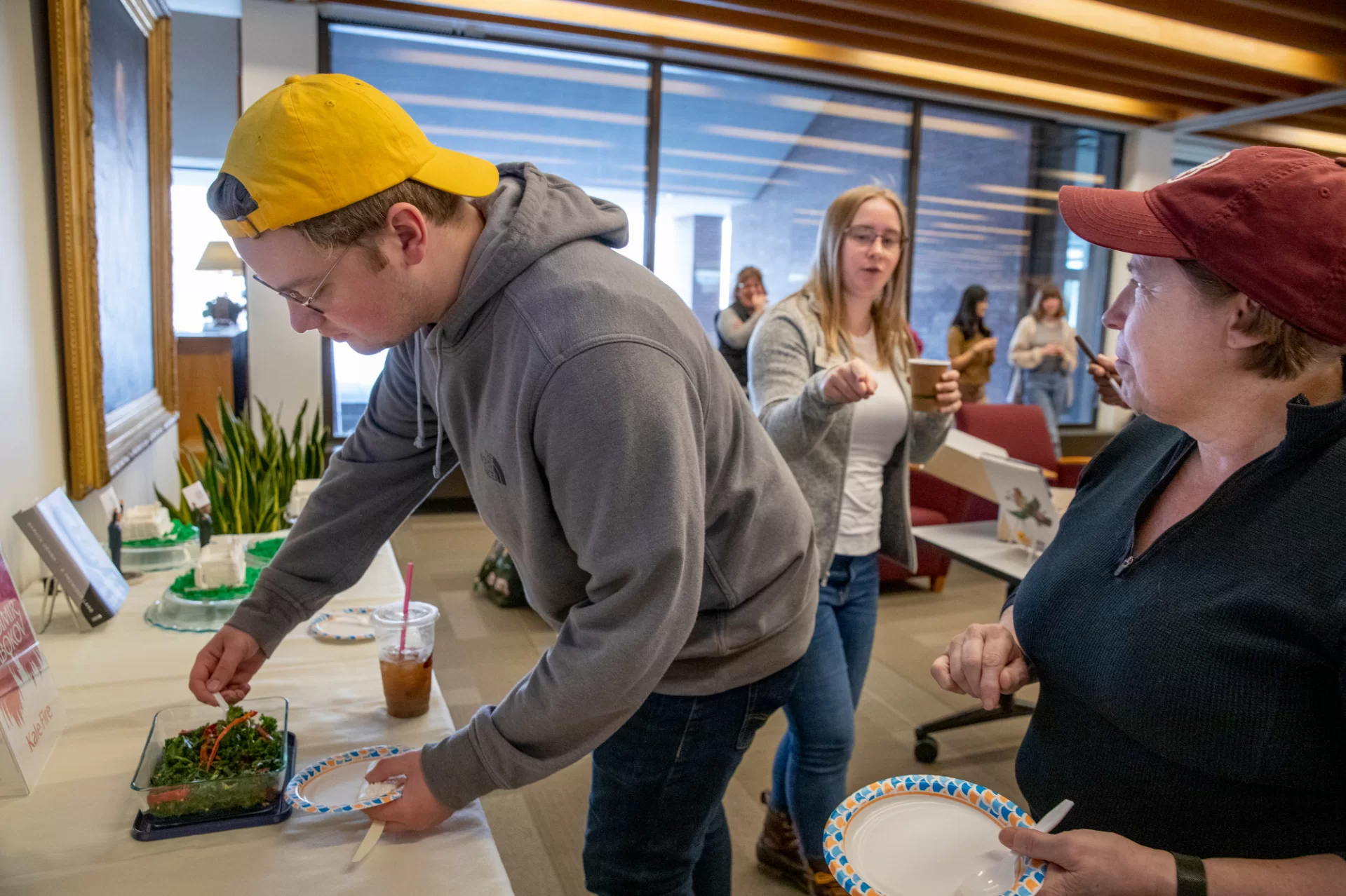 Wordplay abounded among the edible creations. McGloon said his favorite was "Kale Fire," a spicy kale salad created by social science librarian Christine Murray and inspired by Vladimir Nabokov's 1962 novel Pale Fire.
"The more creative people get, the more likely it is that we're going to pull out some books that people have not seen before," he said.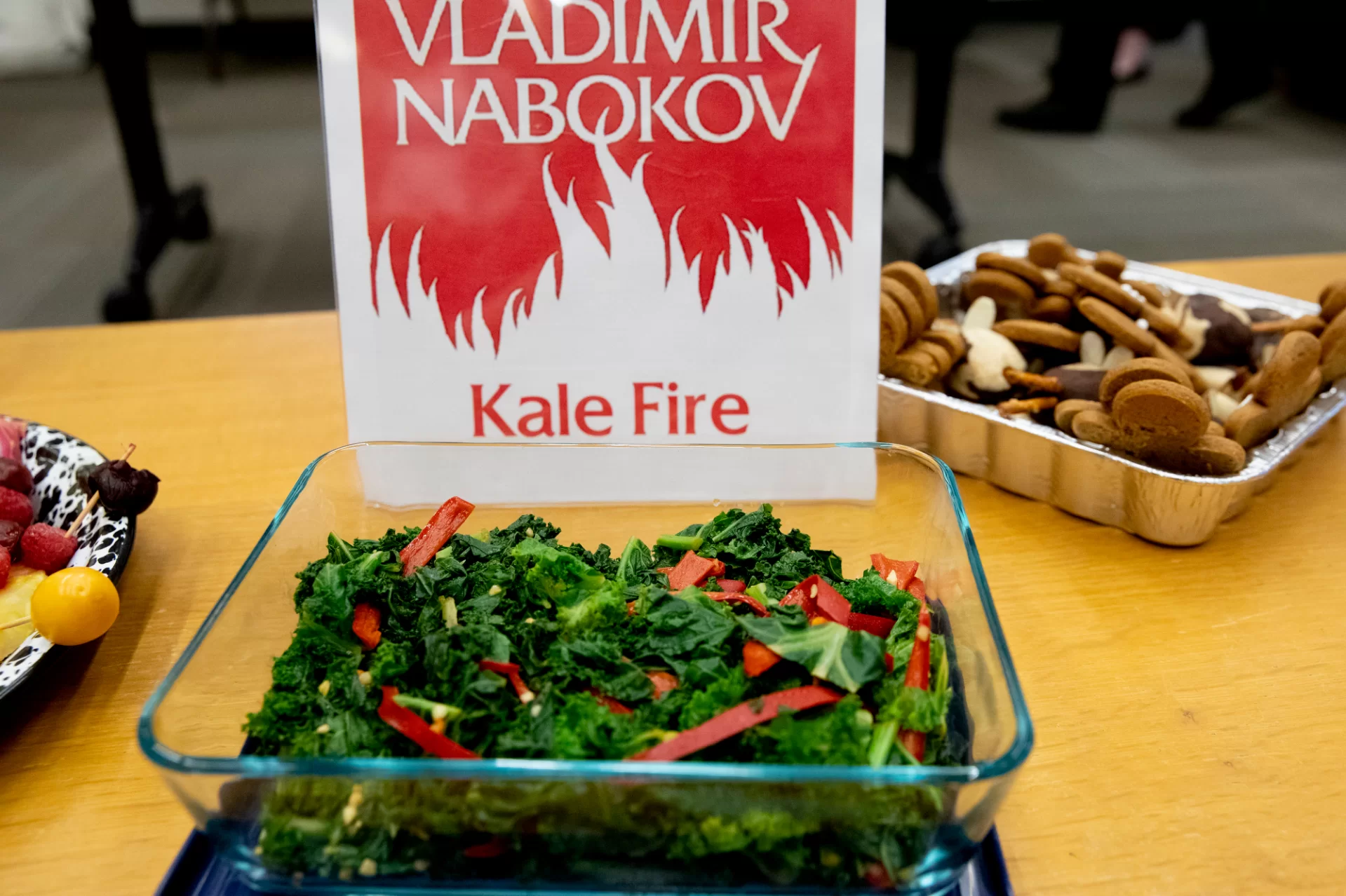 With an interdisciplinary flair, Marianne Williams, who is the college's humanities librarian, went the STEM route with her fruit dish. Pineapple rings bristling with toothpicks topped with fruits and berries evoked the bad boy of the pandemic, the COVID-19 virus itself.
Hopefully, the virus that the dish depicts will remain just desserts.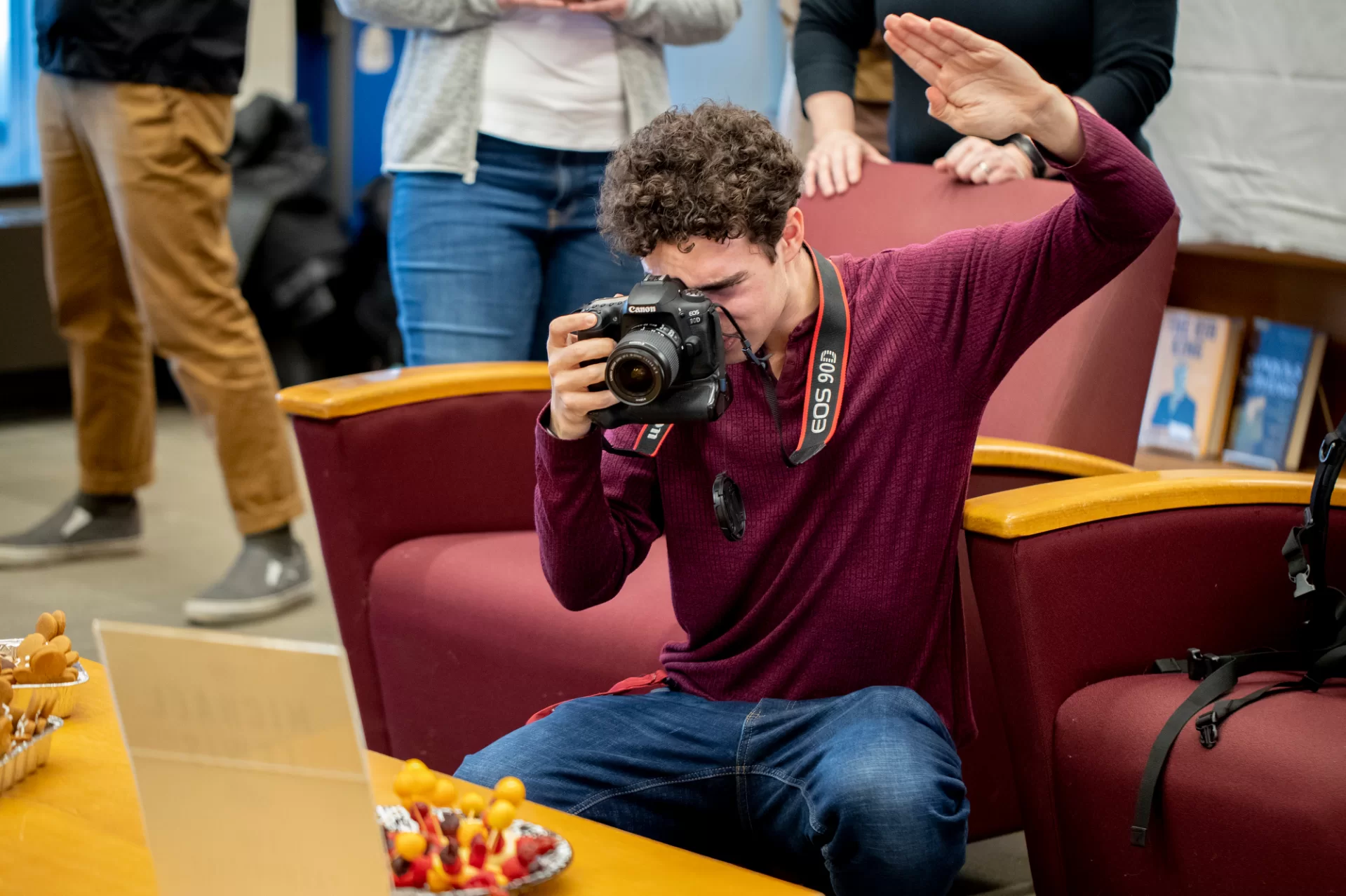 Instead of an overall winner, second place, and third place, the contest offered two categories, creativity and culinary expertise, a nod to entrants' different strengths, says McGloon. "I think it was just a good way to reward the different goals that people had been going for."
The award for creativity went to Natalie Williamson, a controller in the college's financial offices. She used Barack Obama's memoir, A Promised Land, as foundational inspiration for her display of White Houses made from cookies and frosting.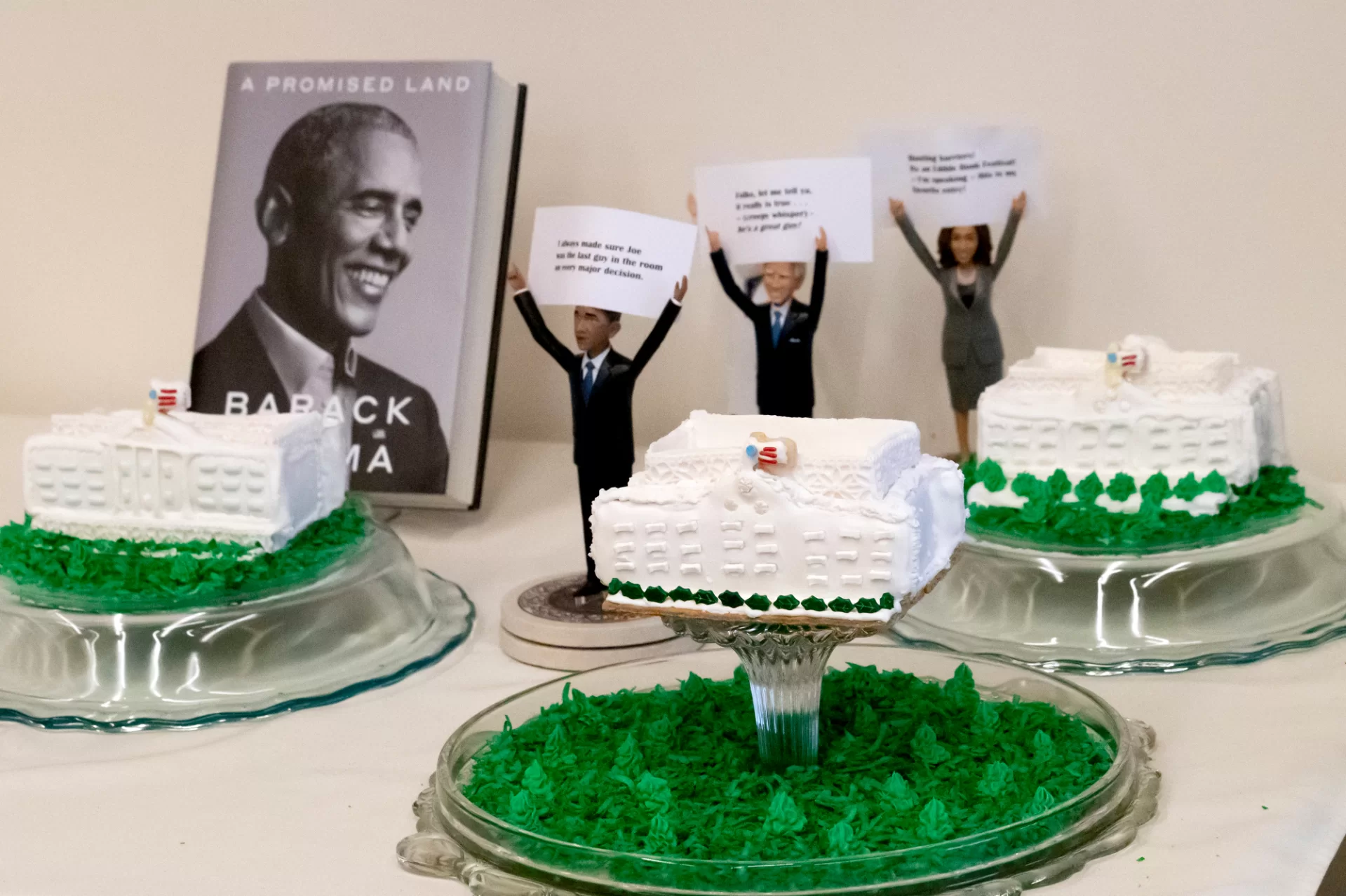 "Incredibly impressive," said McGloon, "without relying on cringeworthy wordplay!"
He was referring to his own entry, a loaf of bread "plugged" into a speaker, inspired by the sequel to Orson Scott Card's 1986 science fiction novel Speaker for the Dead. Or, in McGloon's case, "Speaker for the Bread."
"I got a few groans from my coworkers for that," he said.
Appetites whetted this year, McGloon anticipates an even bigger show next year. And if not tastier, then maybe funnier.
"I've had people basically say, 'I'm going back to the kitchen. I'm gonna make a better pun this time!'"