"Thank you all for coming to the library to do work — or eat books," said Grey McGloon '21, prompting a ripple of laughter through the crowd gathered for this year's Edible Books Festival in Ladd Library.
This year's festival, held April 7, filled three tables near the first-floor circulation desk, prompting Audrey Jennings '25 of St. Louis to exclaim upon entering the library, "This is the best day ever!"
The festival's recipe is simple: entrants need only create something edible, sweet or savory, that's inspired by a book, fiction or nonfiction, to be judged in two categories, artistry and flavor.
Though Anton Chekhov never won a Nobel Prize, he now has an Edible Books top prize for artistry to his credit. After reading The Cherry Orchard this semester, an advanced Russian class paid tribute to the author by creating a chocolate cake with sour cherry compote, decorated with chocolate trees.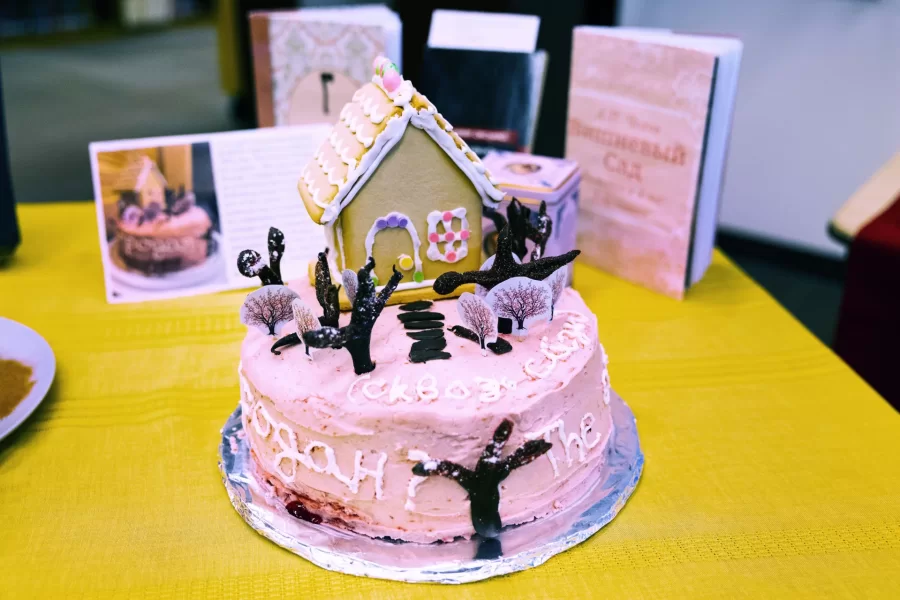 "It was our first time reading a full work of Russian literature," said Grace Acton '24 of Harvard, Mass. "Very exciting for us." Lecturer in Russian Cheryl Stephenson baked the cake, and her students decorated it during their 8 a.m. session.
McGloon, a library assistant for access services, organized this year's edition, and the judges were Cheryl Lacey, director of dining services; Laura Conforte, electronic resources and scholarly communications; Ellie Wolfe '23 of Northampton, Mass., editor-in-chief of The Bates Student.
Library Assistant Perrin Lumbert evoked Oscar Wilde's The Picture of Dorian Gray with The Picture of Durian Gray, which also won a top prize for creativity. It made quite the pungent impression — durian is a divisively popular fruit from Southeast Asia, known for its spiky outer shell and rich odor.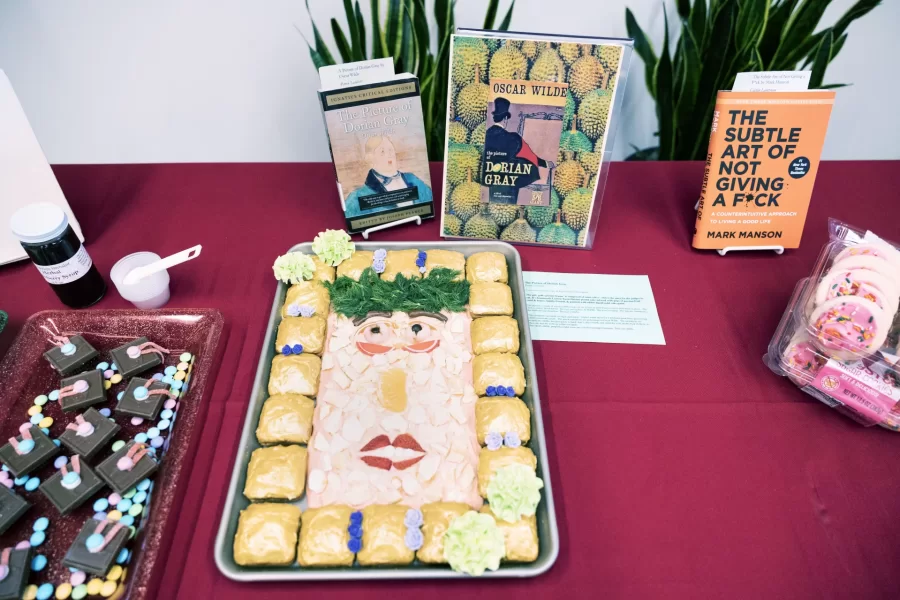 Surrounded by a gold-painted "frame" of lemon-yuzu-durian mini pound cakes, the Giuseppe Arcimboldo-esque portrait made from buttercream frosting, dried durian, lychees, M&Ms, an orange, strawberries, and marshmallows will live on, if only in memory.
Christine Murray, a social science librarian, took inspiration from Karl Ove Knausgaard's six-volume autobiography, My Struggle, to create My Strudel, which won one of two top prizes for flavor. She admits that she did not struggle with her recipe. "I just followed a recipe that said 'easy strudel,' so it might not be a canonical interpretation."
One of three different Lord of the Rings–inspired entries came from Academic Administrative Assistant Daphne Comeau, who created "The Shirecuterie" board, featuring puff pastry mimicking a hobbit-hole in a hillside of vegetables.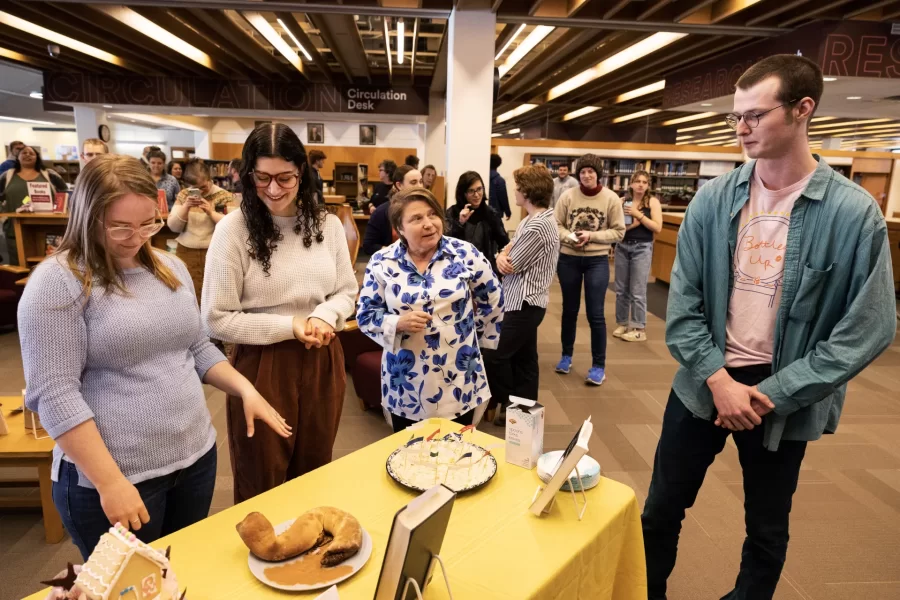 "I made a whole hobbit-hole door with the Brie container and totally left it on my table on my way out this morning," she said, but obviously it was delicious enough to secure the second top prize for flavor.
Two other Lord of the Rings entries were a map of Middle Earth made from naan, a soft Indian-style flatbread, by Library Assistant Jennifer Michel, and 11 donuts from the Italian Bakery, one "ring" short of a full dozen, presented by Krystie Wilfong, associate college librarian for collections and scholarly communications.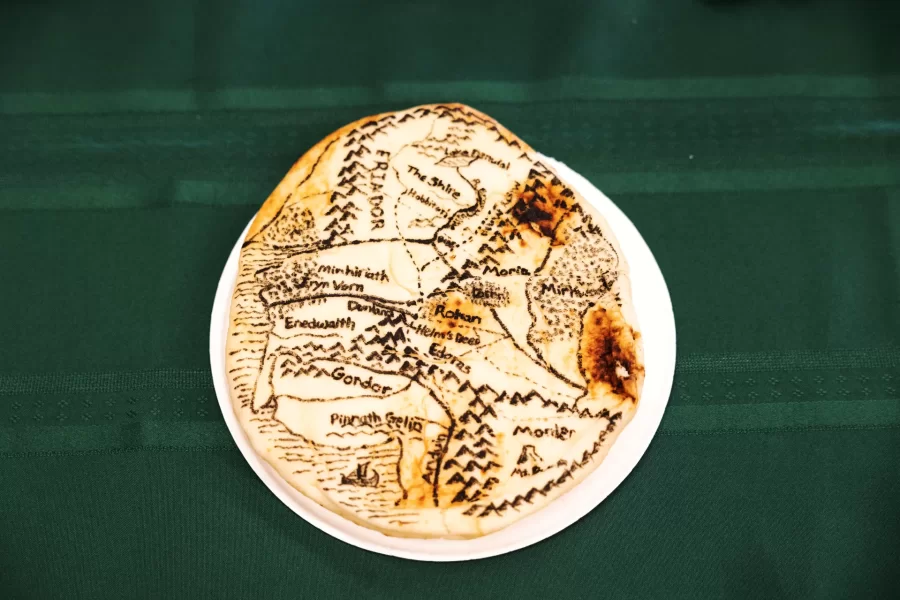 A dish of "tyrannymisu" came from Humanities Librarian Marianne Williams, inspired by On Tyranny by Timothy Snyder. McGloon contributed a Dune-inspired spiced bread "sandworm," and sugar wafers and graduation cap cookies, from Assistant Director of Sponsored Programs and Research Compliance Theresa Bishop, were inspired by Educated by Tara Westover,
Finally, from Caitlin Lampman, reference and outreach archivist who won a top prize last year for gingerbread men and mice (inspired by Of Mice and Men) came a sly entry: cheap store-bought sugar cookies, invoking The Subtle Art of Not Giving a F*ck.