Student achievement is celebrated in fifth Mount David Summit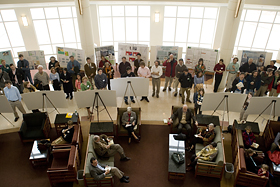 Through poster presentations, panel discussions and readings, a photography exhibit, film projects and much more, some 200 Bates College students will publicly share their academic and creative efforts at the fifth annual Mount David Summit, starting at 2:30 p.m. Friday, March 24, in Pettengill Hall, Andrews Road.
Named for the "mountain" that is a Bates landmark, the summit comprises two afternoon sessions of poster presentations in Perry Atrium, concurrent panels elsewhere in Pettengill, and evening presentations of film and dance elsewhere on campus.
Several presentations focus on research or service-learning projects undertaken in Lewiston and Auburn, including collaborations with Museum L/A, oral histories in the Franco-American community, curriculum development and assessment in local schools and literacy initiatives.
The summit is open to the public at no charge. For more information, please call the dean of the faculty's office at 207-753-6952 or visit the summit Web site.
"The Mount David Summit gives us an opportunity to reach across disciplines and hear about the discoveries our students are making in their research, service-learning projects and creative work," says Jill Reich, Bates' dean of the faculty. "What's most exciting is that everyone who attends has the chance to learn from these students, who have become experts in their fields."
The projects covers topics as diverse as environmental pollution in Acadia National Park, the effects of gender on college aspirations and the evolution of the dance music called reggaeton. Film projects include three narrative-fiction pieces and four works produced in a course using video and musical technology to explore collaboration in dance and music.
In sessions beginning at 2:45 and 4:30 p.m. in the three-story, glass-walled Perry Atrium, students present posters explaining their research into myriad subjects in the sciences and humanities. Meanwhile, other students discuss their projects in panels organized by theme and moderated by faculty. "Memory and the Holocaust," "Measures of the Mind and Body in Psychology and Science" and "Themes in Arthurian Literature" are a few of the panel themes.
The annual Off-Campus Study Photography Exhibition, in Pettengill Hall, features striking images of distant locations captured by students studying off campus.
At 7 p.m. in Schaeffer Theatre, students perform dances and show films made for the course "Atelier," which uses new technologies to promote collaboration in music and dance. At 8 p.m. in the adjoining Pettigrew Hall, four seniors screen their fictional films "Counter Clockwise," "Estranho, Estranho" and "Sad Robot."
View Comments