Junior exhibits proteges' photographs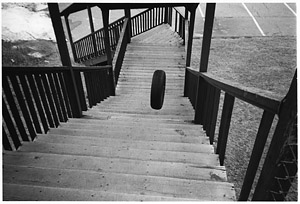 After mentoring a group of boys from Poland Regional High School and teaching them photography, Bates College junior Jacob Bluestone of Huntington, N.Y., has mounted their images in an exhibit titled In Our Hands, Through our Eyes in Chase Hall Gallery, 56 Campus Ave. Open to the public at no charge from 8 a.m. to 8 p.m. daily, the exhibition continues through April 9. The display is sponsored by the Department of Art and Visual Culture, with the support of a Phillips Fellowship and an Arthur Crafts Service-Learning Award.
Bluestone received a summer 2005 Phillips Fellowship to fund The Honesty of Broken Language, a project that sent him to Cochabamba, Bolivia. He spent eight weeks there in a position organized by Volunteer Bolivia, teaching and working with disadvantaged children in a school-like setting.
An accomplished student photographer, Bluestone documented his work and the community. He armed his students with disposable cameras, taught them about photography and set them off to record life in their neighborhood in Cochabamba.
The Phillips Student Fellowships provide funding to Bates students to design exceptional international or cross-cultural projects focusing on research, service-learning, career exploration or some combination of the three.
Back at Bates, Bluestone received a Crafts service Award from the college to continue his project with a group of local teenagers, he says.The exhibition features the work of Pete Brown, Patrick Collins, T.J. England, Terence Welch and Nick Williams.
"It has been very exciting, interesting and difficult at times to expose the boys to the possibilities created by a little hard work," says Bluestone. He learned much about himself in his new role as a teacher. "The group had the most success when they were enjoying the experience and I was able to establish a fun environment far outside the classroom, away from any idea of schoolwork,"  he says.  "As a teacher, mentor and student I shared the enjoyable experience of photography with the group, while simultaneously getting a glimpse into each of the boys' lives."
Crafts service Awards defray expenses for students who design an academically-related service-learning project. Awards are competitive, granted without regard to financial need and available to students in all disciplines and classes.
View Comments