Christopher Laconi '05 wins Harvard Kennedy School fellowship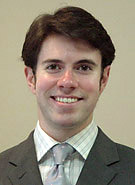 A year away from academia proved no disadvantage for Christopher Laconi '05.
Shortly before graduation, Laconi was accepted by Harvard's Kennedy School of Government to pursue a master's in public policy. But Laconi, a Rhodes Scholarship finalist, deferred matriculation one year so that he could travel in Europe "for work and pleasure" and then consult for nonprofits in Boston. At Harvard, Laconi was awarded a merit-based Dean's Fellowship at the Kennedy School — full tuition for two years and a $10,000 stipend for each year. The honor goes to only one or two members of the entering class for "overall academic strength, commitment to public service and potential for leadership."
Laconi was very active during his four years at Bates: He served as editor-in-chief of the John Galt Press for two years, and president/chair of the student government from his sophomore year until graduation. Joining the debate team shortly after his arrival at Bates, by the fall of 2002 he was ranked among the top 10 speakers on the national debate circuit.
A recipient of the Oren Nelson Hilton and Almon Cyrus Libby debating prizes, Laconi's departure was marked by the establishment of the Christopher M. Laconi '05 Debate Award. Given by David and Eileen Laconi in honor of their son, the award goes to a graduating senior who has demonstrated outstanding eloquence in public debate. A Dana Scholar, he graduated magna cum laude, was a member of Phi Beta Kappa and the College Key, and was a Humane Studies Fellow with the Institute for Humane Studies. He worked in the summer of 2004 as a Charles G. Koch Fellow at the Cato Institute, and founded a profitable political-campaign consulting business.
Laconi, a student of political science and rhetoric, says his undergraduate experience played an important role in his life trajectory: "By constantly challenging my ideas and views in and out of the classroom," Laconi says, "Bates taught me to think critically and communicate effectively."
Leave a Reply
This is a forum for sharing your thoughts about the preceding post with the public. If you have a question for the author, please email the Bates Communications Office at communications@bates.edu.