Godsey notches season-best hammer throw at Penn Relays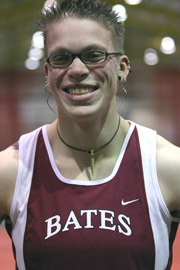 Bates College senior Keelin Godsey again proved to be one of the top throwers in the NCAA at any division Thursday at the Penn Relays, finishing second in the hammer throw amongst solely Division I competition.
The 13-time All-America performer threw the hammer a season-best 62.60 meters (205 feet and 4 inches) to take second place in the Championship Division, reserved for the most elite track and field athletes. Godsey came in as runner-up to Jennifer Leatherman of Penn State (65.12 meters) and ahead of Ohio State's Keturah Lofton (60.19).
Godsey's performance is the best ever for any Bates women's track and field athlete at the Penn Relays, and qualifies her to compete at the USA Track and Field Championships this summer, where the best track and field athletes in America of any age compete.
Later in the day, Godsey finished third in the College Women Eastern Division of the shot put, at 46 feet, 5.5 inches, just behind Nina Victorin of Mount St. Mary's (47-4.25) and Erica Davis of Yale (46-11.5) and ahead of Sacred Heart's Marsha Locke (46-1.25).
Godsey also came in 15th in the Collegiate Women's Discus Throw at 44.52 meters, behind Krystal Woods of Clemson (44.57) and ahead of Virginia's Amy Bilmanis (44.17).
Also competing for Bates at the venerable meet was junior co-captain Kathryn Moore (Pelham, N.H.), who finished ninth in the Collegiate Women's 3000-meter Steeplechase, in a time of 10:50.24, ahead of Duquesne's Brianne Scott (10:50.48) and behind Penn State's Kate Curran (10:49.05).
View Comments