Alumna to read her award-winning fiction at Bates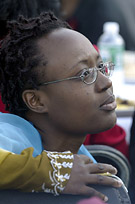 Award-winning writer Alake Pilgrim, a member of the Bates College Class of 2003, returns to campus for a two-week residency in May that includes reading her short stories, screening a film about immigration and giving a talk about religious identity. These events, cosponsored by the English department and the program in African American Studies, are open to the public free of charge. For more information, call 207-786-8294.
Pilgrim gives a first-person talk, Who Am I? Identity Issues of Mammoths, Humans and Christ for the Bates Christian Fellowship at 7 p.m. Wednesday, May 17, in Hirasawa Lounge, Chase Hall, 56 Campus Ave. Pilgrim reads from her work at 7 p.m. Thursday, May 18, in the Benjamin Mays Center.
The reading will be followed by the showing of Trinidadian director Asha Lovelace's two-hour critically acclaimed film, Joebell and America, the tale of a young man from Trinidad who attempts to immigrate illegally to the United States. "The film juxtaposes interestingly with my stories," Pilgrim says.
"I grew up in Trinidad and Tobago," writes Pilgrim, "embedded in the shared fragments of the Caribbean's multicultural reality. After teaching at her former high school for one year, in 1999, she received a scholarship to attend Bates College, where she studied political theory, anthropology and women's studies.
Professor of English Carole Taylor, who taught Pilgrim at Bates, calls Pilgrim's prize-winning stories eloquent. She says "Mangoes to Buy" and "Peppersauce" work "because of compelling characters who speak in a rich vernacular, an intense authorial lyricism and the insights of a mature writer about cultural belonging and displacement."
The stories also work, says Taylor, because they reflect "how someone studying political theory, anthropology and Caribbean women artists can use them all in creative writing that grows from both a passion for social justice and experimental explorations in dance, film and performance art."
While at Bates, Pilgrim was a Dana and Arata scholar, student member of the Alumni Council and a participant in the International Club and the Women's Resource Center. A participant in the 2000 Fall Semester Abroad program in China, Pilgrim then received a Mills grant to conduct interviews with women artists in Trinidad, Jamaica and Aruba about their experiences. She was involved in choreography and storytelling at coffeehouses and college events, including the inauguration of President Elaine Tuttle Hansen, mentored children from immigrant families and pursued her longstanding passion for creative writing.
Shortly after graduating with a B.A. in political science, Pilgrim returned to Trinidad and Tobago, where she began working in marketing and communications at The University of the West Indies. She continued writing fiction and received the 2004 Regional Prize for the Americas in the Commonwealth Short Story Competition for "Mangoes to Buy." The story, recorded on CD along with the other top submissions from around the world, was distributed to radio stations throughout the Commonwealth.
Pilgrim left her full-time job in order to concentrate on writing, supporting herself by offering freelance corporate communications services. In December 2005, her story "Peppersauce" received the Prize for Short Fiction in the Derek Walcott New Writer's Competition as part of "The Year of Walcott" celebrations.
View Comments