Bates contingent attends international sleep research conference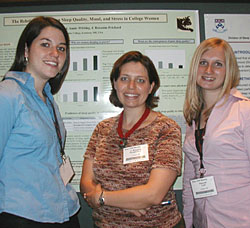 In June, four Bates students and assistant professor of psychology Roxanne Prichard traveled to Salt Lake City for the 20th anniversary SLEEP meeting, sponsored by the Associated Professional Sleep Societies.
Prichard, a neuroscientist, accompanied current and former students to Utah for six days of presentations on sleep-related topics. Two of the students, Annie Whiting and Hannah Lund, presented their thesis work, "The relationship between sleep quality, mood, and stress in college women," in a poster session. Lund and Whiting, who graduated from Bates in May, worked with Prichard during their senior year to explore sleep habits and mental health in college females.
Their study involved more than 270 Bates women who filled out online surveys, completed daily sleep diaries and even collected saliva samples to be analyzed for the hormone cortisol. Prichard plans to continue working on the project in the hope of submitting it for journal publication and potentially expanding it to include a comparison with college-aged males.
Bates students Keith Hengen '06, a former research assistant and student of Prichard, also attended the conference, along with current psychology major Kathryn Schierberl, a rising junior who is spending her summer working with noted sleep researcher Mary Carskadon. The conference took place June 17-22.
View Comments