Food historian to discuss rise of Creole cultures in African Diaspora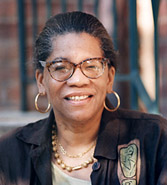 Food historian and cookbook author Jessica B. Harris, professor of special programs and associate professor of English at Queens College, City University of New York, will give a talk titled The Rise of Creole Cultures in the African Diaspor" at 4 p.m. Thursday, Sept. 14, in the Edmund S. Muskie Archives, 70 Campus Ave., Bates College. The public is invited to attend the lecture, sponsored by the Office of Multicultural Affairs, at no charge. For more information, please call the Multicultural Center at 207-786-8376.
Harris will also participate in an "Introduction to the Multicultural Center Creole Table: A Collaborative Dinner and Discussion" at 5 p.m. Friday, Sept. 15, in the Multicultural Center's kitchen. With seating limited to 20 participants, reservations for this event are required. To R.S.V.P., please e-mail Tonya Taylor at this ttaylor@bates.edu. An e-mail confirmation will be sent to the first respondents.
Harris' lecture kicks off the 2006-07 Multicultural Center Creole Table series, a language and cultural program. Creole societies, which exist throughout the world, are defined by their multicultural, multi-racial/ethnic and polyglot populations, as well as by similar histories of forced migrations (resulting from slavery, indenture and other forms of agricultural labor), plantation economies and the creation of new languages. "Creole" refers to, variously, language, race, cuisine, religion and culture.
The author of eight books documenting the cuisines of the African Diaspora, Harris has devoted her career to the study of foods from around the world.  In addition to her cookbook Beyond Gumbo: Creole Fusion Food from the Atlantic Rim (2003), Harris' books include The Africa Cookbook(1998), The Welcome Table (1996), Sky Juice and Flying Fish (1991), A Kwanzaa Keepsake: Celebrating the Holiday with New Traditions and Feasts (1998), Tasting Brazil: Regional Recipes and Reminiscences (1992) and Iron Pots & Wooden Spoons: Africa's Gifts to New World Cooking (1999). She has also contributed to various other books and written for magazines such as Food & Wine and The New Yorker.
Harris has lectured on African American food at the Museum of Natural History in New York, the California Academy of Sciences in San Francisco, the Smithsonian Institution in Washington, D.C.,  and throughout the United States and abroad. A frequent guest on television programs such as Good Morning America and the Today Show, Harris has received a variety of honors, including the Heritage Award from the Black Culinarians and the Food Hero Award from Eating Well magazine.
Born in Queens, N.Y., Harris received her A.B. degree in French from Bryn Mawr College. She earned her master's degree from Queens College and her doctorate from NewYork University. While at Bryn Mawr, she spent her junior year in Paris and returned to France before graduate school for a year of study at the Universite de Nancy.
View Comments