The show must go on, said Christine Schwartz, even if it's more like theater in a box.
In late October, after Bates saw a brief uptick in student COVID-19 cases, "we struggled whether to go ahead" with the annual Harvest Meal, says Schwartz, who oversees the college's dining, events, and conferences operation.
"I mean, what do you do? What should we do?"
Since reopening in August under COVID-19 protocols, Bates dining has operated as a take-out program. Gone are multi-hour, sit-down meals. Gone is mixing and matching myriad menu items to create one's own showstopper (topped with sriracha, of course). Even the venerable Napkin Board is now entirely remote.
These days, when students walk into Commons, all the food that awaits them — entrees, sandwiches and wrap, snacks, condiments, and desserts — is either pre-packaged in single-serve boxes or served from steam trays by Dining Services staff working behind plexiglass windows. Only beverages are self-serve. Once the student has their food, out they go.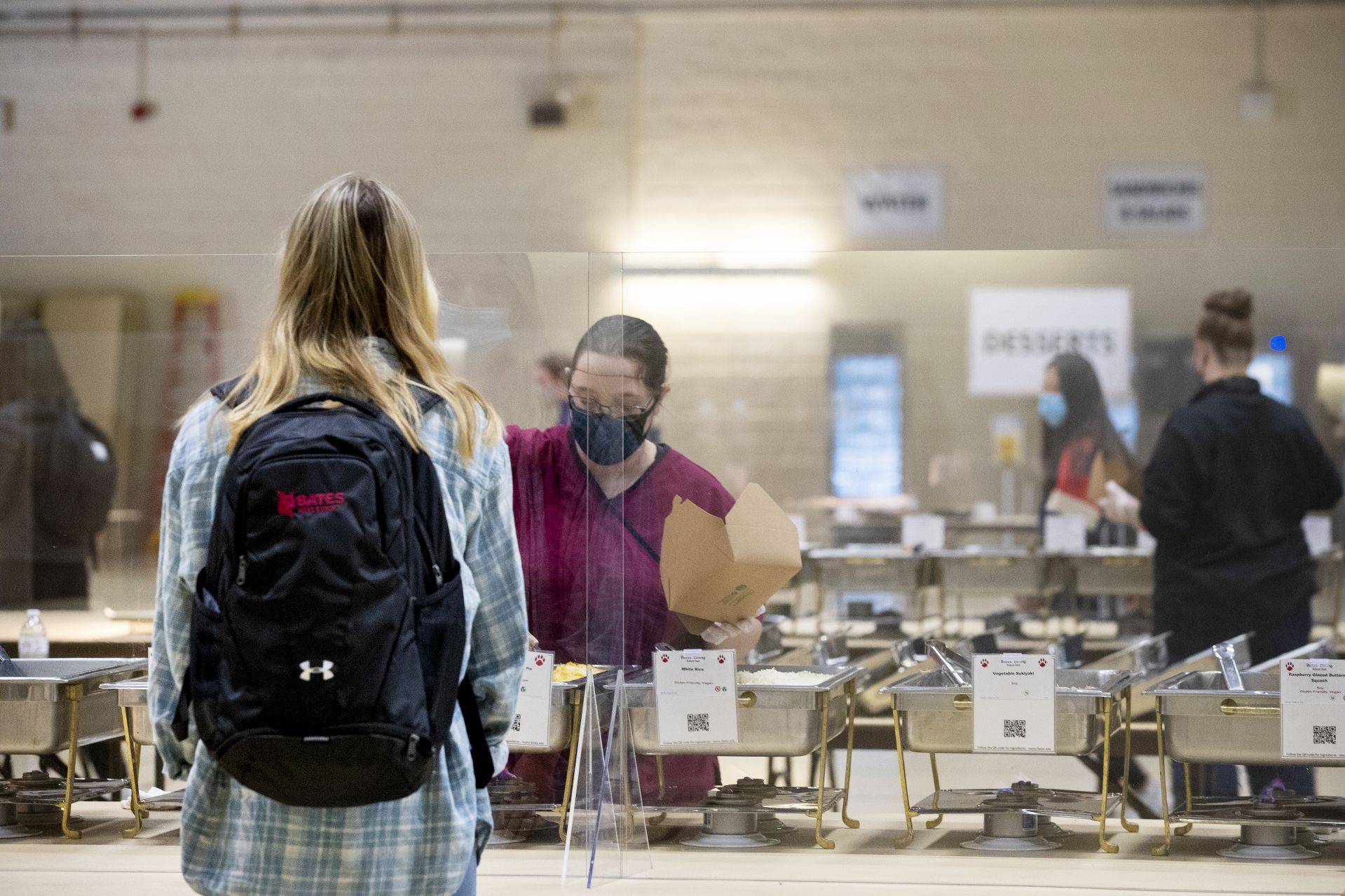 The issue around Harvest Meal for Schwartz and her longtime colleague, Director of Dining Services Cheryl Lacey, wasn't entirely about safety. Their operation already features physical distancing, universal masking, staff working behind plexiglass windows — unfortunately limiting interaction with students — no indoor dining, including no Bobcat Den, and extensive cleaning protocols.
The challenge was existential: Could such a thing as a Harvest Meal exist as a take-out concept? Without all the trimmings (food and otherwise), like horse-and-carriage rides, ice sculptures, and other theme-inspired decorations?
"In the end, we decided we had to do it," said Schwartz. "There has to be some sense of continuation of normalcy — whatever that normal is."
The burden in the end fell mostly on the menu (plus lots of inflatables around the theme "Life's a Beach") a range of familiar and comforting fare of a Bates Harvest Meal, starting with roasted turkey. There was also beef brisket encrusted with brown sugar and chili; seafood chowder; roasted eggplant with artichokes and spinach; and green bean and tofu casserole, among other options.
This is just the most recent chapter in what for Schwartz and Lacey has been a massive effort to give Bates' 1,700 on-campus students a normal dining experience, unfolding against a backdrop of anything but normal as students made the transition from sit-down meals in Commons to grab-and-go dining, dubbed "Dash."
Along the way some interesting things have happened, giving rise to some concerns about post-pandemic dining.
For one, the staff has noticed that many students have compressed their three meals into two, "treating breakfast and lunch as one meal and dinner as another," says Schwartz, "or treating dinner and the next day's breakfast as one meal, and lunch as another."
This doesn't mean they've created some kind of delicate brunch. This is about loading up on take-out items at breakfast, then skipping lunch and returning for dinner. Or, loading up at dinner and skipping the next morning's breakfast. The convenience of take-out food means they can stockpile snacks and even entire meals in their dorm rooms if they have fridges.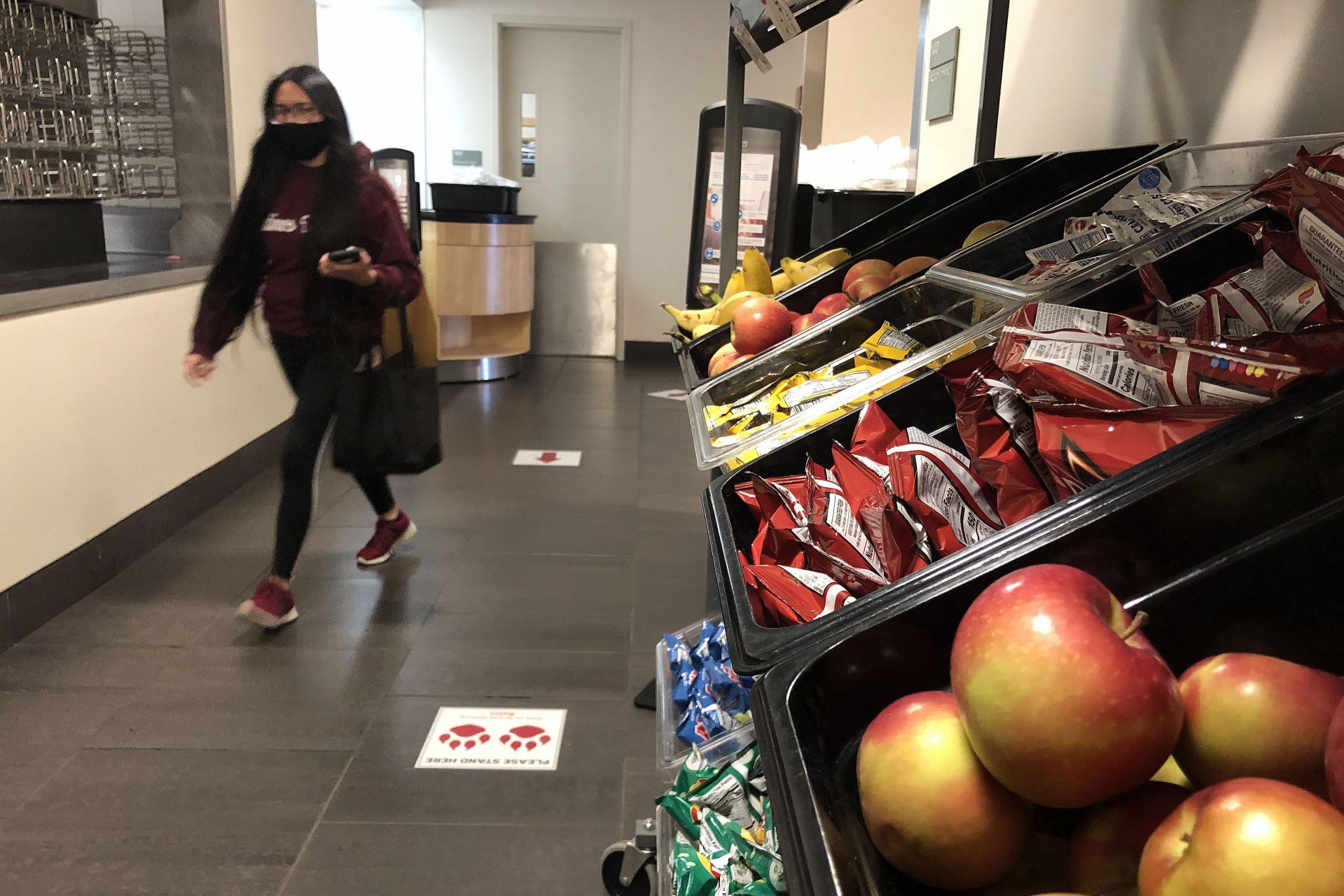 "It's an interesting trend," Schwartz says, providing evidence that "skipping" meals does not mean eating less, according to what one might call the Nugget Index. "In the past, we would go through 42 cases of chicken nuggets" — that's 420 pounds — "on days we serve them. Now when we serve chicken nuggets, we go through 56 cases."
The so-called Nugget Index does more than indicate how much students eat; it also shows what they care about — and those things, whether large or seemingly small, are what Dining Services wants to help sustain, those "extremely important items of comfort food, whether entrees or condiments, that speak to what they love about Commons, from thin-crust pizza and hot vegan options to bagels, guacamole, salsa, and sriracha," says Schwartz.
And chocolate milk. Students love chocolate milk. But this fall the college's dairy provider stopped providing the product in large bags. So Dining Services put out chocolate syrup next to the milk. But there was an unexpected learning curve: Some students had never made chocolate milk from syrup, "so we had to put a recipe card" next to the syrup, says Schwartz.
For students who are in isolation or quarantine due to COVID, Bates has partnered with student-run delivery app Easy Eats to support meal delivery to students who aren't able to come to Commons for meals. "We also hope this becomes a platform through which students with special dietary needs can communicate with our operation in a more robust way."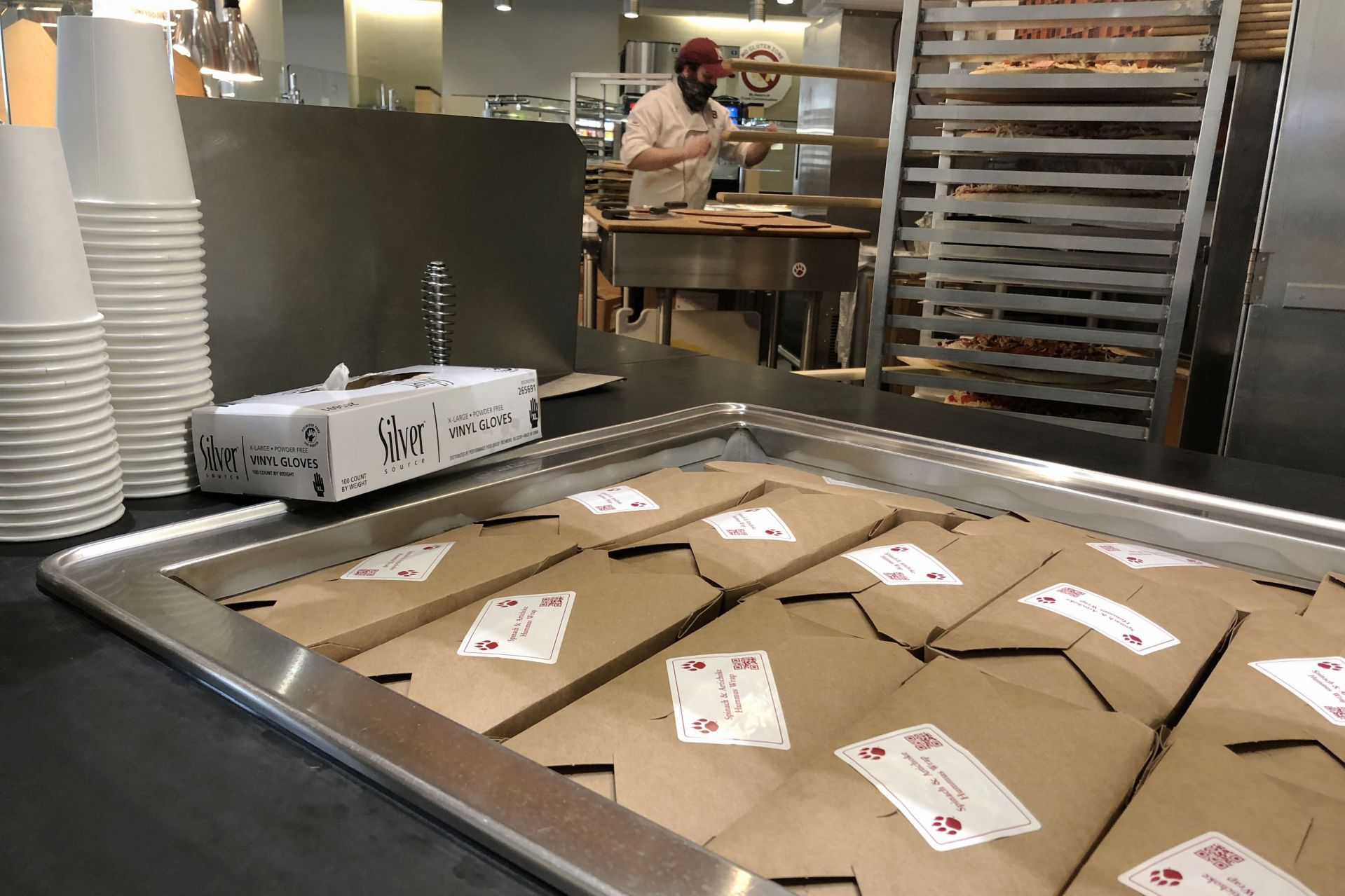 Efforts by Dining Services such as the Dash program have been a big part of the college's successful effort to reopen and stay open. Still, Schwartz and Lacey look warily at how the convenience and success of the Dash program might affect their pandemic-free future.
"I mean, it does scare us," says Schwartz. "None of us have spent our careers to create and perfect a pass-by dining program. It's not what we are designed to do and it's not who we want to be.
"You need to have casual interactions" before an acquaintance becomes a friend. "That's what Commons provides."
"In the future, I think it's going to be tough for us to get totally away from grab-and-go. It depends on how long the pandemic lasts. Right now, students' memories of the communal experience and the relationships they can build in Commons are still pretty strong. If we can flip back in the next six months, we have a good chance of being able to do away with grab-and-go. If it runs much longer than that, to-go dining becomes a norm."
At least anecdotally, students feel a strong need to go back to the old ways. Dining in Commons, they say, helps them navigate Bates life, specifically how it helps students make new friendships.
"You need to have casual interactions" before an acquaintance becomes a friend, says Mei Kane '23 of New York City. "That's what Commons provides," a chance to spend time in proximity with people you previously only knew by sight. "It's especially helpful to meet seniors, since they often live off campus or in suites."
More than a meal place, "Commons is a social space for me," says Ali Manning '23 of Sydney, Australia. "I used to sit in Commons from 5 to 7 in the evening, just catching up with friends and relaxing after long days of classes and before starting our homework. It's more than the food."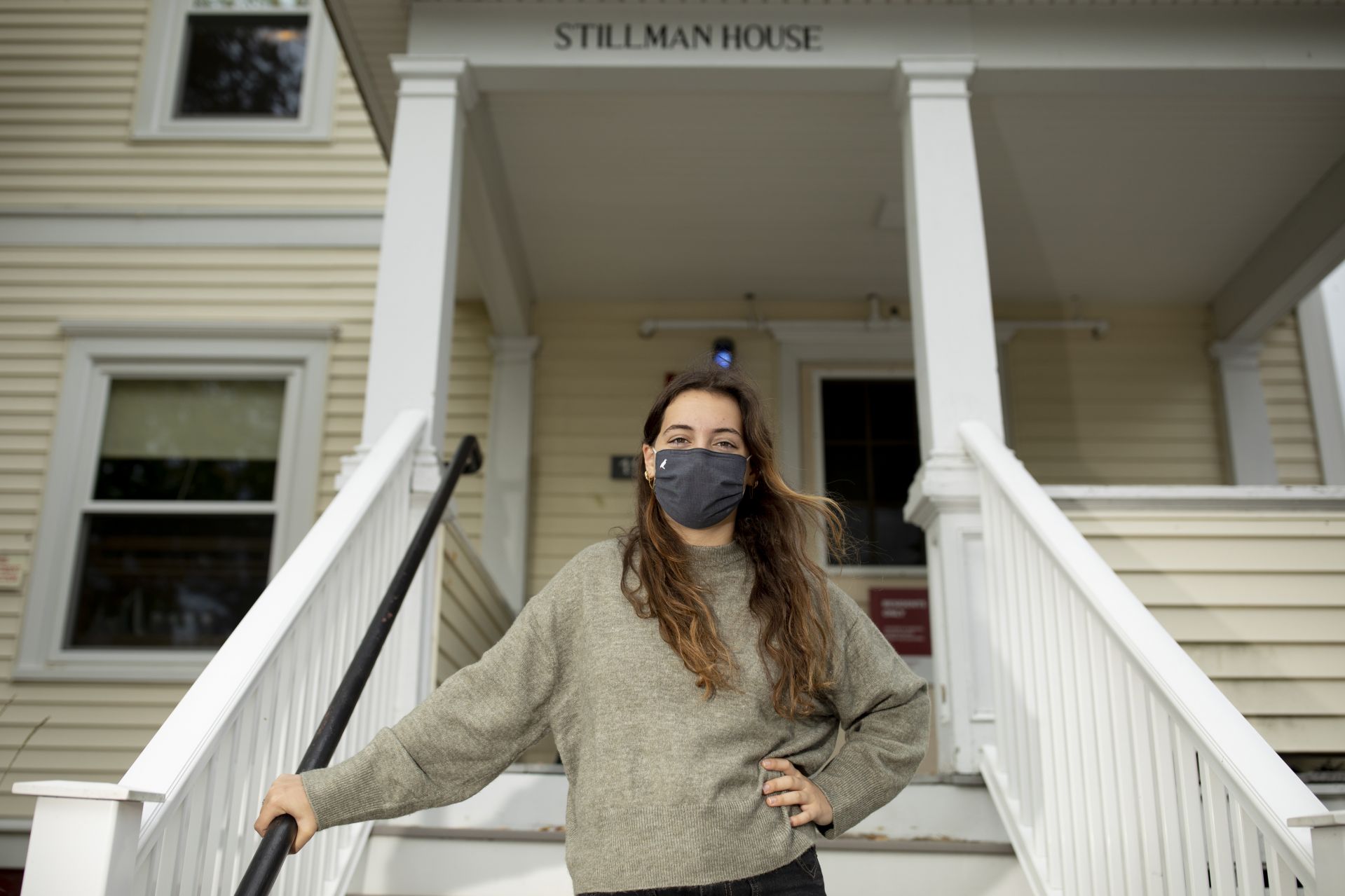 The Dash program works well, she says, and "I deeply appreciate the work and effort that our dining staff puts into it. It's not the same but I am sure that most students would say it's a sacrifice we're okay with making to stay safe and healthy."
Maintaining a sustainable ethic has also been a challenge, since the Dash program relies on throwaway packaging (though as much packaging as possible is made from 100-percent recycled materials.)
Lacey knows there is a base of students, including EcoReps, who "lament that we are using so many disposables." She hopes those same students, with support from Dining Services and the college's Sustainability Office, will help a return to sustainable practices, post-pandemic.
"The most effective change that we see among students is often peer-led," she says. "And I think we will have enough peers who will lead our students away from the disposable trend" when post-pandemic life arrives at Bates. "I think we will get strong support from those students."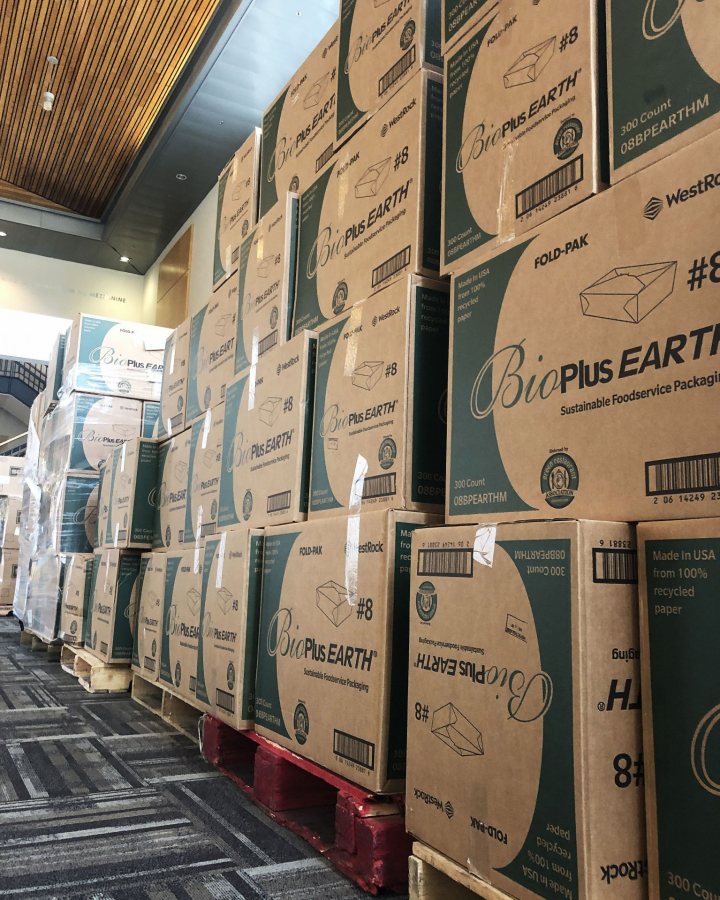 Through a thankfully mild fall, the scenes of students eating outdoors here and there, on Alumni Walk, in the new Adirondack chairs, or on Garcelon Field, were idyllic. As cold weather takes hold, and outdoor dining becomes unlikely, Schwartz and her team are constrained by Maine occupancy limits for indoor gatherings, whether dining or not: 50 people per any given room.
"Everything this fall was more difficult than before, but you guys nailed it."
"We could have up to 50 seats up in the mezzanine" of Commons, Schwartz explains, as the main dining room will still be used for physically distanced food service. "But other campus rooms large enough to accommodate 50 people are already being used for something equally important."
But there's no throwing in the towel for Schwartz and her team. "We will always look at ways to build community through dining. We will try to keep the memory alive of the magical experience of Commons for when, someday, we all can dine together again."
And what about the years' Harvest Meal? Students loved both the food and the effort, including umpteen inflatables around the theme, "Life's a Beach." Vanessa Paolella '21, editor-in-chief of The Bates Student, gave a public shoutout in her paper:
"Thank you to all of the Commons workers who have gone above and beyond to keep us fed this semester. Everything this fall was more difficult than before, but you guys nailed it."
View Comments