College offers Between Chaos and Community theme for Martin Luther King Day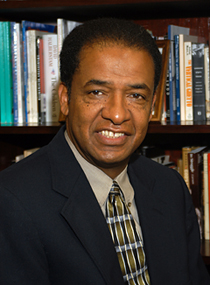 Civil rights activist and historian Cleveland Sellers is the keynote speaker for the 2007 Martin Luther King Jr. Day observances at Bates College. Classes at the college are canceled and special programming is scheduled throughout the day with an emphasis on the theme "Between Chaos and Community."
Scheduled for 10:45 a.m. Monday, Jan. 15, in the Bates College Chapel, Sellers' address is part of a celebration of King's life and work that includes performances, art exhibitions, workshops and orations. All events are open to the public free of charge. For more information, call 207-786-8296, or see a complete list of events scheduled for Martin Luther King Jr. Day.
Chaired by John McClendon, associate professor of African American studies,  the Bates committee that organizes the annual observance of King's birthday chose "Between Chaos and Community" as its theme. The words are excerpted from King's last book, Where Do We Go from Here: Chaos or Community? (Harper & Row, 1967). The late civil rights leader wrote:  "We still have a choice today: nonviolent co-existence or violent co-annihilation. This may well be mankind's last chance to choose between chaos and community."
"Dr. King's statement contrasting chaos and community emerged from the context of escalating domestic and global violence," says McClendon. "Domestically black urban revolts emanating from the despair of black poverty and powerlessness, along with white racist reaction that desperately challenged the progressive advance of the civil rights movement, were adjoined with the international nightmare of the Vietnam War. King's vision of the Beloved Community was the antidote to such chaos."
The college also co-sponsors an annual MLK Day Read-In where faculty, staff, students and members of the community will share a picture book with Martel School students in grades 4-6 at 1:30 p.m. Tuesday, Jan. 16.
The King Day observance begins on the eve of the holiday, at 7 p.m. Sunday, Jan. 14, with a memorial service of worship in the College Chapel, College Street. The Rev. Ruby Sales, a veteran of the civil rights campaign of the 1960s who has devoted her life to philanthropy and social justice, delivers the annual Martin Luther King Jr. Day Memorial Service of Worship sermon. The service includes musical performances by the Boston-based Aardvark Jazz Orchestra and Bates students. The Multicultural Center hosts an 8:30 p.m. reception with Sales after the service at 75 Franklin St.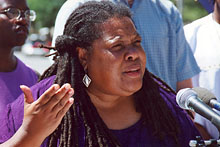 Growing up in Alabama during the tumult of the civil rights movement, Sales participated in the Selma to Montgomery marches of 1965. Arrested for her actions, she was released after six days. While purchasing refreshments at a store in Fort Deposit, Ala., her life was threatened by a gun-toting construction worker, Tom Coleman. Sales' fellow marcher, white seminarian Jonathan Daniels, pushed her out of the way and took the bullet for Sales, dying instantly.
Traumatized by Daniels' murder, Sales was unable to speak for the next seven months. Despite death threats made against her and her family, she resolved to testify at Coleman's trial, where he was acquitted by a jury of 12 white men. However, the outcome of the trial led to reform of the segregated procedures that were used to pick Alabama juries. Sales continued with a life dedicated to social activism.
After earning her B.A. in American history in 1971 from Manhattanville College, where she was a National Council of Churches Merit Scholar, Sales enrolled in graduate school at Princeton University. Between 1971 and 1976, she was a Danforth Scholar, and she advanced to doctorate candidacy in American history before leaving the university. Sales taught adult education in Boston for a year, and then worked as director of the Citizens' Complaint Center in Washington, D.C.
From 1986 to 1988, Sales taught courses on the civil rights movement and African American women's history at the University of Maryland before becoming affiliated with the National Women's Studies Association. She served as director from 1989 to 1991 of Black Women's Voices and Images, an initiative to wed research to action on issues affecting black women. In 1991, she founded Women of All Colors and served as director, coordinating a broad coalition of progressive organizations to work on issues affecting all women.
In 1994, Sales left Women of All Colors to earn a master's of divinity from the Episcopal Divinity School in Cambridge, Mass. Her training there prepared her to launch Spirit House in 2000, a non-profit organization that aims to achieve a non-violent and just world through exploring the legacy of American violence, racism and sexism. She lives in Washington, D.C.
A panel discussion about antiracist activism kicks off King Day itself, Monday, Jan. 15, when students and faculty gather to discuss their experiences as antiracists and the need for increased visibility and involvement of antiracist allies at Bates.  Hosted by a campus-based, race-focused community action project group and in conjunction with "Privilege, Power, and Inequality," taught by Professor Emily Kane, the discussion begins at 9:30 a.m. in Chase Hall Lounge, 56 Campus Ave.
A Multicultural Center-sponsored art exhibition, In Memory of Those Upon Whose Shoulders We Stand: Civil Rights Warriors Who Have Passed the Torch Since January 2006 is on display in Chase Hall Gallery through Jan. 19.
Sellers delivers his 10:45 a.m. keynote address, Where Do We Go From Here: A Call to Consciousness! in the Bates College Chapel. The keynote address will be prefaced at 10:30 a.m. with music by the Bates jazz band and an oration delivered by a student from Morehouse College. Bates and Morehouse share a continuing commitment to collaborative projects. The nation's largest liberal arts college for men, Morehouse was Martin Luther King Jr.'s alma mater. One of its longtime presidents, Benjamin Mays, was a 1920 Bates graduate and accomplished debater. A lifelong adviser to the great civil rights leader, Mays eulogized King in 1968.
A political activist, civil rights pioneer, and educator, Sellers has had a profound impact on American history and culture. The director of the African American studies program and member of the history faculty at the University of North Carolina, Sellers is the author of the The River of No Return: The Autobiography of a Black Militant and the Life and Death of SNCC (University Press of Mississippi, 1990), first published in 1973. His scholarly interests include the history of protest tradition, civil rights history and the experience of Africans in the Diaspora.
As a young man, Sellers aligned himself with veterans of the civil rights movement.  Joining the Student Non-Violent Coordinating Committee (SNCC), he traveled the South in the 1960s, urging African Americans to register to vote and working as an advocate for justice and human rights.
Sellers received his B.S. from Shaw University, his M.A. from Harvard University and his Ed.D. from the University of North Carolina-Greensboro. Sellers serves on the board of the Episcopal Church foundation, is a warden at St. Phillip's Episcopal Church, Denmark, S.C., and serves as president of the Denmark Recreation Center, Inc.
Sellers is a member of several organizations, including the South Carolina Association of School Administrators; the Southern Conference on Afro-American Studies, Inc.; and the Cultural Center for Social Change. He was named "Who's Who Among South and Southeastern University Faculty," 1996-1997.
A native of Denmark, S.C., he and his wife, Gwendolyn, have been married for 33 years. They have one daughter, Nosizwe, and two sons, Lumumba and Bakari.
Complete Monday afternoon workshops hosted by various academic departments and student organizations begin at 1:15 and 2:55 p.m. in classrooms throughout Pettengill Hall. The workshops, featuring speakers, films and discussion, will focus on various topics tied to the day's theme "Between Chaos and Community." Topics range from the lessons to be learned today from King's reflections on the war in Vietnam to the experience of Somali refugee families, from King's love ethic to the realities of educational inequality. For more information about the workshops, call 207-786-8296 or see a complete listing.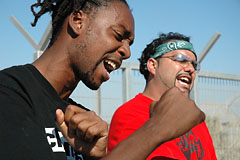 The entire King Day observance concludes with a performance in the Olin Arts Center Concert Hall at 7:30 p.m. A Morehouse College orator will be followed by Boston's acclaimed Foundation Movement, a hip hop trio recognized for its music and commitment to community. (Please note that the performance is appropriate for audience members of all ages.) Foundation prides itself on the absence from its music of messages of misogyny and materialism.
Young artists with origins from Puerto Rico, Liberia and Guatemala, Foundation Movement members Ernesto Arroyo, Banijeh Browne and Oscar Melendez met in Boston and united to form the group. This cultural fusion, as well as their experiences growing up in Boston, has influenced their music. In a recent Boston Globe article, Arroyo said: "We believe that our music is to open people's eyes and it is a vehicle for change." Hip hop, he told the Globe, is "a music of substance, and it can help us see things differently and more clearly."
---
Related Stories
Jan.8:
2007 Martin Luther King Jr. Day Schedule
View Comments