Turning Points: Simple Questions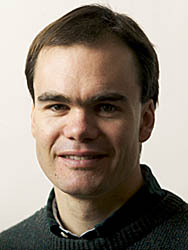 HONORED With the 2009 Kroepsch Award for Excellence in Teaching, [intlink id="2855″ type="post"]Associate Professor of History Joseph Hall[/intlink] (right).
Hall, who came to Bates in 2002, teaches Native American history, the Colonial and Revolutionary periods, and U.S. history from an environmental perspective, among other topics. Students who nominated him for the Kroepsch praised Hall's knowledge of and enthusiasm for his material, a highly engaging classroom style, and high but fair expectations of his students. "One of his favorite questions is 'So what?'" says Alexander Scott '09. "This simple question commands the student to place comments into a broader historical context."
WON An award funding a trip to prominent German neuroscience research facilities, by biology major Greg Sousa '08 of Augusta, Maine, for research, presented at the Society for Neuroscience conference, into the regulation of feeding in snails; and nearly $1,000 from the scientific research society Sigma Xi to support a genetics study involving test subjects in Lewiston-Auburn by neuroscience major Leah Carr '10 of Summit, N.J.
DEPARTED Mark Bessire, director of the Bates College Museum of Art, for the equivalent position at the Portland (Maine) Museum of Art, effective March 2. Bessire, who came to Bates in 2003, worked to better harmonize museum programming and the College curriculum, oversaw interdisciplinary initiatives supported by the Synergy Fund, and mounted such high-profile exhibitions as "Documenting China." Bessire's colleagues at the PMA include Chief Curator Tom Denenberg '90.
DAMAGED The Bates College Chapel, by a steam leak in early January. The steam affected the altar, anterooms, and restrooms at the north end of the Chapel, peeling paint and warping floors and woodwork. Repairs, likely to take all spring, will restore the structure to its pre-Jan. 5 state but not involve any redesign or renovation, Pam Wichroski, director of capital planning and construction, told the campus in an e-mail.
PURSUED During February and March, a campus Cost-Saving Initiative (dubbed "CSI-Bates") in which employees are asked for money-saving ideas to help close a projected $2 million revenue shortfall in the 2009–10 budget (see page 3). "While this is not going to provide enough savings to secure our financial future," said Sowell Professor of Economics Jim Hughes, chair of the faculty-staff Budget and Finance Advisory Committee, "it does promote engagement and awareness of the issue at all levels of the College."
REJECTED The Academic Bill of Rights, by the Bates College Student Government, in January. The ABR is a set of principles advocating, among other things, the teaching of all perspectives on a religious or political issue that may arise in a course, rather than letting faculty decide which perspectives to present. Promulgated by the energetic conservative activist David Horowitz, the principles have been the object of a tug of war in the BCSG since 2005.
DECEASED Joseph Derbyshire, College librarian emeritus, on Jan. 4. A music lover and inveterate list maker who once said that "rock is in my blood and classical in my soul," he devised the classification system for sound recordings in Ladd Library. His obituary will appear in the Summer issue.
Raynaldo Janelle, a chef in Dining Services from 1946 to 1988, on Oct. 27, at age 86; Janice Lee, the College's audio librarian from 1982 to 2004, on Oct. 31, at 70; Joseph Poulin, a member of the Dining Services staff from 1989 to 2001, on Nov. 20, at 83.