Harward Center screens film about Lewiston gun control activist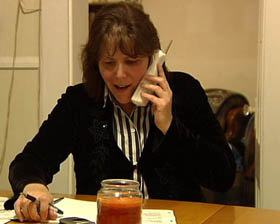 Bates College's Harward Center for Community Partnerships will screen There Ought to Be a Law, a new documentary film about a Lewiston woman who became a gun control activist after her teenager's suicide, at 7 p.m. Thursday, March 22, in Room G52, Pettengill Hall. A discussion with state legislators, a mental health specialist and Cathy Crowley, the film's protagonist, will follow the hour-long screening. Admission is free and open to the public.
The film follows Crowley in the months after her 18-year-old son, Larry, bought a shotgun at Wal-Mart and killed himself. Crowley felt compelled to talk to the salesperson who sold him the weapon. The Wal-Mart manager told her that the store was following the law and if she didn't like it, she should try to change it.
So Crowley decided to do just that. She had no political experience and had never even voted. But she sat at her kitchen table for 10 hours and wrote to every single lawmaker in Maine's state legislative directory. Several lawmakers agreed to sponsor a bill that would require a waiting period before young people could buy guns.
The film shows how the bill at first seemed likely to sail through the Legislature — but then ran into opposition from the state's powerful gun lobby. Crowley's campaign transformed her from a shy "average mom" into a savvy activist who buttonholed lawmakers and negotiated with committee chairmen in an effort to reduce Maine's high youth suicide rate. Crowley has vowed to continue her fight, and a new version of the bill is now before the Legislature.
Two years in the making, There Ought to Be A Law offers a behind-the-scenes look at how the Maine Legislature operates and how average people can get involved in the legislative process. The film was co-produced by Anita Clearfield and Geoffrey Leighton of Durham and Shoshana Hoose of Portland.
View Comments