Johnson Professor of Interdisciplinary Studies delivers inaugural lecture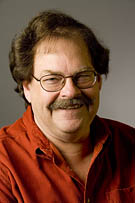 In celebration of his four-year appointment as the Christian A. Johnson Professor of Interdisciplinary Studies at Bates College, historian Michael Jones delivers his inaugural lecture, Famine, Metahistory, and Interdisciplinarity, at 4:30 p.m. today in the Olin Arts Center Concert Hall, 75 Russell St. A reception follows in the Olin Arts lobby, and the public is invited to attend both events free of charge.
Throughout his distinguished career as a teacher and scholar, Jones has explored the early medieval period in Europe from a wide range of disciplinary perspectives. As an undergraduate at the University of Texas, he studied history and economics. He earned a master's degree from the University of Wales (Aberystwyth) and a doctorate in history from the University of Texas. He joined the Bates faculty in 1982.
Jones, a professor of history, "exemplifies the strength and gains of crossing the traditional boundaries of the disciplines," says President Elaine Tuttle Hansen, who will make opening remarks and introduce Jones. Donald W. Harward, Bates president emeritus and trustee of the Christian A. Johnson Endeavor Foundation, also will speak.
Chair of the history department and a driving force in the development of the college's Program in Classical and Medieval Studies, the scope of Jones' course offerings range from medieval Europe and the Vikings to the Roman world and Anglo-Saxon England. He taught in the Colby, Bates and Bowdoin Off-Campus Study Program in London and has conducted Bates Fall Semesters Abroad in Spain and Croatia.
For Jones' interdisciplinary archaeological field course in the Shetland Islands, students travel to the Brow Site, a dig directed by Gerald Bigelow, lecturer in environmental studies at Bates. At this remote site — and with field trips to mainland Scotland — they consult the literary record, material culture and evidence of climate change to better understand medieval and early modern Scotland.
Jones' scholarly interests concern the economic, social military and environmental factors that derailed the Roman occupation of Britain and made way for the rise of the Anglo-Saxons. His book The End of Roman Britain (Cornell, 1996) is recognized as a radical rethinking of the standard accounts of this pivotal moment in European history. A widely published scholar, Jones' essays have appeared in journals including Britannia, British Archeology, the Bulletin of the Board of Celtic Studies, the Haskins Society Journal and Studies in Medieval and Renaissance History. He has contributed many chapters to books on medieval history.
Jones has received a Fulbright Fellowship, Social Science Research Council Fellowship and a Phillips Fellowship to support his research. He is the co-convener of the North Atlantic Studies Group, which considers — from the perspectives of the humanities, social sciences and natural sciences — the relationship between societies and the environment in the vast maritime region from the Canadian Arctic and New England to Scandinavia and the British Isles.
Interdisciplinary scholarship takes place at Bates in many ways. Individual faculty members may teach courses that extend beyond the conventional frontiers of their discipline, or they may team-teach a course with a colleague from another discipline, together covering new intellectual ground with students. Students may design their own interdisciplinary majors, working with a faculty adviser to develop a selection of courses that, taken as a whole and unified by a senior thesis project, create a unique interdisciplinary exploration of ideas.
Interdisciplinary work at Bates is conducted in eight programs, established in the last 15 years: African American studies, American cultural studies, Asian studies, biological chemistry, classical and medieval studies, environmental studies, neuroscience, and women and gender studies.
The college's new educational requirements, approved by the faculty in 2006, underscore the centrality of interdisciplinary scholarship in a Bates education. Effective with the Class of 2011, every Bates student will complete two general education concentrations of at least four courses each, organized around a central theme or set of ideas and reaching across many disciplines.
Funded through a $1.2 million grant from the Christian A. Johnson Endeavor Foundation of New York City, the Johnson Professorship recognizes the value of taking research and teaching wherever it leads — even if beyond the boundaries of established fields of study. Christian A. Johnson, a New York financier and industrialist who emigrated from Sweden, donated funds to incorporate the foundation in 1952. His devotion to education and nurturing the curiosity and intellectual development of young people continue to characterize the foundation, now headed by his daughter Julie Johnson Kidd.
Jones is the College's second holder of the Johnson chair, succeeding Professor of Russian Jane Costlow, whose appointment concluded in 2006.
View Comments