Calder Quartet, pianist Frank Glazer to perform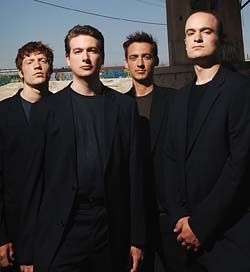 The Calder Quartet, a string ensemble praised for its bold programs and technical excellence, will be joined by leading Maine pianist Frank Glazer for a concert spanning 140 years of music at 8 p.m. Friday, May 4, in Bates College's Olin Arts Center Concert Hall, 75 Russell St.
The concert is open to the public at no cost, but tickets are required. For more information, please call 207-786-6135.
The Calder Quartet will perform Maurice Ravel's String Quartet, premiered in 1904; String Quartet No. 1 by Christopher Rouse, completed in 1982; and, with Glazer, Johannes Brahms' dynamic Piano Quintet in F minor, Op. 34, completed in 1866.
The Calder Quartet takes a cue from its namesake, the great visual artist Alexander Calder, by boldly seeking new ways to stretch the capabilities and definition of a string quartet. Praised for its "splendor and substance" by an LA Weekly reviewer, the foursome deftly balances the best of traditional repertoire with avant-garde music.
The 92-year-old Glazer, a pianist of international renown, has been an artist in residence at Bates since 1980. In a era whose pianists often strive for the gloss of mechanical precision and a big sound, Glazer instead makes all else secondary to the music's own message.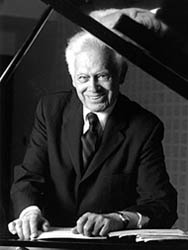 "He has thought everything through and tried to get at the core of what the music is about. Everything he does is about that," says colleague James Parakilas, a pianist himself and the James L. Moody Jr. Family Professor of Performing Arts at Bates. "And he has a wonderful way of making a line sing."
This season, the Calder Quartet has served as The Juilliard School's graduate resident quartet, one of the school's highest distinctions. The group also continues a relationship with the Colburn School in Los Angeles, where they participate in the Colburn Chamber Artists Series, and with the Carlsbad Music Festival, an alternative classical music festival in Carlsbad, Calif., that the Calders co-founded with composer Matt McBane.
The group has performed debuts with the Washington Performing Arts Society's Kreeger String Series at the Kennedy Center, the Mostly Mozart Festival at Lincoln Center for the Performing Arts and San Francisco Performances. Last season, at the Los Angeles Philharmonic's "Minimalist Jukebox" festival, the Calders worked with composer Terry Riley, offering performances of his early string chamber that led Los Angeles Times critic Mark Swed to call the ensemble "stunning."
Guest artists who have appeared with the quartet include pianists Claude Frank and Anne-Marie McDermott, two-time Grammy Award-winning guitarist Sharon Isbin, flutist Ransom Wilson, harpist Nancy Allen, violinist Robert McDuffie and mandolinist Mike Marshall.
A Topsham resident, Glazer brings to the concert stage a long and highly distinguished career that includes numerous recordings, solo recitals and performances with orchestras and chamber ensembles, including the New England Piano Quartette, of which he was a founder.
In October 2006, Glazer celebrated the 70th anniversary of his 1936 New York City debut by performing the same program at Bates.
He taught at the Eastman School of Music for 15 years before coming to Maine with his wife, Ruth, in 1980. The couple founded the Saco River Festival, held in Cornish every summer. Ruth Glazer passed away in 2006.
View Comments