Bates students by the numbers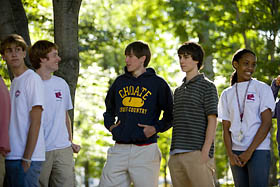 Although the final numbers are subject to change, some 1,660 students are expected on campus this fall and 193 will be attending Bates-sponsored programs off campus. New to Bates are 445 first-year students and 15 transfer students, drawn from a record 4,650 applications.
Seventeen percent of the new arrivals are U.S. students from underrepresented minority groups, 6 percent are international students and 4 percent are citizens of both the United States and another country. First-generation-to-college students make up 10 percent of the entering class.
New students have residences in 39 states and 30 foreign countries, from Bangladesh to Zimbabwe. Half of the members of the entering class reside outside of New England. Nine percent of the new arrivals, and 10 percent of all actively enrolled Bates students, are from Maine.
View Comments