Bates alumnus Corey Harris receives MacArthur 'genius award'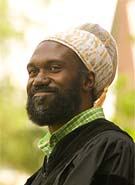 The John D. and Catherine T. MacArthur Foundation today named Corey Harris, a musician and 1991 Bates College graduate, as one of 24 new MacArthur Fellows for 2007.
Harris, the foundation said in its announcement of the award, "forges an adventurous path marked by deliberate eclecticism. With one foot in tradition and the other in contemporary experimentation, he blends musical styles often considered separate and distinct to create something entirely new.
This past week, the MacArthur recipients learned that they will each receive $500,000 in "no strings attached" support over the next five years. The fellowships offer recipients the opportunity to accelerate their current activities or take their work in new directions. This unusual level of independence underscores the spirit of freedom intrinsic to creative endeavors.
The new Fellows work across a broad spectrum of endeavors. Other awardees include a biomedical scientist, a forensic anthropologist, an inventor, a medieval historian and a spider silk biologist. All were selected for their creativity, originality and potential to make important contributions in the future.
Acclaimed for his brilliant, blues-based exploration of African diaspora music, singer-songwriter Harris lives in Charlottesville, Va., where he is on the board of directors of the Field School, a middle school for boys opening in fall 2007.
In 2003, director Martin Scorsese put the musician at the center of "Feel Like Going Home," the debut episode of the PBS documentary The Blues, in which Harris traced American blues music to its African origins.
A high-honors anthropology major at Bates, Harris won a postgraduate Watson Fellowship to study pidgin English in Cameroon (his senior thesis topic), then taught English and French in Napoleonville, La., traveling to New Orleans to perform on weekends. Music soon became his singular pursuit.
Harris' first recording was 1995's Between Midnight and Day, a collection of traditional Delta blues songs performed with just voice and National steel guitar. Its successor, Fish Ain't Bitin' (1997), won the 1998 W.C. Handy Award for best acoustic blues album.
Harris' Downhome Sophisticate (2002) showcased a dazzling command of styles. "[The CD] isn't what you'd expect from a musician well versed in traditional blues," wrote The Washington Post. "Unless it's someone who also has a passion for the music of Jamaica and West Africa, the rhymes and rhythms of rap, the sensuous allure of Afro-Caribbean dances, the horn-charged funk of James Brown and the fiery, guitar-driven sonics of psychedelic rock."
Harris received an honorary degree at the Bates College commencement last May. (See his commencement remarks.)
"The MacArthur Foundation supports highly creative individuals and institutions with the ability and the promise to make a difference in shaping and improving our future," said MacArthur President Jonathan Fanton. "These new MacArthur Fellows, extraordinary men and women of all ages and in many fields, honor and inspire us with their talent, their courage and their deep commitment.
"With the gift of time and unfettered opportunity to create and explore, we are confident that the Fellows will follow their hearts and their minds wherever they lead, making new discoveries and making a difference in the world."
The MacArthur Fellows Program or MacArthur Fellowship — sometimes nicknamed the "genius grant" — is awarded each year to typically 20 to 25 people of any age and working in any field who "show exceptional merit and promise for continued and enhanced creative work."
According to the Foundation Web site, "the fellowship is not a reward for past accomplishment, but rather an investment in a person's originality, insight, and potential." The Fellowship has no application. People are nominated anonymously, by a body of nominators who submit recommendations to a small selection committee of about a dozen people, also anonymous. The committee then reviews every nominee and passes along their recommendations to the foundation president and the board of directors.
Most new MacArthur Fellows first learn that they have even been considered when they receive the congratulatory phone call.
The inaugural class of MacArthur Fellows was named in 1981. Including this year's Fellows, 756 people, ranging in age from 18 to 82 at the time of their selection, have been named MacArthur Fellows since the inception of the program.
The John D. and Catherine T. MacArthur Foundation is a private, independent grantmaking institution dedicated to building a more just and sustainable world. Through the support it provides, the Foundation fosters the development of knowledge, nurtures individual creativity, helps strengthen institutions, helps improve public policy and provides information to the public, primarily through support for public interest media.
With an endowment over $6.4 billion, the Foundation makes grants totaling approximately $225 million each year.
View Comments