Harward Center launches intergenerational community dialogue project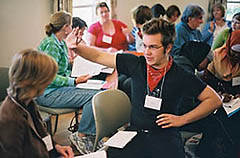 The Harward Center for Community Partnerships joins several local agencies serving teens and young adults in launching Youth + Adults + Dialogue = Action, or YADA, an intergenerational project that will bring together more than 100 community members to discuss how to make Lewiston-Auburn a better place for youth.
A series of four dialogues for small groups will be co-facilitated by a young person and an adult. The goal of the two-hour dialogues is to develop action steps to be implemented collaboratively by young people and adults to make L-A  more youth-friendly, says YADA steering committee member Holly Lasagna, assistant director of service learning for the Harward Center. Including young people in the discussions is key to the effort.
The first YADA dialogue kicks off at 6 p.m. Thursday, Oct. 25, in the Lewiston Public Library, 200 Main St. The remaining dates are Nov. 1, 8 and 15. The Harward Center hosted a Sept. 29 facilitator training session at Bates College, where 30 teenagers and adults worked on skills to use in upcoming dialogues.
"I was blown away by the response of those who attended," Lasagna said. "Everyone was very engaged, and it was exciting to witness the adult-youth partnership that evolved. If their interaction is any indication of how the community dialogues will go, I believe this will be a very meaningful experience for all involved."
In April 2006, several local agencies working with teens and young adults convened a group of community members to discuss ways to make Lewiston-Auburn a more youth-friendly and youth-empowered place. Although the group made some strides, they realized there were no young people sitting at the table. After careful consideration, much research and meaningful interaction with local youth, the consortium decided to initiate a "study circles project."
Those interested in participating in the dialogues may contact YADA steering committee chairman Larry Marcoux of the United Way of Androscoggin County at 207-795-4000 or this lmarcoux@unitedwayandro.org.
In addition to Bates College, members of the YADA steering committee include the United Way of Androscoggin County, the city of Lewiston, the Lewiston Public Library, TD Banknorth, New Beginnings, Lots to Gardens, THRIVE, local public schools, ACE/Youthbuild, YWCA, community businesses and young people.
Word about YADA is circulating nationally. Read about the project on DemocracySpace, where community organizers and public officials connect online to share news, views and ideas, or on the Study Circles Resource Center site, featuring a report about YADA by the Lewiston Sun Journal.
View Comments