Commons dedication honors philanthropic response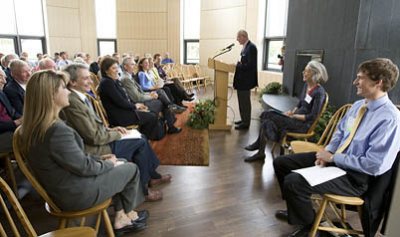 Donors who supported construction of the new dining Commons at Bates College, including many Trustees, were honored Friday at the official dedication of the campus' newest and most-used building.
Bates College President Elaine Tuttle Hansen welcomed about 100 guests to "this beautiful new energy-efficient building, which is at the heart of campus life here at Bates." She noted that a single dining hall where everyone can eat together "has been an intrinsic part of the Bates experience."
Offering poetry as appropriate to a dedication, Hansen read "Perhaps the World Ends Here" by Joy Harjo, and on a lighter note, she quoted from "Canto the 13th" of Lord Byron's "Don Juan":
Lord Henry and his lady were the hosts;
The party we have touch'd on were the guests.
Their table was a board to tempt even ghosts
To pass the Styx for more substantial feasts.
I will not dwell upon ragouts or roasts,
Albeit all human history attests
That happiness for man — the hungry sinner! —
Since Eve ate apples, much depends on dinner.
Since the new dining Commons opened in late February, students, faculty and staff, in particular Dining Services staff, have praised the layout, design and new amenities of the building.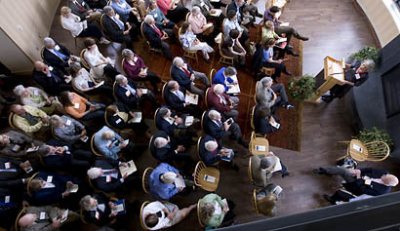 The ceremony dedicated officially both the building and many of its named spaces, including Cole Terrace, MacNaughton Arcade, Catherine C. Gorayeb Dining Mezzanine, Crumley Reception and Meeting Room, Penobscot Dining and Meeting Room, Renyi Meeting Room, Whelan Balcony Overlook, Jarnryd Meeting Room, Little Meeting Room and Milt's Emporium.
"Many alumni, parents and friends of Bates responded very generously to both the spirit of the building's design and to the important functional improvements it provides," Hansen said, noting that gifts account for $12 million of the $30 million cost of the new dining Commons and Alumni Walk.
Trustee Bob Burke '59, a member of the Master Plan Steering Committee, said the new dining Commons "is an architectural symbol of what makes Bates so special."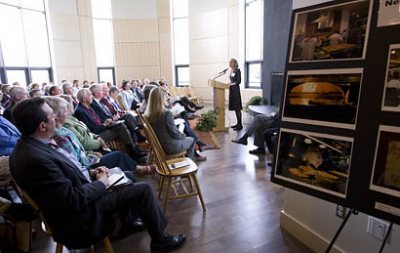 Burke said he accepted the offer to work on the committee in part because it was a chance to participate in strategic planning for infrastructure needs.
"Under Elaine's leadership, the Campus Facilities Master Plan mapped out, in a three-phase approach, the framework for thinking about our campus buildings and renovations for the next 20 years," Burke said. "Our goal is to remain good stewards of the places and spaces that support Bates' educational mission."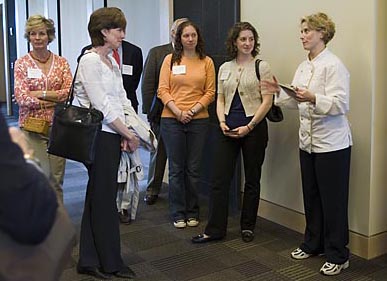 Burke offered specific thanks to a number of companies and individuals who worked on the project since the September 2006 groundbreaking. These included: architects Sasaki Associates; Consigli Construction; Dining Services Director Christine Schwartz and the entire Dining Services staff; Project Manager Paul Farnsworth and the Bates College Facility Services staff; members of the college's Food Advisory Committee; Vice President Terry Beckmann and the entire Master Plan Steering Committee.
Senior Graham Proud, an economics major graduating May 25, said that during student discussions prior to construction, two sentiments seemed to be shared by all students: "Everyone wanted waffle irons — and a single dining hall where everyone could eat together."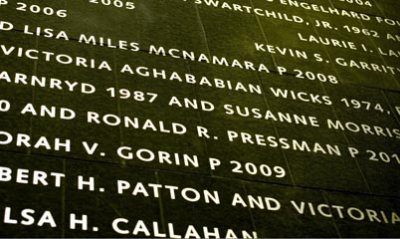 He said Commons is much more than a cafeteria, because it is a place where friends intersect and new friendships are often made with Dining Services staff. He noted that two members of the Commons staff have been nominated to speak at graduation events.
"Students like to table-hop," perhaps enjoying an entrée with one group and dessert with another, he said. "I must also admit there were some complaints: the pizza is too good. There is a certain level of concern that the 'freshman 15' is in danger of becoming the 'brick-oven 20.' "
"I've said this for years on Admissions tours: the supportive and inclusive community at Bates flows from having a single dining hall."
View Comments