Athletics and volunteerism work together for Nate Kellogg '09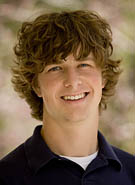 As a student volunteer fellow at the Harward Center for Community Partnerships, Nate Kellogg '09 coordinates volunteer activities for Bates sports teams and clubs. He recruited the women's soccer team to dress as characters for a children's Halloween festival in Lewiston, for example, and got some a cappella groups to perform for local elderly citizens. "I play soccer and lacrosse, and I've found this is a great way to combine athletics and volunteerism," he says.
Kellog says that a course he took, "The Public Work of Academics," taught by Anna Bartel of the Harward Center, has been critical in helping him do better volunteer work, clarifying the dynamics and making the relationship most effective between the organizations offering help and the community partners receiving it. As part of the course, he helped teach English-Language Learners, many of them Somali immigrants, at Lewiston Middle School.
"I also wrote a paper examining the undergraduate thesis as a form of public scholarship," Kellogg says. "I looked at two examples – 'Teach for America, ' which came out of Wendy Kopp's thesis at Princeton, and 'Lots to Gardens,' which Kirsten Walter '00 started as part of her environmental studies thesis here at Bates. I'm now thinking deeply about my own senior thesis. For the moment, I'm split between two topics: revealing the Harward Center's important role in the college's public image or demonstrating how greater support of athletics at Bates would benefit the institution as a whole."
Leave a Reply
This is a forum for sharing your thoughts about the preceding post with the public. If you have a question for the author, please email the Bates Communications Office at communications@bates.edu.