Wabanaki high school students check out Bates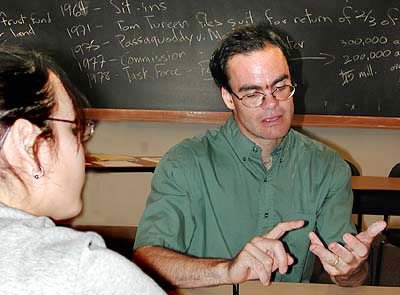 As part of a program to raise aspirations and increase awareness of college opportunities, 10 high school students from Maine's Wabanaki tribes visited Bates, Bowdoin and Colby colleges over three days in early July.
The program is just one example of "many coordinated efforts by the three colleges and tribal representatives" to reach out to the Native American communities, said Jared Cash '04, the Bates associate dean of admissions who coordinated the Bates visit.
The students represented the four Maine Wabanaki tribes: the Penobscot, Passamaquoddy, Maliseet and Micmac.
At Bates, the students attended a simulated class presented by Assistant Professor of History Joseph Hall, who spoke about Edmund Muskie '36 and the Maine Indian Claims Settlement of 1980, when Muskie was secretary of state.
The Wabanaki students and several community members heard from Director of Multicultural Recruitment Marylyn Scott, who explained how admissions officers evaluate applications. Cassandra Dana, 16, of Princeton, Maine, said she found the session "helpful in understanding what colleges are actually looking for."
"I would love to come back in the school year," added Glendon Zernicke, 15, of Presque Isle.
The Wabanaki visits to the three Maine campuses reciprocates a visit by Bates, Bowdoin and Colby students last February. As guests of the Wabanakis, the college students learned about native culture and met with students from the fourth through eighth grades.
View Comments