Dance concert features works by students, visiting artist Kellie Lynch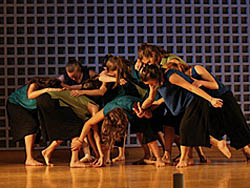 Dances created by students and by visiting choregrapher Kellie Lynch are on the program for a Bates College Modern Dance Company concert at 7:30 p.m. Saturday, Oct. 4, in Schaeffer Theatre, 305 College St.
Taking place during the college's annual Parents & Family Weekend, the event is open to the public at no cost.
For more information, please call 207-786-6161 or visit the online box office.
In addition to the work by Lynch, one of four choreographers coming in to work with the Bates dance program this fall, the concert features a dance in the classical Indian form called "Bharatanatyam," a new duet created by Bates students and the reprise of a student work created last spring and accompanied by accordion.
"The most important aspect of the Parents & Family Weekend show is its diversity," says assistant professor Carol Dilley, director of the dance program. In addition to department-sponsored work, the concert includes dances made "by students who are not necessarily regular participants in the modern dance program. It is the most open showcase of our whole season."
Lynch is working with 11 students in a Bates repertory performance class on a piece titled "What If I Don't Want To," featuring a lighting design by Justin Moriarty. The piece will be shown this weekend as a work in progress and performed with full costumes and lighting design in November.
Lynch is one of three choreographers with whom the class is developing material for the its fall concert, scheduled for Nov. 15-17; the others are Janis Brenner, of New York City; and Tania Isaac, of Philadelphia. In addition, Portland choreographer Tina Rae Kelly is working with students on a fourth piece for the November program on an extracurricular basis.
Also on the program: Abritee Dhal, a junior from Westford, Mass., performs a piece in the Bharatanatyam genre that she learned during the summer with her teacher, Ranjani Saigal.
Marlee Weinberg, a junior from Tampa, Fla., and Jake Lewis, a senior from Katonah, N.Y., offer a duet created for this performance, informed by Weinberg's summer at the Bates Dance Festival and Lewis' introduction last year to contact improvisation.
Barbara Byers, a junior from Elkins, W.Va., shows a piece she created last spring, accompanied by Byers' own accordion music.
Lynch works with choreographer-dancer Ariel Cohen Gonzalez in the two-woman company "slipperyfish dance." Slipperyfish dance received a 2008 Choreographic Fellowship from the Massachusetts Cultural Council, which the pair will use to introduce their work to communities throughout New England.
Lynch currently dances in New Haven, Conn., with Nazorine Ulysse & Dancers and Bronwen MacArthur's MacArthur Dance Project. She is a member of Heidi Henderson's "elephant JANE dance." In summer 2008 she premiered new work at the Built on Stilts Festival, Martha's Vineyard, and the Fledgling Festival, Providence, R.I.
Other Bates students performing in the concert are first-year student Kristen Gavin of Lewiston; sophomores Sarah O'Loughlin of Big Flats, N.Y., Lindsay Swan of Brooklyn, N.Y., and Elizabeth Sweet of San Francisco; junior Katie Mack of Trumbull, Conn.; and seniors Samantha Coran of Philadelphia, Kelly Griffin of Turners Falls, Mass., Katherine Reilly of Merrimack, N.H., Elizabeth Rogers of Mansfield, Mass., and Kimberly Russell of Old Lyme, Conn.
View Comments