Sylvan Ellefson '09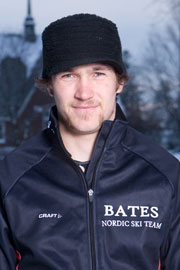 Bates senior All-American Sylvan Ellefson (Vail, Colo.) took first place in the men's 10K Free Technique race on Saturday at the University of New Hampshire Winter Carnival, the third career carnival race victory for Ellefson and the first this season. He is the only Bates skier ever to win an EISA carnival race. Ellefson timed in at 25:03.3 to lead the Bates men to third place out of 11 teams in the event.
A day earlier, Ellefson finished sixth out of 82 competitors in the men's classic sprints at UNH, timing in at 3:19.57, with senior teammate Sam Evans-Brown not far behind in eighth (3:29.47), his third top-10 performance in as many races this season.
In four races thus far in the carnival season, Ellefson has racked up finishes of 13th, 7th, 6th and first. The senior team captain is well on pace to make his fourth straight appearance in the NCAA Skiing Championships, which Bates will host this year on March 11-14.
View Comments