Bates novice debaters triumph at Stanford tournament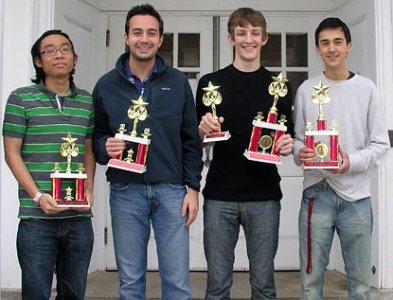 First-year Bates students Colin Etnire of San Francisco and his partner Ian Mahmud of Milton, Mass., defeated a team from Yale University to win the novice division of the 2009 Stanford University Parliamentary Debate Tournament, held March 6 and 7 in Palo Alto, Calif. In addition, Etnire brought home the trophy for first novice speaker at Stanford, ranking above average in every single round.
Seventeen colleges and universities sent 74 debaters, including 31 novices, to the tournament. The tournament's novice division is organized specifically for debaters competing for the first time at the collegiate level. During the tournament's five preliminary rounds, novice participants debate against both varsity and novice teams. In the finals, however, organizers separate the varsity and novice teams into two divisions. A novice speaker can debate on the same team with a varsity member, but that team competes as a varsity squad and cannot break into the final novice round.
Etnire and Mahmud broke into semi-finals, where they beat a team from Dartmouth on a 3-0 decision. The Bates team opposed the resolution that "This house believes that voting should be obligatory in a democracy." The pair then advanced to debate the Yale team in the final round, arguing against the resolution, "This house believes that all political campaigns should be publically financed." Discussing the important roles played by 527s (tax-exempt groups organized under section 527 of the Internal Revenue Code to raise money for political activities) and PACS (political action committees that raise money to elect or defeat candidates), as well political donations as a form of free speech and expression, the team won the final round on a 4-1 decision. Furthermore, all four speakers met by Etnire and Mahmud during the final rounds were ranked in the top 50 nationally for novices.
In addition, debaters Mircea Lupu '12 of Northville, Minn., and Yoon Loong '12 of Ipoh, Malaysia, broke into the novice division's semi-finals before losing to a Yale team on a 2-1 decision. The Bates team debated in opposition to the resolution that "This house believes that in a situation where there is a shortage of blood, volunteers who donate blood should be paid."
This is the third year in a row that the Brooks Quimby Debate Council has won either the novice or varsity division of the Stanford tournament, says Bates debater Alison Vingiano '11 of Hastings-on-the-Hudson, N.Y. "This tournament provided insight to how talented our novice class is. We expect to see great success from them for the rest of the season, and look forward to next year when the talented speakers will advance to the varsity team, and continue to make Bates proud," Vingiano says.
View Comments