Gordy Webb '11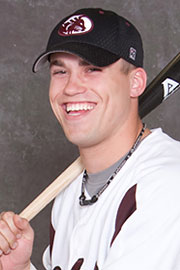 Bates sophomore catcher Gordy Webb (Hampden, Maine) batted .611 (11-for-18) with a .632 on-base percentage and a 1.111 slugging mark while not committing an error behind the plate during the Bobcats' 3-2 week last week.
Webb hit four doubles, a triple and a home run while scoring seven runs and driving in four. During Sunday's doubleheader sweep of Colby, Webb combined to go 5-for-8 from the dish with two doubles, one home run, four runs and four RBIs. He also threw out three runners on seven stolen base attempts on the week.
Webb also earned NESCAC Baseball Player of the Week honors, the New England Small College Athletic Conference announced on Monday, and is the first Bobcat to win the award since Drew McKenna '04 in 2004.
Webb has raised his batting average to .370 on the season with two homers and nine RBIs, and is sporting a team-high .674 slugging percentage.
View Comments