Bates Matters: Decisions, decisions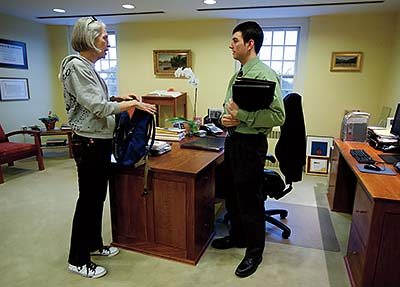 Learning to see things from other people's perspectives — a capacity the world needs more than ever — is an important part of a Bates education. It's also a goal of our President for a Day, in which one student zooms in on the details of Bates' administrative affairs while I follow that student's schedule around campus. Walter Garcia '11, my proxy on March 18, played the part of President so ably that I've asked him to write my column. — Elaine Tuttle Hansen
Beginning with the Class of 2011 — my class — students must declare their major and other curricular obligations by March 1 of their sophomore year. The deadline is earlier and much firmer than in past years.
I declared a double major in economics and art and visual culture, and a minor in mathematics. Only around 10 percent of my classmates didn't meet the deadline, pretty good for the first time around.
But is this my concern? You bet, since my first meeting as President for a Day began with Dean of the Faculty Jill Reich, who peppered me with questions: Why did some students not meet the deadline? What can we do to influence them? How was my class handling the new General Education rules? Her goal was clear: How can Bates help? In turn, I tried to be helpful, explaining that some students had real difficulties adjusting to this new and developing academic program.
---
---
The student-focused exchange was a microcosm of my day. Like many students, I was guilty of describing the College's administrative activity, centered in Lane Hall, as merely "doing its thing" — taking care of College affairs like fundraising, master planning, and the like. But that phrase overlooks and oversimplifies the complex and thoughtful processes that go into making decisions at Bates.This was seen in a theme running through my meetings with administrators: Bates' response to the world financial crisis and how the College establishes priorities.
Sustaining faculty salaries is necessary for maintaining our strong academic programs, and consistently strong financial aid is an absolute must for many students on campus. But what about the area of residential life? As a Junior Adviser — a resident mentor for up to 20 first-year students — I am part of many programs that Bates deploys in this area, so I know some of the costs involved. In my meeting with Dean of Students Tedd Goundie, I was asked not just what I personally value most, but what programs affect the most students in the most positive ways.
Among myriad meetings was one with Kelly Kerner, vice president for College advancement. It yielded another "response" to the financial crisis, as I am now helping to initiate a student philanthropy club. Our goal is to help students understand philanthropy as more than just an abstraction. It's a necessity with real power.
As the day flew by, with one meeting ending and the next beginning before I even arrived, I saw what a president faces. You have to dive into the next subject with no time to prepare for what's ahead or to reflect on what just transpired.
At the midway point, I had 20 minutes to check my e-mail and return, for a moment, to being a student. I sat in the President's Office and looked around. Perhaps it's my obsession with Bates history, but I knew that the furniture in the President's Office and in Pettengill Hall was crafted by Thomas Moser, Bates' one-time debate coach. On one wall is a large painting of the Lewiston riverfront by landscape artist Joel Babb. It's a subtle yet important reminder of Bates' roots in the area.
Meanwhile, President Hansen was busy filling my role as a student (including attending to my early-morning newspaper deliveries in new Commons). She had breakfast at 7:30 with two of my hometown friends from Deer Isle, Maine, then attended my class in intermediate microeconomic theory with Professor Jim Hughes. After lunch with students from my first-year center, it was time for my art history seminar, "The Chateau and Gardens of Versailles," with Ned Harwood. The afternoon concluded with debate practice in Pettigrew Hall.
When she and I met at day's end, President Hansen told me that this was the first Bates debate practice she'd attended. She described sitting with a senior debater who was serving as a mock judge, watching him go back and forth, helping each side to build a stronger argument.
I think that moment stood out for her because it seemed to represent what President for a Day (or, in her case, Student for a Day) is about: not just seeing from another's perspective, but making decisions based on that insight.
By Walter Fairfax Garcia '11
Photograph and video by Phyllis Graber Jensen
View Comments