Tania Isaac Dance presents Bates Dance Festival premiere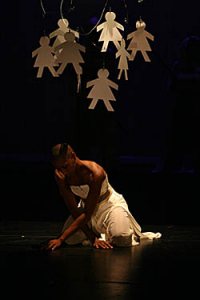 A visually explosive, sensual marriage of modern American and Caribbean aesthetics, Tania Isaac Dance brings its newest evening-length work to the Bates Dance Festival in performances at 8 p.m. Friday and Saturday, July 24 and 25, in Bates College's Schaeffer Theatre, 305 College St.
Tickets are $20 for the general public and $12 for students and seniors, and can be purchased by calling 207-786-6161. Dance writer Debra Cash offers a pre-performance lecture in the festival's "Inside Dance" series at 7:15 p.m. on the 25th.
In addition, the festival mainstage artist to follow Isaac, choreographer Bebe Miller, offers a free video talk about her work at 7:30 p.m. Monday, July 27, in Schaeffer Theatre. And the popular "Musicians' Concert," featuring players taking part in the festival, takes place at 7:30 p.m. Tuesday, July 28, in the Olin Arts Center Concert Hall, 75 Russell St.
One of Philadelphia's rising stars, Tania Isaac creates poetic, multidisciplinary dance theater rich in physicality and meaning. At Bates, her company presents "stuporwoman," a reflection on the utter confusion and chaos of keeping pace with today's frantic world. A tongue-in-cheek glimpse at multigenerational perspectives on work and family, "stuporwoman," combines the talents of playwright Bridget Carpenter, composer Michael Wall, mezzo-soprano Claire Stollack-Gustavsson and violinist Heather Zimmerman for a sublime evening of contemporary storytelling.
Isaac was honored as one of Dance Magazine's "25 To Watch" in 2006. Born on St. Lucia, she has presented her work across the U.S., in the Caribbean and in Japan. She has taught at the Bates Dance Festival and served as resident artist at Philadelphia's Painted Bride Art Center and as a US/JAPAN Exchange Artist through Philadelphia Dance Projects, Dance Theater Workshop and the Japan Foundation.
Isaac received the 2008 Pennsylvania Council on the Arts Fellowship Award and grants from the Independence Foundation, Dance Advance (a program of the Pew Charitable Trusts), the National Performance Network, the Leeway Foundation and the Harlem Stage (formerly Aaron Davis Hall) Fund for New Work.
In addition to mainstage performances, the Bates Dance Festival offers a selection of free and low-cost events. Additional information, including ticket prices and event locations, is available on the festival Web site.
View Comments