College's Dance Festival presents 25th anniversary performance season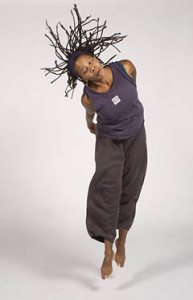 Celebrating 25 years of offering contemporary dance training, commissioning and performance, the Bates Dance Festival announces its 25th anniversary performance season, July 7 through Aug. 11, 2007, on the campus of Bates College. The five-week festival will feature performances, panel discussions and lectures by more than 30 internationally recognized dance artists from throughout the United States and abroad. The season showcases compelling and visually arresting performances that blend dance, video, live music and spoken word to address perspectives on the body, community and the environment, and themes of political activism, the impact of technology and cultural change.
Highlighting the 2007 festival will be the 25th Anniversary Gala Concert, Saturday, July 28, featuring performances by renowned intergenerational dance pioneer Liz Lerman, winner of the MacArthur Foundation "genius" fellowship; hip-hop legend Rennie Harris, voted one of the most influential people in the last one hundred years of Philadelphia history; Obie award-winning choreographer Doug Varone, acclaimed for his work in theater, opera, television and film; four-time "Bessie" award winner Bebe Miller, known for her virtuosic works exploring the human condition; Barrymore award winner David Dorfman, recognized for his collaborative community projects; acclaimed theater, opera and dance choreographer and former STOMP cast member Seán Curran; and jazz master and Broadway veteran Danny Buraczeski.
Capping the night will be community/site artists PearsonWidrig DanceTheater, performing an excerpt from their moving portrait, Katrina Katrina: Love Letter to New Orleans.The festival presents the 25th Anniversary Gala Concert at 7 p.m. Saturday, July 28, in the Lewiston Middle School Auditorium, Central Avenue.
Victor Quijada's Montreal-based Rubberbandance Group is a collection of world-class dancers from contemporary and breakdance backgrounds that unite to investigate human relationships through an innovative mix of hip- hop dynamics and contemporary classicism. Rubberbandance brings to the stage fresh and inventive works that marry explosive hip-hop physicality with the subtlety of contemporary storytelling. The music is Baroque, Prokofiev, tango, riff or rap, while the choreography blends ballet, contemporary and hip-hop dance styles. The festival presents Rubberbandance Group at 8 p.m. Saturday, July 14, in Schaeffer Theatre, 305 College St., Bates College.
A festival favorite, David Dorfman Dance returns to Maine with underground, a compelling and provocative exploration of political activism.  Inspired by social protest and the incendiary activities of the Weather Underground during the 1960s, Dorfman captures the era's restive mood and dangerous politics through an electrifying combination of live performance, cutting-edge LED technology, '60's music with a score by Jonathan Bepler (composer for Matthew Barney's Cremaster films) and video design by Jacob Pinholster (Spamalot, Wicked). A dozen local dancers join Dorfman's company to create an atmosphere of political protest that raises disturbing questions about the nature of protest: What happens when activism veers into violence? Can killing ever be justified? Dorfman and his skilled performers embody the urgency and desperation of these issues with their passionate performance. The festival presents David Dorfman Dance at 8 p.m. Friday and Saturday, July 20 and 21, in Schaeffer Theatre, 305 College St., Bates College.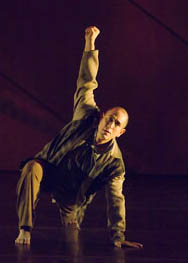 The annual Different Voices concert showcases choreographers, from the United States, Africa and Latin America, who bring diverse styles and perspectives to the festival stage. The evening includes new works by Claudia Lavista and Omar Gibran, of Mexico's acclaimed contemporary company Delfos; San Francisco-based Kathleen Hermesdorf and Albert Mathias of motionlab; Adriana Arana and Alejandro Avalos, from the University of Colima's (Mexico) highly acclaimed folkloric dance company; South African choreographer Lucky Kele; and Seattle-based choreographer Amy O'Neal. The festival presents Different Voices at 8 p.m. Thursday, Aug. 2, in Schaeffer Theatre, 305 College St., Bates College.
Bridgman Packer Dance explores the concept of "video partnering" in its latest work, Trilogy, a highly visceral and visually arresting integration of live performance and video technology that explodes the duet form into a magically populated stage where image and reality collide. Trilogy features live music by three renowned composers whose distinctive musical styles are strongly influenced by contemporary, classical or jazz musical genres. Robert Een plays cello for Seductive Reasoning; Ken Field blows his sax for Under the Skin; and Grammy-Award-winning percussionist Glen Velez does a dazzling turn on his frame drum for Memory Bank. The festival presents Bridgman Packer Dance at 8 p.m. Saturday, Aug. 4, in Schaeffer Theatre, 305 College St., Bates College.
Marianela Boán, Cuba's best-known avant-garde choreographer brings her newly formed company BoánDanz Action to present False Testimony. Boán masterfully employs her choreographic method of "contaminated dance," merging many art forms for a deep investigation of our post-technological era where the virtual reality of video cameras is omnipresent. A seamless integration of dance, video and live music, False Testimony combines wit, craft and a sophisticated use of technology to comment on today's wired world. The festival presents BoánDanz Action at 8 p.m. Sunday, Aug. 5, in Schaeffer Theatre, 305 College St., Bates College.
Celebrating the festival's commitment to producing innovative outdoor events, PearsonWidrig DanceTheater returns to Maine this summer to create another magical site-specific performance installation, this time on and around Lake Andrews on the Bates College campus. Incorporating 40 dancers, 20-plus singers and musicians, and youth and community members of all ages, this event will use sound, light, movement and inventive set pieces to enliven the night environment. PearsonWidrig DanceTheater has gained an international following for work that transforms the familiar into the mysterious, the subversive and the intimate. The festival presents PearsonWidrig DanceTheater at 8 p.m. Thursday and Friday, Aug. 9 and 10, at Keigwin Amphitheater, 75 Russell St., Bates College.
In addition to main stage performances, the festival offers a selection of free and low-cost events. Global Exchange: Sharing Across Cultures, a panel discussion with international visiting artists, takes place at 8 p.m. Thursday, July 26, in the Olin Arts Center Concert Hall, 75 Russell St. The Early Days, a panel discussion with veteran festival teacher Dan Wagoner and founder Marcy Plavin takes place at 8 p.m. Friday, July 27, in the Olin Arts Center Concert Hall.
A Dialogue with Dance Makers, a panel discussion with Rennie Harris, Doug Varone, Danny Buraczeski and Marianela Boán takes place at 8 p.m. Monday, July 30, in Schaeffer Theatre, 305 College St. An Evening of Improvised Work, led by contact-improviser Nancy Stark Smith with a select group of festival dancers and musicians, takes place at 8 p.m. Sunday, July 29, in the Olin Arts Center Concert Hall, 75 Russell St.
The Musician's Concert features an eclectic mix of music from around the globe performed by gifted musicians/composers in residence, at 8 p.m. Tuesday, July 31, in the Olin Arts Center Concert Hall.
Rounding out the festival's five-week season is the Festival Finale, featuring dancers of all ages and abilities performing modern and jazz dance works by Danny Buraczeski, David Dorfman and Marianela Boán. The Festival Finale takes place at 7:30 p.m. Saturday, Aug. 11, in Alumni Gymnasium, 130 Central Ave.
In conjunction with its performances, the festival presents Inside Dance: Understanding Contemporary Dance, a series of pre-and post-performance discussions and lectures led by noted dance scholar Suzanne Carbonneau. Offering audiences insight into the artists and their work, the lectures accompany performances by David Dorfman Dance on Saturday, July 21, Bridgman Packer Dance on Saturday, Aug. 4, and BoánDanz Action on Sunday, Aug. 5. Discussions will be held at 7:15 p.m. in Schaeffer Theater, 305 College St.
For tickets, program schedules and further details please visit the festival's website.
About the Bates Dance Festival
Founded in 1982 at Bates College in Maine the Bates Dance Festival brings together an international community of contemporary dance choreographers, performers, educators and students in cooperative community to study, perform and create new work. The festival serves as an annual destination for artists, students and audiences to engage in a full range of dance activities and performances that foster creative exchange of ideas, encourage exploration of new ground and provide the opportunity to experience a wide spectrum of dance/movement disciplines.
View Comments