Bates awarded $12,000 FEMA grant for fire safety
Bates has received an $11,850 grant from the Federal Emergency Management Agency to enhance the College's efforts to educate students about fire prevention and safety.
The grant will fund the creation of a simulated dorm room for a live-burn demonstration with local firefighters. In addition to providing live evidence to Bates students of the realities of fire in a student residence, the burn will be filmed and integrated into an educational video. The funding will also support the creation of promotional materials and the updating of equipment for training in the use of fire extinguishers.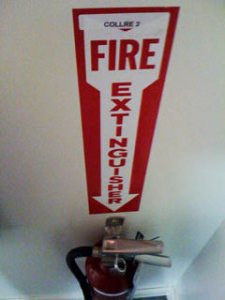 The mock dorm room will be equipped with two smoke detectors, one that will work as intended and the other obstructed — a practice prohibited at Bates but not unheard of in student residences. A tapestry will be hung from the ceiling, another potential hazard.
Burning a mock residence room to make a point about fire safety is "not a new idea," says Ray Potter, environmental health and safety coordinator at the college. "But we hope to put a few features into it that will make it more current."
His office will offer incentives to draw as many students as possible to the fire demonstration.
College students are considered a population at high risk for fire hazards due to their inexperience in living relatively independently and the tendency of their age group to engage in potentially harmful activities.
Statistics from the National Fire Protection Association, the Center for Campus Fire Safety and the U.S. Fire Administration indicate there are some 1,800 fires on American college campuses each year. Since 2000 there have been 110 fire-related student deaths.
There have been no deaths or injuries at Bates, but with more than 1,700 students living in 10 dormitories and 37 wood-frame houses, it's critical that activities with a high risk of fire be eliminated. The burning of candles, cooking in spaces not designed for it and smoking tobacco pose a real potential for damage and injury due to fire. Bates staffers offer safety training, monitor common spaces weekly and inspect student rooms each semester. But student cooperation is essential.
View Comments