Literary readings series at Bates College presents poet Jack Collom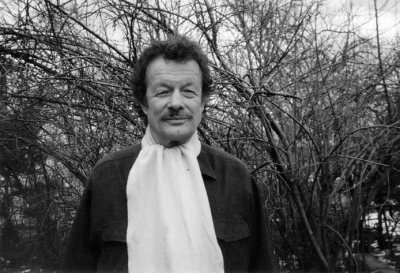 Jack Collom, a poet, poetry teacher and author of more than 23 published books and chapbooks, reads from his work at 7:30 p.m. Thursday, Sept. 17, in the Edmund S. Muskie Archives, 70 Campus Ave.
Presented by the Language Arts Live Series at Bates, the lecture is open to the public at no cost. For more information, contact this jskinner@bates.edu or this eosucha@bates.edu.
Collom's visit is made possible by a Bates College Learning Associate Grant. Language Arts Live, featuring contemporary authors reading from their works, is sponsored by the Bates English department, the environmental studies and Spanish programs, the Learning Associates Program, the Bates Humanities Fund and the John Tagliabue Poetry Fund.
Born in 1931, Collom grew up in small-town Illinois and Colorado. A nature lover, he studied forestry at Colorado Agriculture and Mechanical College. After four years in the U.S. Air Force as a clerk-typist, he worked in factories for 20 years while developing as a poet.
For the past 30 years, Collom has worked as a freelance poetry teacher, and has also taught in the writing program at Naropa University in Boulder, Colo.
Collom's latest book is "Situations, Sings" (with Lyn Hejinian; Adventures in Poetry, 2008) and "Exchanges of Earth & Sky" (Fishdrum, 2006). His book of selected poems, "Red Car Goes By," was published by Tuumba Press in 2001. He produced three books on and of writings by children, and has received two fellowships from the National Endowment for the Arts.
Additional events in the Language Arts Alive series this fall include:
Poets Tessa Nicholas, former editor of the Carolina Quarterly, and Arielle Greenberg, author of the collections "My Kafka Century" and "Given," read from their works at 4:15 p.m. Thursday, Oct. 1, in Chase Hall Lounge, 56 Campus Ave.
Poet and playwright Chris Vitiello, a founding editor of Proliferation magazine, reads at 7:30 p.m. Monday, Oct. 12, in Skelton Lounge at Chase Hall, 56 Campus Ave.
Poet Bill Berkson, author of 16 books and pamphlets of poetry, and the 2004 Distinguished Paul Mellon Fellow at the Skowhegan School, reads from his writings at 7:30 p.m. Monday, Oct. 19, in Skelton Lounge in Chase Hall, 56 Campus Ave.
Poet and artist Cecilia Vicuña speaks at 7:30 p.m. Monday, Nov. 2, in the Benjamin Mays Center, 95 Russell St. Additionally, a premiere screening of Vicuña's film "Kon Kon" takes place at 4:15 p.m. Tuesday, Nov. 3, in Room 104, Olin Arts Center, 75 Russell St. For more information on the artist's work, see www.ceciliavicuna.org.
Finally, the prolific poet Theodore Enslin of Milbridge, Maine, appears at 7:30 p.m. Monday, Nov. 30, in Skelton. His 119th volume, the prose collection "I, Benjamin, A Quasi-Autobiography," appeared this year.
View Comments