Roman Influence
An Artist in Rome marries poems by the late John Tagliabue with paintings by Adam Van Doren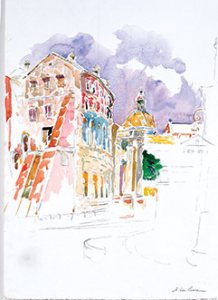 A few years ago, as painter Adam Van Doren worked on a monograph of his work, he invited his friend, poet and Bates professor John Tagliabue, to write a single poem to accompany Van Doren's paintings of Italy, where Tagliabue was born in 1923.  Tagliabue's response? Forty-eighty poems.
The outpouring was a familiar manifestation of Tagliabue's extraordinary and, most of all, celebratory life force. This is what Tagliabue's Columbia professor, the Pulitzer Prize–winning Mark Van Doren, who is Adam's grandfather, once wrote about his former student: "He walks in the first mist, the one / Before creation rested. He is affection / Not yet distilled, distinct; incapable of dying."
For information on ordering An Artist in Rome, send a note of inquiry to Bates Magazine.
Tagliabue's poems did not arrive in time for that 2007 monograph, so Adam Van Doren, with pleasing results, has decided to feature the verse in his new book, An Artist in Rome, recently published by Kelly-Winterton Press.
Seen here are a few paintings and poems from the book, which also features essays by the artist and by James Hepburn, professor emeritus of English at Bates. "What John was born to be," writes Hepburn of his former colleague, who died in 2006, "was a celebrator."
Active Extensions of Baroque Influenced Buildings,
Desire and Light
Add
some flags to it
and wind and ardor
and the creative Venture of your Appreciation,
Invent, Add to the Bulge, the Bulk, the Bernini
Exuberance of
a Building, Italian Operatic, Energetic Architecture;
the Protruding
Curved Balconies of Extensions. To what Extent
are you
Exaggerating or Celebrating Sturdiness and
Stone and
Desire?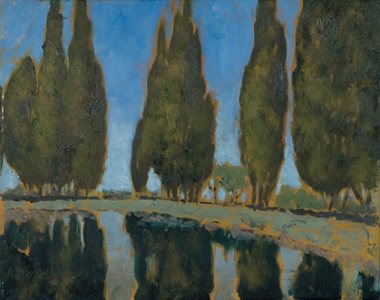 Nobility and strength awareness,

at rest
Time for a while to close your eyes, to rest in almost
darkness, fertility
resting, after a day or centuries of accomplishment, activity,
soft mild
warm darkness, the whole warm vital body in repose. There
arose in us
satisfaction thinking of those temples to the gods, goddesses,
emperors; those
mighty marble well formed columns in the dark. Accomplished,
monumental at
that. The complete satisfied body aware of the potential,
self-and-empire
aware, at rest

[singlepic id=3266 w=240 float=middle ]
A relatively small Roman church quiet in the dark
A relatively small Roman church quiet in the dark,
and a sarcastic Italian aunt of mine in the almost dark making
lace in her old age
indoors, fine lace, secret place, bemused, in love with me since
my childhood and
the secluded shadowy small church for centuries protecting
thoughts for me,
increasing the powers of prayers by me; tiny church like the nest
for a sparrow in
the dark; do not, do not, spare me any of your mosaic and
interior golden dreams,
crucifixion or Easter, amuse me with your limitations; sarcastic
quiet patient instinctive
proceeding aunt; or are you a mystic ant in the centuries'
darkness? what are those
angels saying and sounding off with their trophies and trumpets?
I thank you
for teaching me the untranslatable vows, for teaching me to bow.
View Comments