Friedman '11 tapped by Sierra student group to advocate for tough climate treaty in Copenhagen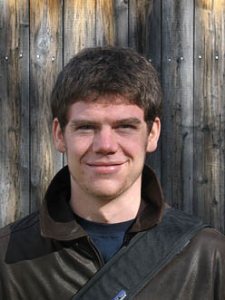 Robert Friedman, a Bates College junior, is one of 18 college students nationwide set to lobby international climate treaty negotiators next month on behalf of a Sierra Club youth organization.
An environmental studies major from Hastings-on-Hudson, N.Y., Friedman will attend the United Nations Climate Change Conference in Copenhagen, Denmark, Dec. 7-18. Friedman is part of a delegation from the Sierra Student Coalition, a network of high school and college-aged environmental activists affiliated with the Sierra Club.
"I'm going to be directly lobbying representatives at all different levels, representatives of NGOs or nations," explains Friedman, who is co-president of a Bates student organization that advocates clean energy policies. "I'm also going to be blogging the entire conference — hopefully live blogging and video blogging."
He adds, "We are 18 out of more than 100 students from the U.S. going, but there's a huge international delegation that's organizing and really has this incredible voice. It's amazingly inspiring to be a part of it."
---
Story continues below the videohttp://vimeo.com/7670727
---
Friedman had originally applied to attend under the aegis of a different organization, but wasn't
accepted. "I got really down about things," he says, "and I was like, 'I need to be at this conference.'" So he applied to the Sierra coalition just a few days before the deadline — and was accepted.
"I got chills. It was an incredible feeling."
The Copenhagen conference is intended to produce a treaty that will succeed the 12-year-old Kyoto Protocol as a means of curtailing global climate change by setting rules to govern the emission of greenhouse gases. Though nearly 200 nations signed and ratified the Kyoto treaty, which took effect in 2005, the United States never accepted the protocol.
In Denmark, Friedman says, "youth delegations from all around the world will get together and discuss what we want to see in this final treaty. We'll be composing various policy memos and talking points that we'll submit to every government present at the conference — so that's 192 countries.
"It's incredible that we have a voice at a United Nations conference. But our voice is incredibly important as we're the ones who are carrying this burden going forward. So I'm praying that governments will see the light, especially the U.S."
All manner of public demonstrations will likely roil the atmosphere around the Copenhagen talks. As one of three co-presidents of the student organization Bates Energy Action Movement, Friedman is no stranger to political theater. His group, in fact, produced a flash mob-style dance in the Bates dining hall in October as part of the International Day of Climate Action organized by 350.org.
BEAM also works the policymaking angle, and has established productive relationships with Maine politicians at the state and national levels. Last spring, for instance, the organization worked with a Maine state representative to mount a letter-writing campaign in support of state legislation promoting clean energy as a job-creation measure.
"We researched the bill and ended up writing 40 letters to local papers all over the state," Friedman says. "We spoke at the state Senate hearing on behalf of the bill because, when it comes down to it, there aren't many jobs for young people in Maine. It's a very relevant issue for students."
View Comments