Singer-songwriter Josh Ritter coming to Bates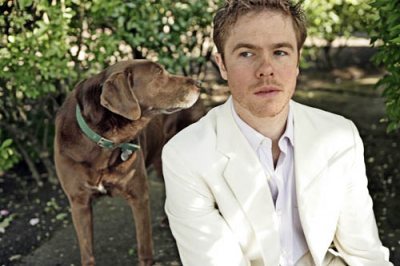 An acclaimed singer-songwriter influenced by Dylan and Springsteen, Josh Ritter performs at 7 p.m. Monday, Dec. 7, in the Olin Arts Center Concert Hall at Bates College, 75 Russell St.
The concert is presented by the Olin Arts Center in partnership with the Student Activities Office and the Chase Hall Committee. Tickets are $20 and available at www.batestickets.com. For more information please contact 207-786-6135 or this olinarts@bates.edu.
Born in Moscow, Idaho, Ritter began writing music early on and recorded his self-titled debut album while still a student at Oberlin College. Among his influences, he cites musicians such as Bob Dylan, Bruce Springsteen and Paul Simon. Accordingly, a New York Times review said, "like them, he sets out to carry a world of ideas on a few basic chords."
Ritter's music is packed with vividly imaged, rapid-fire lyrics and a distinctive approach to melody. At Bates, he will be accompanied by his band — Zach Hickman on bass, guitar, tuba and strings, Sam Kassirer on keyboards, Austin Nevins on guitar and lap steel and Liam Hurley on drums and percussion.
Ritter has most recently toured in Ireland, where he found early success under the tutelage of Glen Hasnard of the Frames and, more recently, The Swell Season, a band spun off of the critically acclaimed independent musical film Once.
The Bates performance is one of nine in a small tour around the United States in November and December. Ritter then joins The Swell Season in the famed Radio City Music Hall in New York and subsequently in a European tour.
His fifth and latest studio album, released by Sony Records in 2007, is titled The Historical Conquests of Josh Ritter. Ritter wanted to create something vastly different from his previous work. He recorded at the Great North Sound Society, a farmhouse in Parsonsfield, Maine, where Ritter was able to create an adventurous and fresh sound.
Ritter explains, "A lot of this record is an effort to capture moments when they were at their most passionate; to capture many different emotions that simply wouldn't work if we had ever tried to re-record them."
View Comments