Following Suit
In the wake of an NCAA ban on on high-tech swimsuits, the focus is again on the swimmers, not on what they wear
By Edgar Allen Beem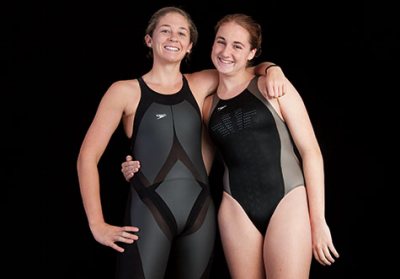 To hear swimmers and coaches tell it, near-chaos reigned in the locker rooms last February at the 2009 NESCAC Women's Swimming and Diving Championships.
Competitors struggled for up to an hour just to get into their tight new synthetic swimsuits for the first time. Swimmers freaked out as the sleek suits tore. Clear nail polish — to mend rips — became a marketable commodity. Coaches who hadn't outfitted their athletes in the latest high-tech swimsuits made frantic last-minute calls to arrange to buy or borrow some.
"The suits were a distraction, no way around it," says Peter Casares, head coach of Bates swimming and diving. "Athletes were more concerned with what suit they were wearing than with racing or swimming."
In 2008 and 2009, the high-tech, next-generation swimsuits, bearing names such as LZR Racer and Blueseventy, swept through competitive swimming from the Olympics down to the Division III collegiate ranks, leaving in their wake 130 new world records and more cries of foul.
"Until the ban, it was all about the suit," says Reingold. "It just took away from your hard work all year."
Critics compared the suits to performance-enhancing drugs, and by September the sport's various governing bodies had banned the slippery, buoyant, non-permeable swimsuits made of polyurethane and Lycra. Bans by USA Swimming and the NCAA are now in effect, and the international ban by Fédération Internationale de Natacion goes into force in January.
Bates co-captain Sarah Reingold '10 applauds the actions.
"Until the ban, it was all about the suit," says Reingold, a freestyle swimmer from Oakland, Calif. "It just took away from your hard work all year."
Bates was the first NESCAC team to wear the new suits (Blueseventys) in competition, at the team's final meet of the year on Feb. 7, 2009. "I think many Division III coaches weren't sure the suit would become a reality at our level," Casares says, but swimmers eagerly embraced the new technology. "College kids want to go fast, and when I posed the question to them — $300 for a suit worn for one weekend, and maybe not next year — well, they wanted one without hesitation."
The suits debuted in full force at the 2009 NESCAC Championships. Some teams had all their swimmers in LZR Racers or Blueseventys, at a cost of up to $400 per suit. Most teams had a few next-gen suits. Bates had six for women and six for men. The results, says Casares, were inconclusive. "The same people won events who had won the previous year," he says, "but the majority wore next-gen suits."
Co-captain Katelyn Drake '10 of Hudson, Ohio, Bates' All-American backstroker, tried both the LZR Racer and the Blueseventy, qualifying for the NCAA Division III Championships in the latter. She noticed a difference immediately. "You jump in the water and go forever, three feet farther than you've ever gone before," she says.
The suit was fast in the water but slow to put on. Drake spent 59 minutes putting the Blueseventy on the first time, wearing plastic bags on her feet so her toenails would not tear the membrane-like fabric and working the suit up her body inch by inch with her fingertips.
"I liked wearing it because I dropped a lot of time," says Drake, who lowered her 100-meter backstroke time by 1.3 seconds while wearing the Blueseventy. "If I wanted to go to nationals, I needed a suit."
Drake's teammate Sarah Reingold, on the other hand, wore a Blueseventy only once and didn't care for it. "Turns were a lot faster, flips were a lot faster, and you float more," says Reingold. "But it was weird not having the feeling of the water on my legs, and I felt I was getting water in my suit."
At the NESCAC Championships, Reingold wore the Blueseventy for the morning prelims of the 500-meter freestyle but decided not to wear it for the evening finals. "I went the same time in both races," Reingold reports.
The new FINA and NCAA rules stipulate that swimsuits must be made of woven textiles that are 100 percent permeable to air and water. They can't be more than .8 millimeters thick or have a buoyancy effect of more than .5 newtons. And though full-body suits for men and women came onto the scene nearly a decade ago, the new rules allow men's suits to cover only from the waist to the kneecaps, and women's suits from the shoulders to the kneecaps.
Casares is now in the "terribly awkward" position of having to ask high school recruits if they wore a next-gen suit last year.
During the 2008–09 swim season, male and female Bates swimmers broke an astounding 24 College records. Some fell before the suit, some after, so the real story from Casares' perspective was the influx of talented first-year swimmers coupled with senior leadership. "The majority of my athletes did not wear the suit, and many did not like the suit when all was said and done," he says.
Though now banned, the suit still affects Casares' program because he's now in the "terribly awkward" position of having to ask high school recruits if they wore a next-gen suit last year. He hates what the question implies: that a swimmer's improved times aren't the result of hard work or changes in technique. "It's very touchy, to say the least," he says.
Drake, an economics and sociology double major, says she has mixed emotions about the swimsuit ban. "The suits are pretty cool, but at least I won't have to shell out $400 just to be competitive." She admits to being a bit anxious about the upcoming 2009–10 season, recalling Casares' caution to his swimmers last year: "If you do wear the suit and go fast, you may never go that fast again."
Reingold is less worried. A psychology major, she thinks a lot of the benefits of high-tech suits were purely mental. That is, if you think the LZR Racer will make you swim faster, it will. "Push that out of your head," Reingold urges her Bobcat teammates. "Don't put limitations on yourself. You never know how fast you can go."
For his part, Casares makes a distinction between swimming faster and swimming more competitively. "Bates swimmers are extremely fit, well-trained, and prepared. Those are the qualities that win races," he says. "And ultimately, college swimming is scored based on place, not on time. We'll be fine."
Still, he knows that the suits "did change record boards across the nation for what may be a long time. We'll see this year just how fast people go. I'm both excited and nervous."
Leave a Reply
This is a forum for sharing your thoughts about the preceding post with the public. If you have a question for the author, please email the Bates Communications Office at communications@bates.edu.