Calendar of events for 2010 Bates Martin Luther King Jr. Day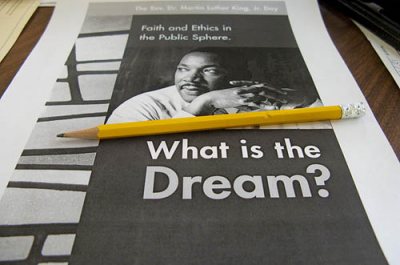 Sunday, Jan. 17
7 p.m.
Worship service: A sermon by Barbara D. Savage, Geraldine R. Segal Professor of American Social Thought and Professor of History at the University of Pennsylvania, highlights the annual Martin Luther King Jr. Day Memorial Service of Worship. The service includes music by Bates students. Sponsored by the Multifaith Chaplaincy.
Bates College Chapel
8:30 p.m.
Reception: Meet Professor Savage (see preceding item)
Multicultural Center
Monday, Jan. 18                         Martin Luther King Jr. Day
In observance of King Jr. Day, classes are canceled and special programming takes place throughout the day. (Please see Sunday, Jan. 17, for related events.) This year's theme at Bates is Faith and Ethics in the Public Sphere: What Is the Dream? For more information, call 207-786-6400.
9 a.m.
Reception: Meet the students from Morehouse and Bates colleges and local high schools who will participate in the morning's debate.
Benjamin Mays Center
9:30 a.m.
Oratorical event: Members of the Morehouse and Bates debate teams and local high school orators will debate the resolution, "This house believes that religion is a necessary element of a just social change."
Benjamin Mays Center
10:45 a.m.
Keynote address: Barbara D. Savage, Geraldine R. Segal Professor of American Social Thought and Professor of History at the University of Pennsylvania, and author of Your Spirits Walk Beside Us: The Politics of Black Religion (Harvard University Press, 2008), gives the keynote speech for Bates' Martin Luther King Jr. Day observances. Her talk is titled Benjamin Mays and the Politics of Black Religion in the Age of Desegregation.
Olin Arts Center
Noon until 5:30 p.m.
Video exhibition: curated by filmmaker Craig Saddlemire '05. The making of video is the making of social identity – personal as well as collective. This video exhibit features work that tells a story about Maine people and/or was produced by Maine videomakers. In both cases, each video is made from one independent point-of-view, and serves to dialogue with the other videos about our individual and collective identities. They explore how identities are strengthened, segregated, imposed, exposed, or self-actualized.  They also reveal how identity shapes relationships of power and equity. Through participating in free and independent media production, each video artist is helping to diversify and complicate the conventional identities that saturate "popular culture."
Perry Atrium
Art project: What's on Your Green Conscience?
Presented by 2010 Eco Rep Team and Julie Rosenbach, sustainability coordinator. We all have behaviors that we know are not environmentally sustainable from long showers to driving and buying to eat habits. This art project is a chance to see what's on others' green consciences and express your own. Stop in to create an artwork (all supplies will be provided). Add it to the collective and leave it behind.
Perry Atrium and Pettengill 116
1 p.m. and throughout the afternoon
Workshops: In four concurrent sessions (times and rooms TBA), students, staff, guests and faculty lead readings, presentations and discussions on topics connected to the King Day theme. The afternoon includes a video exhibition in the Perry Atrium curated by filmmaker Craig Saddlemire '05. For a complete schedule, call 207-786-6400.
Pettengill Hall
7:30 p.m.
Performance: Bates students, commissioned to create cultural work for Martin Luther King Jr. Day, present music, dance and spoken word pieces. Performers include Bates College Step Team; the Robinson Players, a campus theater group; the Bates Gospelaires, a gospel choir; Justified; Hans Johnson and the Hybrid Sun; Lindsey Reuter; and Clyde Bango.
Olin Arts Concert Hall
Friday, Jan. 22 at 1:15 p.m. for one hour
Annual MLK Read-In: Faculty, staff and students will share a picture book with Martel School students in grades 4-6. Those interested in volunteering should e-mail contact Krystina Zaykowski (kzaykows@bates.edu). Transportation will be provided by the Harward Center for Community Partnerships.
Leave a Reply
This is a forum for sharing your thoughts about the preceding post with the public. If you have a question for the author, please email the Bates Communications Office at communications@bates.edu.