Brooks Quimby takes on Yale, hosts tournament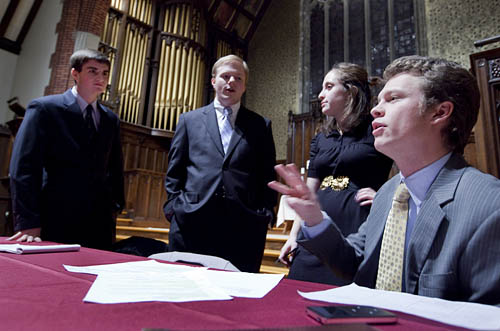 By Elizabeth McKean '12
The atmosphere in the College Chapel was one of excitement on Jan. 21 as the Brooks Quimby Debate Council held its annual public debate against rival Yale.
Anticipation ran high, given Quimby's long tradition of excellence and Yale's current position as the world's top-ranked American team. Accordingly, a large and enthusiastic contingent of Bates students, both debaters and non-debaters, attended. The audience included Bates President Elaine Tuttle Hansen and a group of Yale supporters.
The two teams did not disappoint. The resolution of the evening was "This house believes that California should create schools that teach primarily in Spanish." Bates argued the side of government and Yale, the opposition. Debating for Bates were seniors Ariela Silberstein, Rachel Kurzius and Matt Marienthal. Yale's team consisted of seniors Steven Kryger and Grant May, and first-year student Josh Kalla.
Silberstein opened by proposing that a bilingual education system would better address the educational needs of California 's large Spanish-speaking population. Overall, the government argued that bilingual schools that teach English as a secondary language would be more beneficial because students would both be able to learn English and advance in other subject areas without being hindered by a language barrier.
Kryger responded that immersion was a better system for learning a language. He also cited several "perverse results" of the creation of such schools including pressure from peers and school administrators to attend bilingual schools, increased difficulty learning English and de facto segregation for Spanish-speaking students .
Kurzius emphasized the costs of failing to learn other skill sets because of the language barrier, arguing that this would be the greatest disservice to students. Kalla disagreed, reiterating that becoming very proficient in English through total immersion should be the priority, and that other negative impacts of bilingual schools reinforced this point.
The debate was undoubtedly close, with both sides proposing solid arguments and responding quickly and effectively to critique. Yet despite the heated discussion, the atmosphere in the Chapel was that of friendly rivalry and intense academic interest, with loud cheers for both sides' displays of aptitude. Both teams were courteous and humorous when fitting.
At one point, questioning the effectiveness of bilingual schools, Yale's May asked Kurzius if she felt that by learning Spanish in a class, she would be able to debate in Spanish. She quipped, "Actually, Bates is considering putting on a debate in Spanish, so unfortunately for you, yes."
This being a public debate, audience members took the opportunity to offer insights prior to the final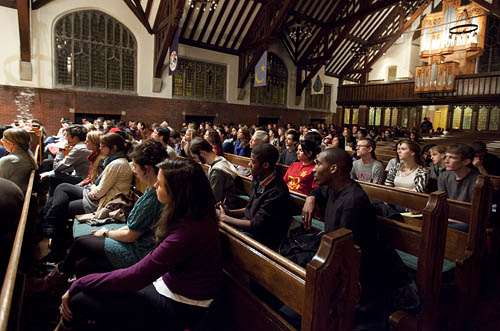 rebuttals. Perhaps the most interesting comments came from two Bates students who learned English as a second language — one who supported the government's position and one the opposition's. Their commentaries on their respective firsthand experiences and what they would suggest emphasized the closeness of the debate.
Marienthal of Bates and May of Yale gave final rebuttals. A "sound vote" was used to determine a winner, with the audience cheering for the side they believed won. Appropriately for such an evenly matched debate, no clear winner was audible, and the event adjourned with the moderator laughing, "Well, we'll leave it at that."
The Yale debate marked the beginning of a busy weekend for Brooks Quimby as Bates hosted a tournament on Friday and Saturday.
Thirty-two teams from nine different schools including Yale, Stanford, MIT and the University of Windsor (Canada) participated. According to league rules, Bates teams could not participate because most of the judges were affiliated with the college. Yale teams won both the overall tournament and the novice division, beating teams from MIT and Stanford, respectively.
Senior Quimby member Silberstein described the event as an especially great learning experience for younger debaters. The novices watched rounds being judged by varsity debaters, who in turn explained how they voted and why. Overall, Silberstein called the tournament "incredibly successful."
View Comments