Campus Construction Update: Week of April 5, 2010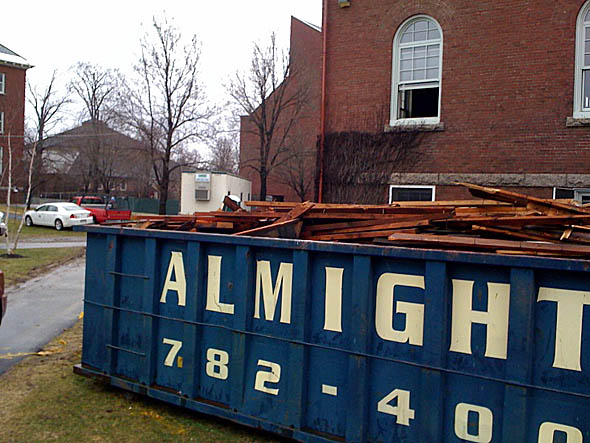 An interesting note from Elizabeth Durand '76:
"I was glad to read about the coming renovations and improvements in energy efficiency in Roger Bill," she writes. "I lived on the top floor in 1973-74. We kept a thermometer on the inside windowsill throughout the winter, and on many days it read — yes, indoors — 33 degrees."

But the Bill hasn't been quite so frigid in the intervening years, Farnsworth suggests, because the windows were replaced somewhere along the way and that would have helped a lot with those frosty mornings.
---
Learn more about, and see renderings of, the Hedge and Roger Williams renovations
---
Over at Hedge, it looks like we're making defensive preparations for a ground assault. But don't get out your bandolier quite yet.
In fact, the trench along the south and west sides of Hedge Hall has been dug to expose the building's foundation.
That's for two reasons, explains Paul Farnsworth, project manager for the renovation of Hedge and Roger Williams halls. The easy reason is that the foundation will be dampproofed.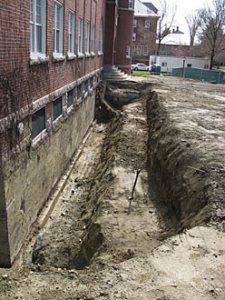 The more complicated reason is that Hedge is, in a sense, getting a new foundation. Workers are going underneath the existing foundation to put in what's called a footer — a wide course of concrete to support the old foundation wall.
That 120-year-old wall sits atop a "rubble" foundation, which sounds like a rather carefree way to base a building but is in fact, at least according to Wikipedia, a well-established technique.
Interior extensions of the footer will support the building's new steel framework. And so most of the footer work will take place inside Hedge, but access from the outside is needed to create drainage.
If you're on Alumni Walk and you get up on tippy-toes to peer over the green fence in at Hedge, you will see that a doorway has lost its door and been widened. This allows a Bobcat, the mechanical kind, to get inside for the foundation work.
Budding industrial archaeologists that we are, we also wondered about a heap of old concrete with pipes embedded in it that had been pulled up during the trench work. Those are disused conduits from the days when electricity was distributed out to campus from the old maintenance center, where Pettengill is now. These conduits fed Ladd Library.
"They went too close to the foundation of Hedge for us to work around, so they took them out," Farnsworth says. Electrical power is now distributed from high-voltage trunk lines into the green transformer boxes dotted around campus, and thence into individual buildings.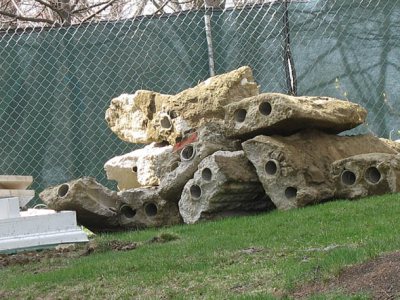 In the meantime, all the interior wood framing has been pretty much ripped out of Hedge, and the same gutting has just begun in Roger Bill.
You may have spotted a little cluster of uprooted paper birches in the middle of the worksite. They were displaced by the construction and will be transplanted onto Alumni Walk to replace birches that have died.
Aside from stuff flying out of Roger Bill's windows and into Dumpsters, what can we watch for in the weeks to come? "We hopefully will be digging in front of Hedge to replace sewer lines that pass in front of the building, says Farnsworth. "It's an old line and we want to replace it before we build over it." He's referring to an addition, including a glassy stair tower, that is a major component of the renovation.
Note that Farnsworth said "front" to indicate the Alumni Walk side of Hedge. You and I might consider that side to be the back, but one of the goals of this project is to bring new life and light to the east end of Alumni Walk, and the new addition and a new grand entrance will make the north façade the primary one. It's a shift in orientation that we'd all better get used to.
The afore-mentioned Bobcat door, the doorway widened for machine access, will become that main entrance.
Can we talk? Campus Construction Update welcomes your questions and comments, unless they're mean, about the Hedge-Roger Williams renovation project. Please e-mail staff writer Doug Hubley at this E-mail, stating "Construction Update" in the subject line.
View Comments