Great Performances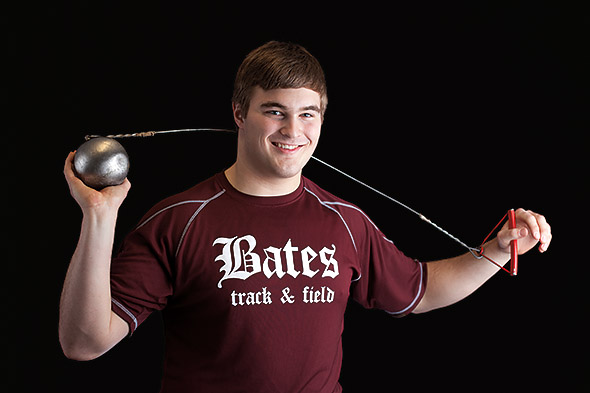 On the arts stage or in the throwing circle, Rich McNeil '10 is a crowd-pleaser
By Andy Walter

Where Rich McNeil '10 sees harmony, others might find dissonance. "I love telling people that I sing and I just tackled you," he says.
Back in 2006, his Massachusetts hometown newspaper used the headline "Renaissance man" to describe McNeil, at the time a standout performer in football and track and field at St. John's Prep. This boy is not your average jock, said the Lawrence Eagle-Tribune. He's a singer, a songwriter, a cook. He's been ballet-dancing since he was 4. (Transfixed by his older sister Alana's ballet class, he wanted to start at age 3 but was deemed too young.)
"I do things most kids don't do," he told the paper.
Now in his last semester at Bates, McNeil has been a three-year Bobcat starter at defensive end in football. He's a two-time (and counting) All-American thrower in track and field. At this writing, in mid-February, his immediate goals include competing at the indoor (March 12–14) and outdoor (May 27–29) NCAA Championships.
A music major, McNeil was also prepping for another performance shortly after the indoor NCAA meet: his senior thesis recital, on March 21, in which he'll sing a selection of Vaughan Williams songs.
He looks back at the Eagle-Tribune's "Renaissance man" moniker with a shrug. While the boundary between music and athletics is a "little hard to cross," he says, "Bates is filled with kids like me. The days of the jock who does only one thing have changed, especially in Division III. You hear about the outside linebacker who plays the piano. That stuff is becoming the norm." (In fact, Bates statistics show that varsity athletes are only slightly less likely to major in one of the performing arts than nonathletes.)
McNeil comes from a family where athletics and the arts have always been in sync. His mother, June Kfoury McNeil, is an accomplished singer and actress; his father, Bryan McNeil, is a baritone who has performed a host of roles with the likes of the Boston Lyric Opera. (His booming rendition of "The Star-Spangled Banner" prior to the Bates-Bowdoin football game last fall could be heard from Russell Street to Campus Avenue.)
Both parents were athletes, too. Bryan, the family trailblazer when it came to combining tough-guy sports with the arts, once threw the shot put an impressive 52 feet, 6 inches. Rich is closing in on Dad: his personal best is 51 feet, 3 inches, recorded at the Maine State Meet in February, where he won the Peter Goodrich '89 Award as the outstanding field performer.
His danseur days, meanwhile, are quickly receding into the past. "Reality sets in," he smiles.
Some of the many passions Rich juggled as a teenager have cooled, temporarily anyway. He loves to cook, but his primary culinary artistic outlet these days is constructing perfect sandwiches at New Commons. He hasn't written many songs during college, but he'd like to revisit the ballads he penned as a teenager and "make them not sound like they're written by a high school kid."
His danseur days, meanwhile, are quickly receding into the past. "Reality sets in," he smiles. "A 240-pound ballet dancer is not going to work."
Even so, ballet training left its imprint on McNeil's other athletic pursuits, helping with body control but initially impairing his throwing technique, specifically the rapid spinning motion that a hammer, weight, or discus thrower makes in the circle.
"When you do a ballet turn, you keep your eyes fixed on your 'spot point.' Then you whip your head around quickly and refocus on the same spot," McNeil explains. Throwing the weight and hammer requires the opposite technique. As the thrower spins around faster and faster right before the toss, the head should turn with the body.
It wasn't easy for McNeil to shed his ballet-influenced throwing style. One day, a frustrated Joe Woodhead, Bates' longtime throwing coach, barked at his young thrower: "Why won't you change!?" So McNeil explained his 14 years of ballet training. "I said that we kind of do [turns] that way. Coach and I had a battle," he admits.
"The music never ends with Rich."
Musically, McNeil is considered a gifted lyric tenor, and he sings in the College Choir and plays in the Steel Pan Orchestra and with friends in the Village Concert Series. In fact, "Rich never stops singing," laments roommate Chris Murtagh '11, a football and track teammate with McNeil at St. John's and now at Bates.
"He sings in the shower. He sings in the room," Murtagh adds. "He has this habit of immediately starting to sing any song he happens to hear. The music never ends with Rich." Which is true, as McNeil hopes to combine his music and athletic interests into a post-Bates teaching and coaching job.
For his senior thesis recital, McNeil will perform a selection of Vaughan Williams songs based on the "Songs of Travel" by Robert Louis Stevenson. The selection "shows his voice off to good advantage," says McNeil's faculty adviser, Jim Parakilas, the James L. Moody, Jr. Family Professor of Performing Arts.
"They're songs he really cares about, and I think he'll sing them beautifully. Rich has a very natural delivery, and he's very comfortable on stage."
Just don't tell McNeil to "break a leg."
He's already done something like that, suffering a broken foot during practice last year, just four days before the first indoor meet. The injury wiped out McNeil's 2009 indoor season, and many expected his 2009 outdoor season to be little more than a glorified rehab stint.
But McNeil qualified for the NCAA Outdoor Championships in the hammer and, at the meet, performed well enough to advance to the final round, where each thrower gets three attempts.
McNeil's first two throws were around 171 feet, leaving him lodged in ninth place, one spot from winning All-America honors. "Rich had just one opportunity to move up," says head coach Al Fereshetian. "You put him on that stage and he just rises to the occasion."
McNeil's final throw was 172 feet, 11 inches, good for All-American honors.
It was more than just a good throw, says Fereshetian. "It was a performance, and that's what he does well."
View Comments