He Must Have Seen Potential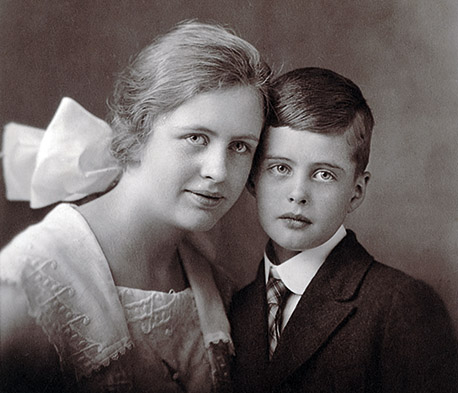 In coming to Bates, Milt Lindholm '35 walked a path both fortunate and fortuitous
This essay is adapted from two Bates oral histories by Dean Emeritus of Admissions Milton Lindholm '35, who died Feb. 27 at the age of 98.
My name is Milton Lind-holm. I was born in Collinsville, Conn., on June 3, in the year 1911.My father was a pastor in what is now the Evangelical Covenant Church, which started in Sweden among Lutherans who, like the Pilgrims and Puritans in England, broke away from the state church.
He died when I was 1, and my mother moved her brood — me and two older siblings — to Waltham, Mass., where her parents lived. She worked all of her adult life in the Waltham Watch factory. Up until recently it was the most prominent watch in the world. In effect, I was brought up by my grandparents, Swedish immigrants who spoke only Swedish. So my first language was Swedish.
That's how much I knew about Bates.
After high school I worked for two years. My mother, in her wisdom, saw that I wasn't going anywhere, so she sent me to a friend of my father's who was a Bates alumnus and also had a connection with the University of Iowa. I didn't want to go as far away as Iowa and I told him "neither do I want to go to college in Boston." And he said, "Bates is in Lewiston, Maine." That's how much I knew about Bates. He offered to write to Harry Rowe.
At Bates, I worked as a waiter in John Bertram. We thought the food was good; we were eating three meals a day. In Waltham we had a hard time having enough food on the table.
In my senior year, I was president of the four major organizations: my class, the student council, the athletic council, and the YMCA. That was unusual, and Harry Rowe told me that it was against the rules to be president of more than two major organizations.
That was all right with me, so I said that I would give up the student council presidency; it had had lots of disagreeable problems. But Harry Rowe said, "You can't. We need you in that position." Then I said, "Well, I'll give up the YMCA." But the faculty adviser, Rayborn Zerby — he would perform my and Jane's wedding — said, "We need you." And I refused to resign as president of my class or the athletic council. So I wound up with all four of them.
Ed Muskie '36 was secretary-treasurer of the student council. He was a lot smarter than the rest of us, so if I needed to make some kind of a statement to the student body, I'd always go to Ed Muskie and ask him to write it. He was sort of my ghostwriter.
I played center on the football team. When we had a scoreless tie against Yale in 1932, it was unbelievable because Ivy League football was the best football being played in the United States.
We arrived in New Haven on Friday morning by Pullman coach. Our coach, Dave Morey, was afraid that when we walked into the Yale Bowl on Saturday, it would be an awesome occasion — the Yale Bowl could seat 80,000 people — so after our workout he suggested we go sit in the stands for 15 minutes to get used to it.
Fortunately there was the Harry Rowe Method: He could admit anybody he wanted to admit.
I was next to a substitute fullback, John Dillon. He had this strange expression on his face. Then I heard him say, in sort of a stage whisper, "God, there's nothing like this in Machias." That was funny, but he was sincere. You could have put the whole population of Machias into the Yale Bowl 20 times.
Bates admitted me under the Harry Rowe Method. In those days, there were two ways to get into college. One was by your high school certifying that you would be a successful college student, and it was doubtful that Waltham High would have certified me. The other was by examination, and Harry Rowe, then dean of the College, was astute enough to know that after being away from school for two years I probably would not be able to pass tests in Latin, mathematics, chemistry, and so forth.
Fortunately there was the Harry Rowe Method: He could admit anybody he wanted to admit. So he told me I could come to Bates. Apparently he must have seen some potential.
When I was dean, the cases that gave me the most satisfaction were where you saw potential that wasn't supported by the record. That's why you hear alumni say, "Milt Lindholm took a chance on me." But really, I didn't take a chance on as many as say it!
View Comments