Campus Construction Update: Garcelon Field renovation, week of June 7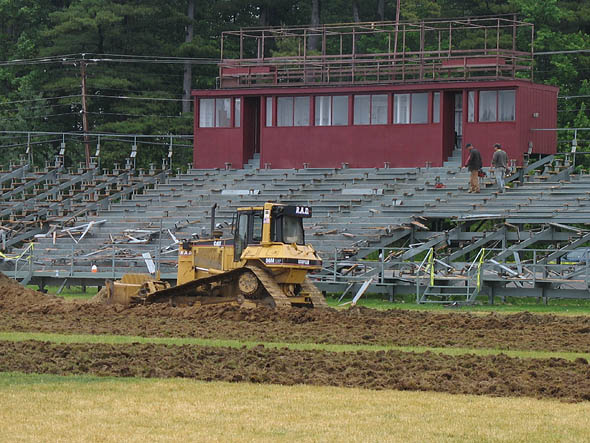 Even forewarned, it was shocking to arrive at work on June 3 to find the Garcelon Field grandstand succumbing, after 71 years, to the force of machines.
Power shovels stood by, engines idling, while a man with a chainsaw went up and down slicing up the boards on which happy Bobcat fans used to park their fundaments. Underneath the stands, another worker picked up the pieces and pitched them into an Almighty Waste container. Rain poured down.
A grim scene, for sure — but let's put it in terms of breakfast: You can't make an omelette without breaking eggs, and the omelette we're talking about is causing big excitement among fans of Bates athletics.
It will be served up in October: a fully renovated Garcelon Field complete with new lights, a modern FieldTurf playing surface and, yes, nice new bleachers seating 1,500.
---
Watch live video from Garcelon Field. Text continues below the video:
---
Mike Gustin of Facility Services, project manager for the Garcelon renovation, tells us that it took a mere two and a half days to knock down and haul off the old wood-and-steel stands. That quick and definitive operation launched a construction project that will see the playing surface in place by the beginning of football practice in August; the new Musco field lights and grandstand done in September; and the entire project wrapped up in time for Parents & Family Weekend and the first home football game, vs. Williams on Oct. 9.
The day the grandstand demolition was started, general contractor R.A.D. Sports of Rockland, Mass., also began rototilling the Garcelon turf, drawing flocks of birds to snarfle down the exposed worms. The first of several steps in preparing the field for the FieldTurf, the rototilling made it easier to strip away the existing natural turf (which has been stockpiled at the college's Strawberry Avenue storage facility and will be recycled).
Since then, workers have continued to strip away soil and underlying sand — getting it down to the subgrade, as Gustin explains. Next, says Gustin, the PVC pipes that have been draining the field since its last renovation, back in the 1980s, will be yanked out.
A different drain has got to go, too: a very old clay pipe, running beneath Garcelon's own drainage lines, that carries stormwater from the baseball field into Lake Andrews, crossing Central Avenue and Garcelon Field in the process. It will be replaced with a new 15-inch pipe routed near the New Commons Building and around Garcelon.
With all these old pipes, says Gustin, "we don't want to take the chance that some of them could collapse and cause a depression in our new field."
Also being extracted are electrical conduits, including one that connected the press box with the field. This intercom setup used headsets that allowed assistant coaches in the press box to view the action from an elevated perspective and relay plays down to the head coaches on ground level. In the days before electricity, pigeons were used to carry this vital information, but now, of course, it's all wireless.
Once all the hardware is out of the ground, the field will be layered up again: first with a foot of gravel, probably by the 18th; then a geotextile layer that helps stabilize the whole works; and next a 15-inch thickness of crushed stone with new drainage pipes embedded in it.
Finally the FieldTurf will be installed. Unlike older artificial playing surfaces, this isn't a matter of rolling out a big carpet of stuff and calling it good. Installing FieldTurf, instead, starts with placing a matrix of artificial grass and then filling it to a certain depth with a sand and rubber-particle mixture that affords good playing qualities. Gustin predicts late July for this final layer.
Read about progress in the renovation of Hedge and Roger Williams halls.
Can we talk? Campus Construction Update welcomes your questions, reminiscences and comments about campus improvements. Please e-mail staff writer Doug Hubley at this E-mail, stating "Construction Update" in the subject line.
View Comments