Leigh Payson Campbell '64, a longtime director of financial aid at Bates whose empathy and expertise engendered gratitude and loyalty among generations of Bates alumni, died on July 31, 2020, at age 79.
Appointed as director of financial aid in 1973, Campbell retired in 2016.
President Clayton Spencer said in her announcement to the college community that Campbell was "an empathetic and expert financial adviser to thousands of students and their families" who helped make the financial aid process "less daunting. He showed students the path forward when they felt stuck, and instilled hope and confidence when there was fear and uncertainty."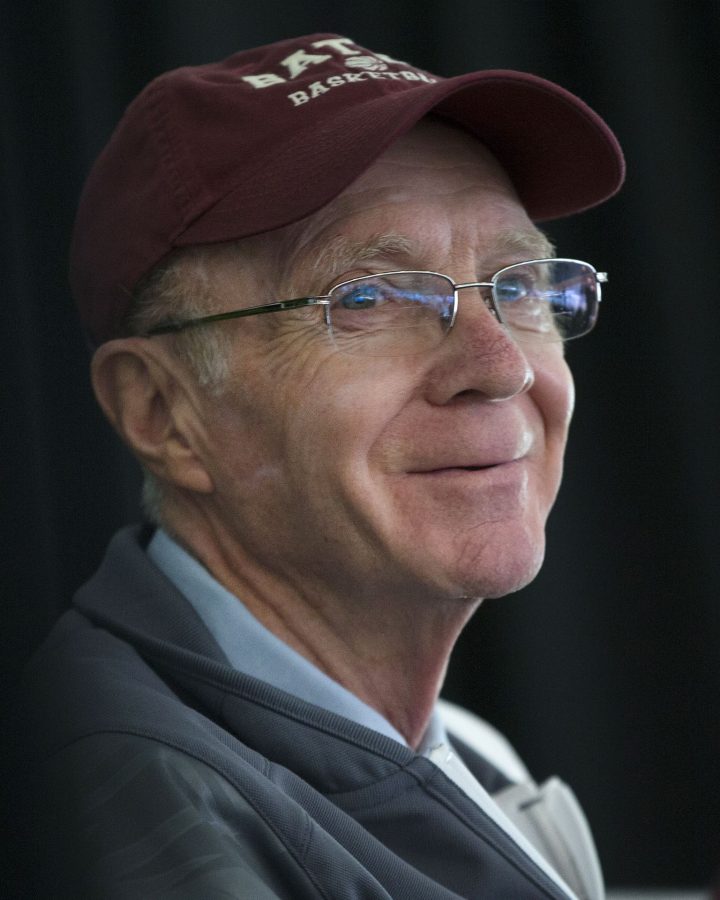 Campbell was born in Bath, Maine, and raised in Wiscasset, where he lived most of his life and where his father ran an American Oil Co. gas station and chaired the board of selectmen and his mother served as town treasurer.
He was admitted to Bates, Bowdoin, and Colby out of Wiscasset Academy and chose Bates due to the connection he felt with legendary Dean of Admissions Milton Lindholm '35, who would later hire Campbell to his staff.
He majored in history and was active in student life, including four years as manager and scorer for the men's basketball team, a job that foreshadowed his long connection to the sport and its athletes. He also served as football team manager, president of the Choral Society, sportswriter for The Bates Student, and a proctor in Smith Hall.
After college, he taught public school in Maine and New Hampshire before being drafted into the U.S. Army and serving in Vietnam. He worked briefly as an accountant after his military service before joining the Bates staff.
Bill Hiss '66, who served as dean of the Bates admission and financial aid offices from the late 1970s into the 1990s, says that Campbell's effectiveness was partly due to his being a "thoughtful and fair and reflective listener." Importantly, that meant that parents and students always felt heard.
"In all my years, I never once heard a student or parent tell me that Leigh did not offer them his full attention and his complete respect," Hiss says. "They might complain about the amount of their award, but no student or parent ever said that Leigh was unwilling to listen."
---
An emotional Leigh Campbell receives the Alumni Association's Helen A. Papaioanou '49 Distinguished Alumni Service Award in 2016.
For some Bates parents, especially in the era before email and the internet, Campbell might be the only Bates person they ever spoke to. "My father knew two people at Bates: Leigh Campbell and my French adviser, Mary Rice-DeFosse," recalls Sean Findlen '99, chief communications officer at Bates. "My dad would be on the phone with Leigh for hours talking about our situation. He would get off the phone and say, 'I think we can make this work.'"
In Vietnam, Campbell was the company clerk for a medical unit, like the fictional Radar O'Reilly from the TV show MASH. Like the TV character, Campbell would, during his Bates career, work doggedly within the system to get things done for the people he cared deeply about.
"Leigh understood he was part of a system of rules and policies. He lived in a world of layers of regulation, and he knew how to work within that reality," said Hiss. "Leigh did the work that Bates needed to be done. And did it brilliantly."
Among the generations of alumni who received Bates financial aid under Campbell's watch — and benefited from his abilities — many will say, "I would not be where I am today without Leigh Campbell."
Heather Beebe '85 is one. She recalls how, "on more than one occasion during my Bates tenure, I showed up at Leigh's door, quite embarrassed, hat in hand. It was a terrible feeling having to ask for the money to stay at Bates.
"But this awkwardness was immediately assuaged by Leigh's empathy and compassion. We always came up with a solution that kept me feeling whole, reminding me that I was — and am — part of the greater Bates family."
While compassionate and solution-focused, Leigh was also a firm steward of the college's resources, vigilant to ensure that scholarship aid went to families according to their financial need. "He was no pushover," says Wendy Glass, director of student financial services.
"He subscribed firmly to the belief that paying for college was a shared endeavor, with families being the first ones responsible, to the extent of their ability. While Leigh believed in the philosophy and integrity of the formula behind the need calculation, he was also guided by what families shared with him. Financial aid is an art and a science, and Leigh was a master practitioner of both."
"Leigh Campbell didn't like the spotlight, but he was a steady, loyal, humble, and exemplary financial aid practitioner," says Ronald Milliken, director of financial aid at the University of Maine at Farmington and president of the Maine Association of Student Financial Aid Administrators.
Attending various financial aid conferences in New England over the years, Milliken witnessed the high regard alumni had for Campbell in his "well-deserved following of Bates alumni, who would show up from surrounding areas at various conferences with tickets to sporting events and dinner excursions. It was quite evident that Leigh was beloved by many who he had served well over the years."
Leigh was a member of the Mount David Society and College Key, the college's leadership annual giving program and its honorary alumni organization, respectively. He received the Key's Distinguished Service Award for faculty and staff in 2005. The organization's scholarship program is now named the College Key Leigh P. Campbell Scholarship '64 Fund. In 2007 he received the Harward Center's Staff Award for Community Volunteerism and Leadership, and in 2016 the Alumni Association's Helen A. Papaioanou '49 Distinguished Alumni Service Award.
Campbell was a sports fan, and including his student years, Leigh was the official scorer for the Bates men's basketball team for nearly 50 years, also scoring games for the women's teams at times. He was also a longtime scorekeeper for the Maine high school basketball tournament.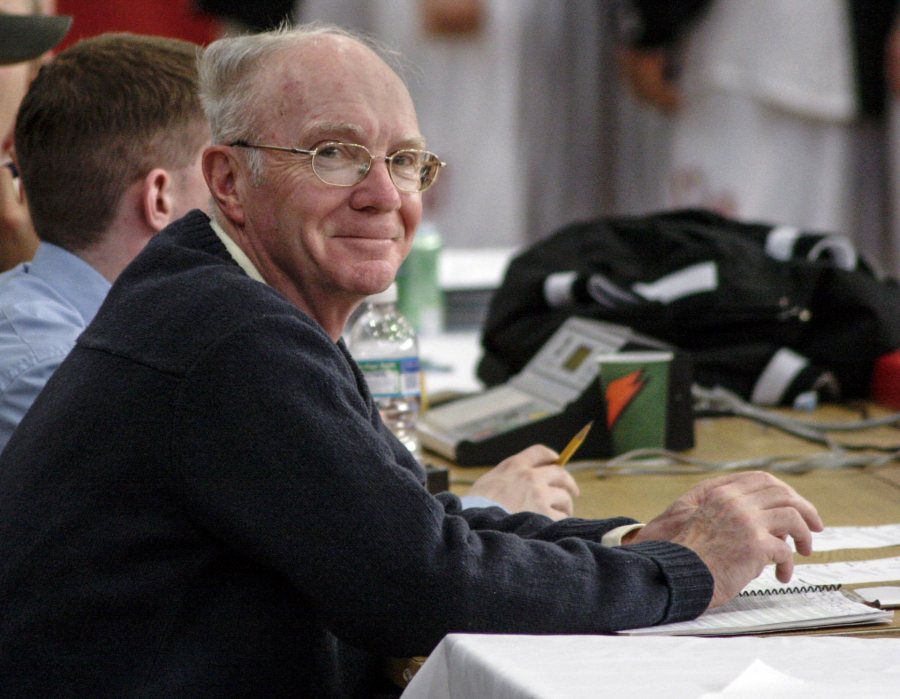 He was inducted into the Bates College Scholar-Athlete Society in 2012 for his "lifetime of service to this college, his bottomless love for Bates sports, and his unequaled decades of commitments to our basketball teams and friendships with our players." In 2019, he was inducted into the Maine Basketball Hall of Fame as a Legend of the Game.
When Jon Furbush '05 arrived at Bates from South Portland High School in the fall of 2001, Campbell was one of the first people he met. "He reached out, said he just wanted to introduce himself and offer any support that I needed.
"When you meet a man like Leigh for the first time, you immediately think, 'Wow, this is such an amazing place with a lot of genuine people. I think a lot of people have Leigh to thank for how we feel about Bates."
While Furbush recalls the initial meeting, he did not make the connection that the guy who reached out to him was the guy who would score his Bates games. "As an 18 year old, the last thing you're thinking about is like, who's keeping the book at the table."
But slowly, Furbush understood what Campbell meant to Bates and his team, and how deep Campbell's knowledge ran when it came to Maine students.
As Furbush's first season unfolded, he noticed how Campbell was always in Alumni Gym "super-early. I'd come in an hour and a half early to get my shots up and stretch and everything. And Leigh was there, getting all the names in the book and everything organized."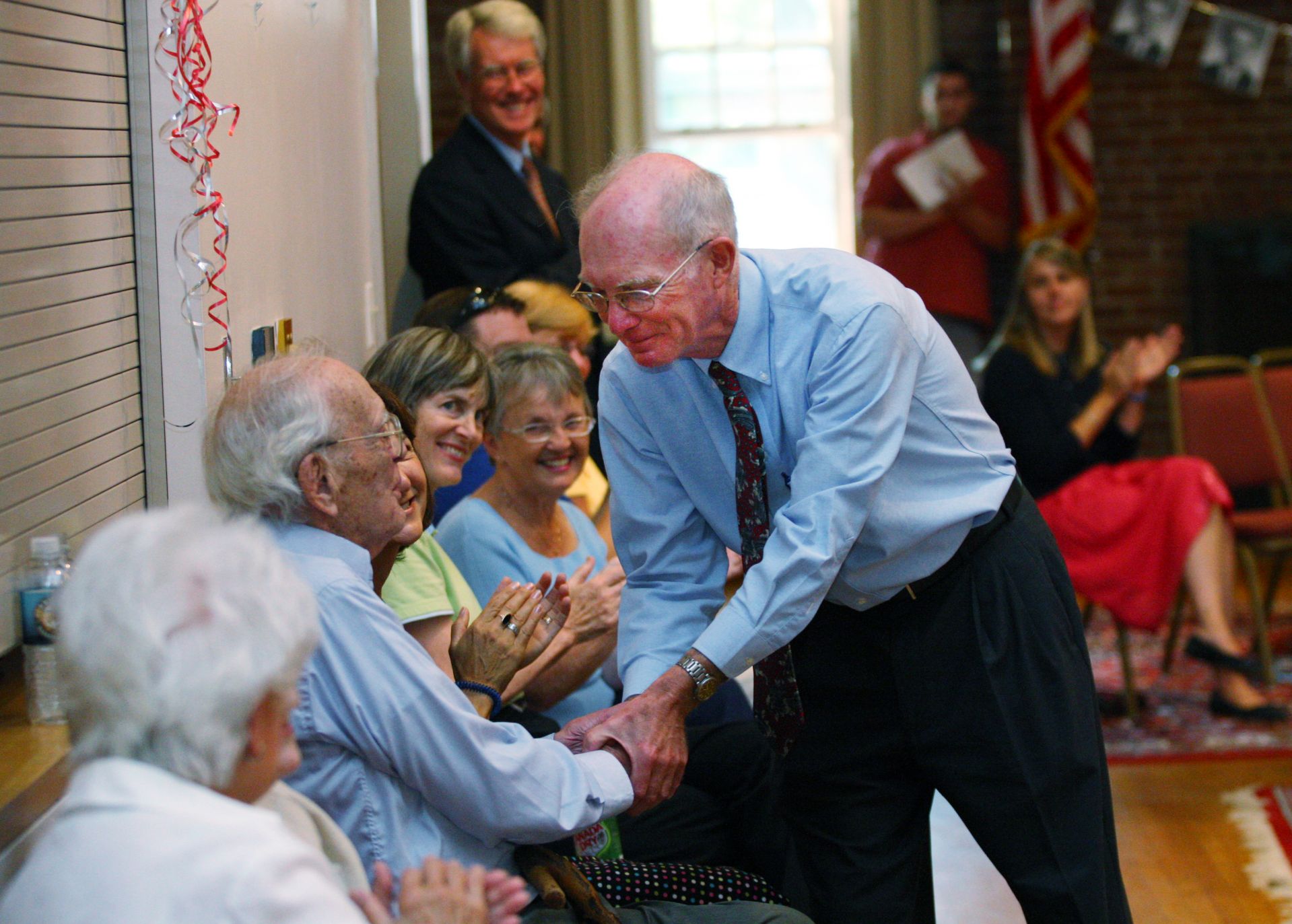 After a few games, Furbush had two thoughts. First was, "Wow, this is like a big deal for this guy." And the second was, "He's one of us. He's doing his routine, and he's part of the program. And so it was early on, I realized he's a huge and important piece of the operation here in Bobcat basketball."
In an oral history, Campbell explained why he loved scoring Bates games. Part of it was ability — he was good with numbers and details. But most of all, he wanted to participate in some way.
"Athletically, I wasn't skilled enough to play, but I wanted to be part of the team," he said. "I was good at it. You have to be — you have to have concentration to keep score of a game. You've got to write things down as they happen, and you have to be right, and you have to be ready to answer questions about it if necessary. For me, it was a chance to say, 'I was part of a team.'"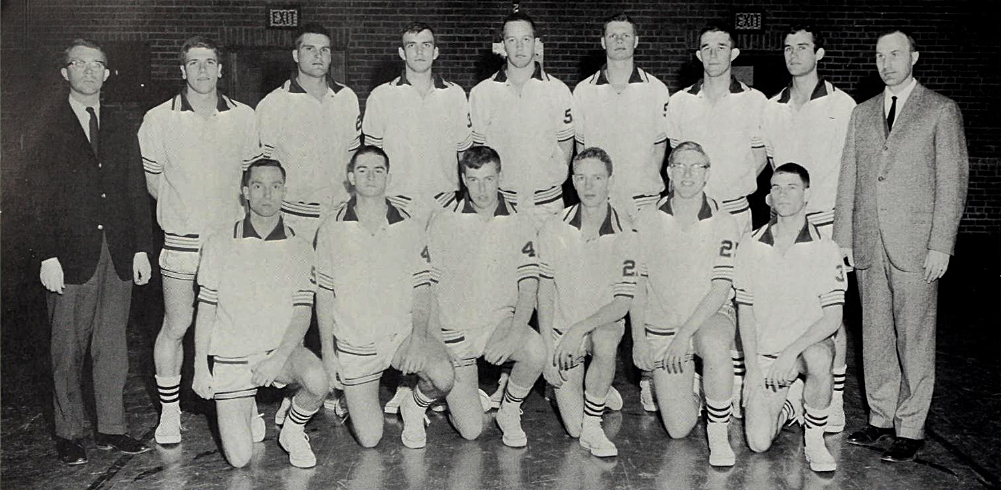 In 2008, when Furbush became the youngest head basketball coach in the NCAA, he made sure that Campbell would continue with the program. "I was like, "Leigh, I want you involved in every part of this. I would've felt weird to get on the bus and Leigh Campbell wasn't in the first seat."
It's been said that Campbell has been invited to more alumni weddings than almost any other Bates person.
"He was at mine, and he was at my teammates' weddings," says Furbush. "And that's because he was involved with not just the players, but parents of the players."
With a laugh, he recalls planning the seating arrangements for his wedding reception dinner, and the question was where should Campbell sit. "He was like the easiest person to put at a table because he knew everybody who was going to be in the wedding. We're like, 'Leigh is camouflage. We can put him any at any table here and he's going to blend in and be great.'"
Campbell was good at creating "intentional experiences" with his many friends, Furbush says, "whether it was going to a Red Sox game or going to the Final Four, or just doing things with people that he felt close with in his life, creating those memories with people."
Here's a final memory from Furbush: "Leigh had the best handshake of all time. He was not a big guy, but he would make sure he had the upper hand when he shook your hand. It was something that I always really enjoyed. Just shaking his hand."
Campbell served as secretary and treasurer of the Maine Association of Student Financial Aid Administrators and in 2007 became one of its few Lifetime Honorary Members. He was a member of the First Congregational Church Wiscasset UCC and the Wiscasset Fire Society.
Survivors include his brother, Terry Campbell; two nieces; several great-nieces; and their families. A celebration of Leigh's life will be held at a later date. His obituary is available here.