Matter of Facts: How to visit Bates by RV
Going Mobile
During the busy college-visit season, we often see prospective students and their parents unfolding themselves wearily from vehicles parked near our office on Nichols Street. But then there was the Harder family of Weston, Mass. They arrived one day early, and quite relaxed, for son Leif's interview on July 8.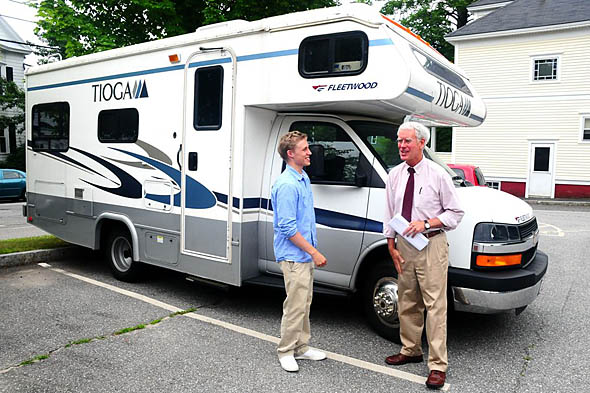 Vehicle: 23-foot Fleetwood Tioga RV built on a Chevy chassis with V-8 engine.
Occupants: Parents Glenn and Mary, prospective student Leif, and older son Reed.
Key RV features: "It's self-contained traveling," Glenn Harder tells Gabrielle Otto '11, a summer intern for Bates Magazine. "Small enough to fit into a parking space, but big enough to have a shower and tub."
Overnight accommodations: Lindholm House parking lot. "Great spot," Harder says, for boondocking, or camping without water and electrical hookups. "Not conspicuous but close to campus."
RV advantages: "It's a great way to get a real feel for a campus," says Harder. "We take a walk at dusk, then again in the morning. Bates is our favorite Maine school, so we planned this trip to spend the night at Bates."
Strategy: "With Reed two years ago, we decided that college trips would be family trips. We visit three schools on each road trip; this time it's Colby, Bates, and Bowdoin. We did 15 schools in eight states with Reed."
Favorite spot: "Dining Commons. We stopped on our way to Canada last summer just to eat in Commons. I took pictures of the 'make your own omelet' station this morning."
Joke: "We could write a AAA guide called 'Admissions Visitor.'"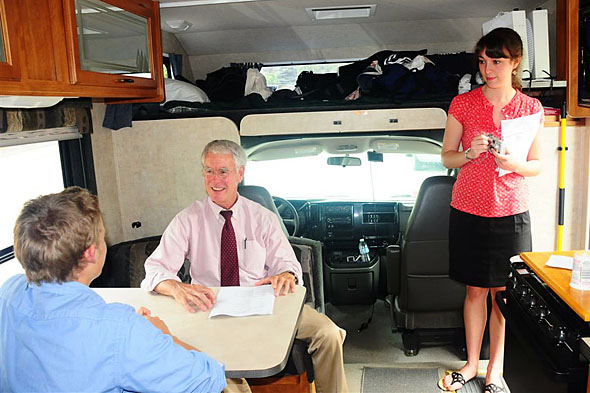 Leave a Reply
This is a forum for sharing your thoughts about the preceding post with the public. If you have a question for the author, please email the Bates Communications Office at communications@bates.edu.