---
Campus Construction Update, Sept. 20, 2010: 10 Frye St.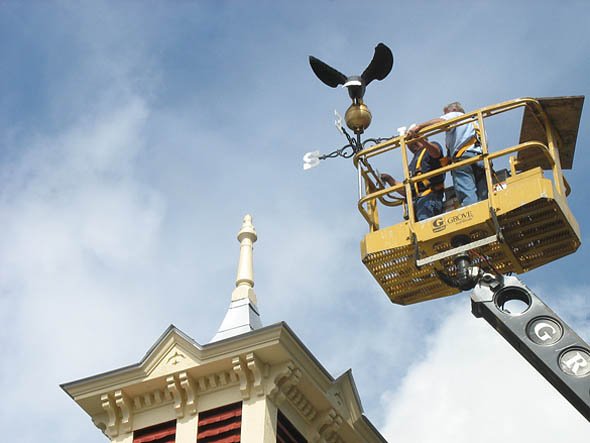 On Sept. 9, a crew from Physical Plant restored the 1873 eagle weathervane to its roost atop the carriage house at 10 Frye St., Bates' newest student residence. Carpenters Tim Chouinard and Tom Winslow went up in a 65-foot cherry picker to remount the bird, with painter Dan Sands, who gave the bald eagle its colors, standing by. View a slide show of the reinstallation by clicking the thumbnails below.
Read more about the renovation of Garcelon Field.
Read more about the renovation of Hedge and Roger Williams halls.
---
Categories:
Campus places
,
Physical improvements
,
Residential life
,
Slide show
.
Tags:
10 Frye St.
,
Chouinard
,
eagle
,
Sands
,
student residences
,
weathervane
,
Winslow
.
---
Contact Us