Language Arts Live presents fiction writer Courtney Eldridge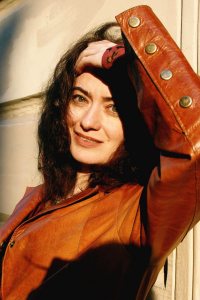 The author of the short story collection Unkempt and the novel The Generosity of Women, Courtney Eldridge visits Bates College to read from her work at 7:30 p.m. Wednesday, Sept. 22, in Skelton Lounge, Chase Hall.
Eldridge is presented by Language Arts Live, a series at Bates featuring highly regarded writers reading from and discussing their work. The series is sponsored by the English department, the Learning Associates Program, the Bates Humanities Fund, the programs in African American studies and American cultural studies, and the John Tagliabue Poetry fund.
Events are open to the public at no cost. For more information, please contact 207-786-6326 or 207-786-6256, or this rfarnsworth@bates.edu or this eosucha@bates.edu.
The series resumes on Sept. 27 with poet Marianne Boruch.
In Unkempt (Houghton Mifflin Harcourt, 2004), a reviewer for the San Francisco Chronicle observed that Eldridge "creates dark chaotic worlds, then traps the reader inside this space until they have read the last word, thereby becoming her collaborator. Not yet satisfied, Eldridge then tightens the snare, leading the reader deep inside each narrator's psyche as they grapple with the diseases of our world.
"She dissects compulsions, manias, food addictions, antics of an alcoholic parent and the irrational fear of confronting sharks in swimming pools."
In 2006, Eldridge was awarded the Prix du Marais for Record à battre, the French translation of her novella, The Former World Record Holder Settles Down. She has received fellowships from the Edward F. Albee Foundation and the Ucross Foundation.
Her work has appeared in numerous literary publications and magazines, including The Mississippi Review, Post Road, BOMB and the New York Times Magazine, as well as the anthologies Nerve: Literate Smut and Created in Darkness by Troubled Americans: The Best of McSweeney's, Humor Category.
She is completing two novels: a work of science fiction and a tale that explores teen intimacy in the age of social media. Learn more.
View Comments