Bates dancers offer short, sweet weekend shows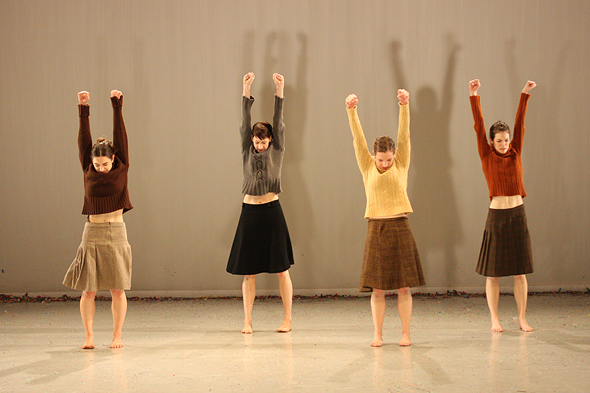 The Bates College Modern Dance Company introduces audiences to the college's vibrant dance community with short performances at noon Saturday and Sunday, Oct. 9-10, in the college's Schaeffer Theatre, 305 College St.
Taking place during the college's annual Parents & Family Weekend, the performances are open to the public at no cost and will each last about an hour. For more information, please call 207-786-8294.
This year's edition of the traditional Parents & Family Weekend concert is a fun, informal and audience-friendly event offering diverse kinesthetic styles from hip hop to ballroom to Bollywood.
The Modern Dance Company will perform work by nationally renowned choreographer Monica Bill Barnes; the college's acting director of dance, Rachel Boggia; and prominent Maine dancer Debi Irons.
Performers also include such Bates student groups as the Ballroom Dance Club, Step Club and Bollywood Dance Club.
Barnes is in residence at Bates until Oct. 7, creating new work for students and teaching classes. A rising star in U.S. dance, she's known for highly physical, humorous choreography. "There's a reason comedy and dance are rarely paired," wrote a reviewer for San Diego Arts. "But Barnes is the mistress of such mischief and has the technical dance ability to make it all work. She breaks all the rules, but also tempers the clowning around with enough darkness and pity to make us care."
A headliner at the 2010 Bates Dance Festival, Barnes and company also recently appeared at the American Dance Festival, Jacobs Pillow and other top-drawer venues.
Irons is a dancer and choreographer with more than 20 years' experience in all aspects of the dance world. She is the founder and artistic director of Art Moves Dance in Norway, which features improvisation and choreography in blues, modern and jazz dance forms.
She has collaborated with local, national and international dancers including Daielma Santos, Karen Montanaro, Josie Conte and Nancy Salmon; has been a soloist for Esduardo Mariscal Dance Theatre; jazzed it up with Danny Buraczeski and Katiti King; and gone modern with Doug Varone at the Bates Dance Festival.
Boggia, visiting assistant professor in dance and acting director of dance during this academic year, has been on faculty at Wesleyan University, Dickinson College and The Ohio State University. She specializes in multidisciplinary collaboration with scientists, multimedia performance and documentary films about dance. She has performed professionally in the work of New York choreographers Risa Jaroslow, Vanessa Justice and Marlon Barrios Solano.
View Comments