'We are partners' is theme of Garcelon-sponsored admission panel
Families from the Lewiston-Auburn area who are beginning the college search heard encouraging words recently from Nancy Cable, vice president and dean of enrollment and external affairs at Bates.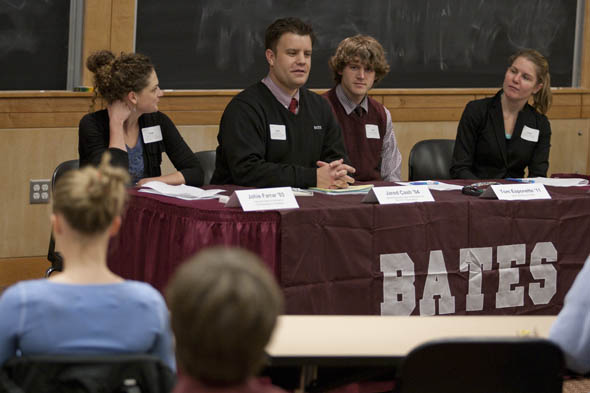 "We are partners," said Cable, who spoke at a Nov. 11 panel discussion and reception sponsored by the College's Garcelon Society in partnership with the Office of Admission.
Whether or not a local student is considering Bates, "the Bates Admission Office is a partner with local families around the college search process," Cable said. "We can serve as a resource through events like this that provide information about admission, testing, admission criteria and financial aid."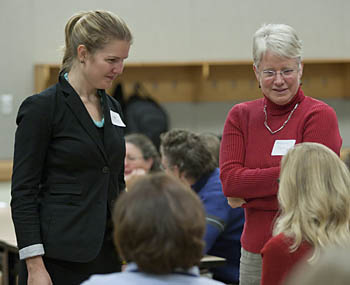 The evening included tips for the college visit and admission application; athletic recruitment; and the meaning of frequently used admission terms.
Acting Director of Admission Leigh Weisenberger led the panel discussion, and she was joined by Associate Dean Johie Farrar '03, Senior Associate Dean Jared Cash '04 and Tom Esponette '11 of Auburn, one of several Senior Admission Fellows who interview prospective students. Also joining the discussion was Kim Jenkins of the University of Southern Maine's Lewiston-Auburn College.
An Oxford Hills High School graduate, Jared Cash's admission responsibilities include central and northern Maine. While deadlines and applications are critical parts of the college search, Cash mostly wants Maine families to know they can approach the process with confidence.
"You should feel empowered to get the answers and information you need," he says.
Trepidation is rarely warranted, he says, because a family's sincere interest in a college will be matched by equal interest and help from the college. "Colleges are approachable places. It's a big myth that they are somehow impermeable."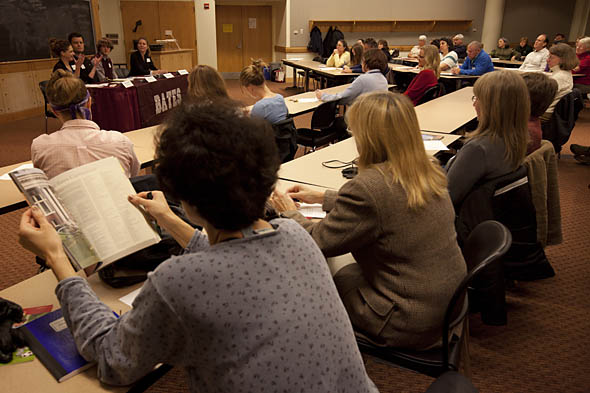 Above all, Cash advises students, "be yourself. Be comfortable telling your own story."
The evening's sponsor, the Garcelon Society of Bates College, supports links and pathways between Bates and the Lewiston-Auburn community, including the Androscoggin Scholarship Fund, which provides need-based financial aid to talented and deserving students from Androscoggin County.
View Comments