President Hansen extends invitation to Year-End Teleconference
Intending to touch on everything from Bates' new mission statement to a recent update of the Campus Facilities Master Plan, President Elaine Tuttle Hansen offers a Year-End Update Teleconference at noon, Eastern Standard Time, on Dec. 8.
President Hansen's teleconference complements her current tour of U.S. cities and London, where she is briefing alumni, parents and friends on strategic choices and plans Bates is now making and implementing.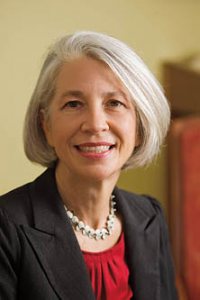 Joining the 30-minute teleconference is a three-step process:
1. Dial 1-888-428-7458 on Dec. 8 up to 10 minutes prior to the noon teleconference.
2. Mention "Bates College" to the attendant to be connected to the audio portion of the call.
3. Click on https://bates.dimdim.com/president/ to view the complementary Web-based presentation (Flash required).
Please also RSVP to inform the College of your participation: by e-mail or by phone 207-786-6336.
President Hansen will be joined by Chairman of the Board of Trustees Michael Bonney '80, and during the last third of the call, Hansen and Bonney will answer questions submitted prior to the teleconference.
Questions can be submitted by e-mail or by postal mail to Bates College, Attn: President Teleconference, 2 Andrews Road, Lewiston ME 04240.
Leave a Reply
This is a forum for sharing your thoughts about the preceding post with the public. If you have a question for the author, please email the Bates Communications Office at communications@bates.edu.