American art shines in collaboration between Ogunquit, Bates museums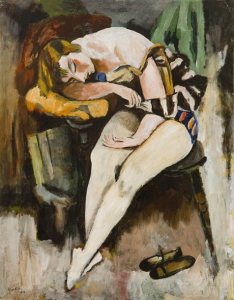 Curated by William Low of the Bates College Museum of Art, the Bates exhibition Selections From the Collection of the Ogunquit Museum of American Art explores the collections of an institution recognized for its holdings in modern and contemporary art, and its strengths in artists associated with Maine.
The exhibition opens with a 6 p.m. reception on Friday, Jan. 14, and ends March 25.
Since the 1890s, Ogunquit has attracted artists seeking the camaraderie of their peers and relief from summer heat in the major cities. The development of two art schools and the year-round residencies of important artists established Ogunquit permanently as an artist colony.
"Many of the artists affiliated with Ogunquit had deep connections to Maine," says Low. At the same time, they carried back to their home cities the creative dynamic generated during the summer, "making a profound impact on American Modernism."
Founded in 1953, the Ogunquit Museum of American Art grew out of this rich tradition. "Though it's just 70 miles from Lewiston, many people in central Maine aren't aware of this jewel of a museum," Low says.
A unique collaboration between the Bates museum and the OMAA, which is open from late May through October, "this exhibition gives Mainers an opportunity to rediscover this remarkable collection. And it's a reminder of the importance of Maine's and the Ogunquit colony's contributions to 20th-century American art."
Leave a Reply
This is a forum for sharing your thoughts about the preceding post with the public. If you have a question for the author, please email the Bates Communications Office at communications@bates.edu.