---
Brattleboro Reformer reviews Mark Erelli '96 CD 'Little Vigils'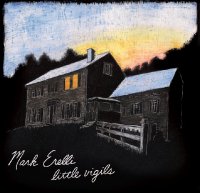 Brattleboro (Vt.) Reformer columnist Dave Madeloni talks with Mark Erelli '96 about his latest CD, Little Vigils, and how Erelli, through his young son, is reconnecting with his interest in the natural world. A bio major at Bates, Erelli also holds a master's degree in evolutionary biology from the University of Massachusetts. Madeloni writes that Erelli "uses this record to re-explore the complexities, simple joys and confounding contradictions of Mother Nature that he studied at Bates College in his home state of Maine."
Erelli tells Madeloni that the "songs on Little Vigils have this finely wrought natural imagery at their core…. I'm a biologist by training, and I've always spent a lot of time in the woods, but I had really gotten away from that as a touring songwriter." Since buying a home in Melrose, and because his oldest son "loves to take walks in the woods around town, I've reconnected with that part of myself through him." View story from the Brattleboro Reformer, Jan. 13, 2011.
---
Categories:
Alumni and friends
,
Arts and music
,
Bates People in the News
,
Creativity
,
Entertainment and the arts
.
Tags:
Mark Erelli
.
---
Contact Us